Keanu Reeves Was Never The Same After The Tragic Deaths Of His Daughter And Girlfriend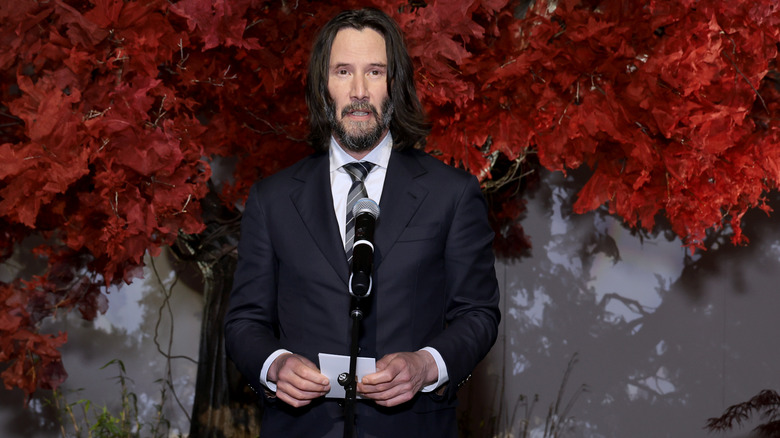 Jamie McCarthy/Getty Images
Keanu Reeves has made headlines for his on-screen performances and random acts of kindness, capturing the hearts of fans worldwide. Despite his wealth, he is considered one of the most humble celebrities of our time — and a genuinely good person. Over the years, Reeves has secretly given away millions, going out of his way to help others. He founded a cancer foundation, did charity work, and donated his earnings to leukemia research, all while dealing with grief and loneliness.
The "Matrix" star has lost several people he's cared about, including his best friend, his girlfriend, and his unborn child. His childhood wasn't easy, either. He grew up without a father, battled dyslexia, and moved from place to place because of his mother. In 1998, he met Jennifer Syme, an aspiring young actress, and started planning their life together, but fate had other plans. First, Syme gave birth to a stillborn daughter after eight months of pregnancy. The grief took a toll on their relationship, and the two decided to go their separate ways. Less than two years later, Reeves had to face the death of his ex-girlfriend following a car crash. 
His relationship with Jennifer Syme took a tragic turn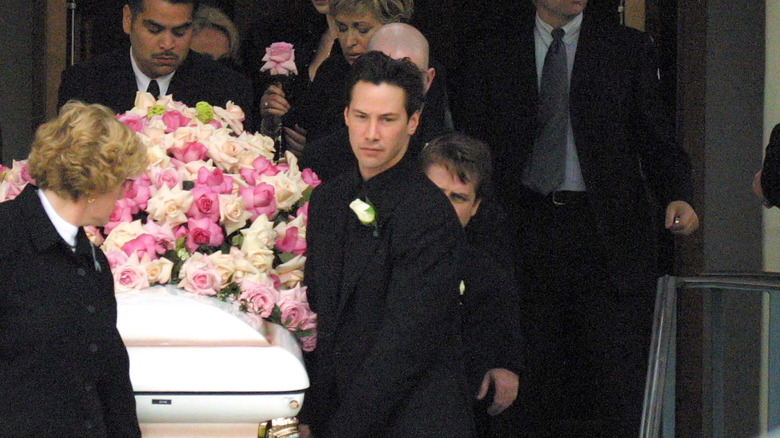 Bauer-griffin/Getty Images
Keanu Reeves and Jennifer Syme fell in love at first sight, but their relationship wasn't meant to be. The young actress got pregnant less than a year after the two met, and they even chose a name for their baby girl: Ava Archer. Sadly, the child was stillborn on Christmas Eve. Following this tragic event, Syme experienced post-natal depression on top of the grief and sorrow caused by her daughter's death. The relationship eventually fell apart, but the two remained friends.
Things continued to go downhill from this point. In 2001, Syme drove into three parked cars on her way home from a party at Marilyn Manson's house. The collision was fatal, killing her instantly. "We found some medication, which we believe to be prescription drugs the deceased was receiving," Lieutenant Fred Corral told the Daily Mail. "Two one-dollar bills which were rolled up with a white powdery substance were also found inside the vehicle," he added.
Syme's mother, Maria St. John, accused Manson of giving her daughter drugs and allowing her to drive intoxicated, but he denied it. At the time, Reeves told the police that he and Syme were dating again. "I miss being a part of their lives and them being part of mine. I wonder what the present would be like if they were here — what we might have done together. I miss all the great things that will never be," he confessed in a 2006 interview with Parade. 
Keanu Reeves will carry the grief with him forever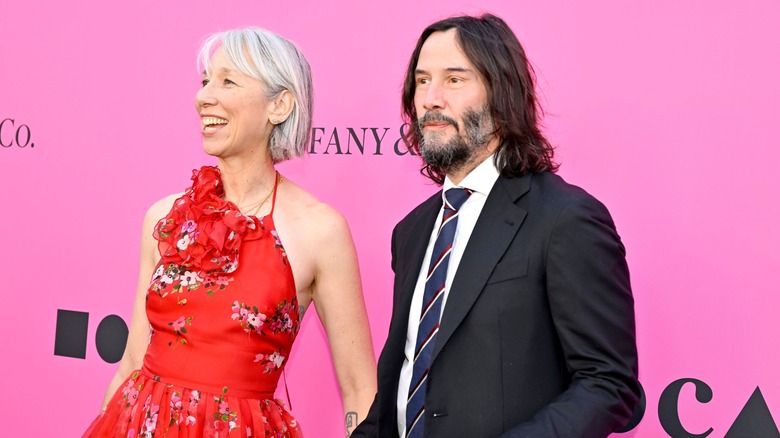 John Sciulli/Getty Images
Grief looks different for everyone and manifests itself in unexpected ways. For Keanu Reeves, the tragic deaths of his daughter and girlfriend made him see life in a different light. "Much of my appreciation of life has come through loss. Life is precious. It's worthwhile," he told Parade. He also added that grief lasts forever but "changes shape." "All you can do is hope that grief will be transformed and, instead of feeling pain and confusion, you will be together again in memory, that there will be solace and pleasure there, not just loss," said the actor.
The 58-year-old star used his grief to portray John Wick, the lead character of the thriller with the same name, he told The Guardian. As far as his personal life goes, he stayed single for decades after Jennifer Syme's death. In 2021, Winona Ryder said she and Reeves are definitely married — but only on screen. The two tied the knot in Francis Ford Coppola's "Bram Stoker's Dracula" in the presence of a real Romanian priest.
In 2019, Reeves confirmed his relationship with visual artist Alexandra Grant. "He was in such a dark place for so long, but Alexandra's positive outlook and support have played a huge part in helping him turn his life around," an anonymous source told Life & Style. The two have been close friends for years and worked together on several projects, which paved the way for a beautiful relationship.