Hallmark's Luke Macfarlane Describes His Dream Wedding Scenario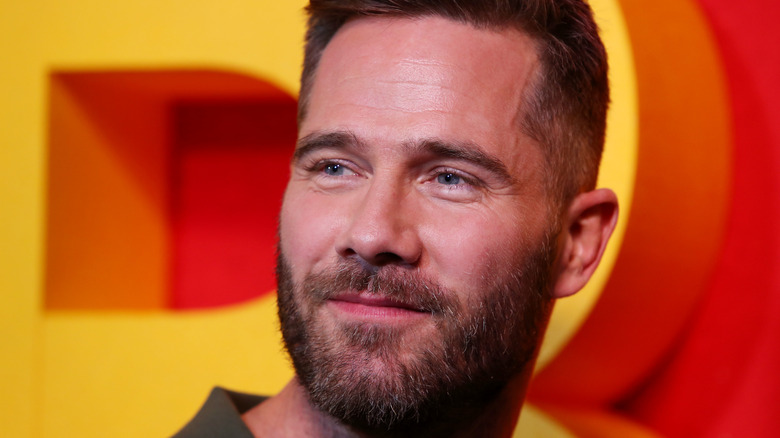 Lisa Maree Williams/Getty Images
The average Hallmark fan adores leading man Luke Macfarlane in his many lovable roles for the network. Fans haven't seen him in a new original Hallmark movie yet this year, but one will be coming around Christmastime. Still, just because we haven't seen Macfarlane on the Hallmark Channel in anything new as of late, that doesn't mean that he hasn't had quite a bit going on. Yes –– between his Apple TV+ series "Platonic" that premiered in May and his first child being born in June, he's had a very busy few months 
Macfarlane's first photos of his newborn daughter, Tess, show their instant connection, and it's clear that he and his partner, champion alpine skier Hig Roberts, are thrilled to be new dads. In his Instagram post from June 21, Macfarlane gushed about his baby girl, writing, "Tess Eleanor Macfarlane — Born June 4th 2023. We started life with some hectic days and received world class care. On Father's Day we got to take her home. Her Dads can't wait to introduce her to all the remarkable people and the beautiful world we live in."
Little Tess was clearly born into one happy family, but it's easy to wonder if her dads plan to tie the knot anytime soon. As a result, Ty Cole asked Macfarlane about his dream wedding in his recent interview for Out Magazine, and it's safe to say that the actor has some exciting ideas for a potential "I do."
Luke Macfarlane's destination wedding wouldn't be what you'd imagine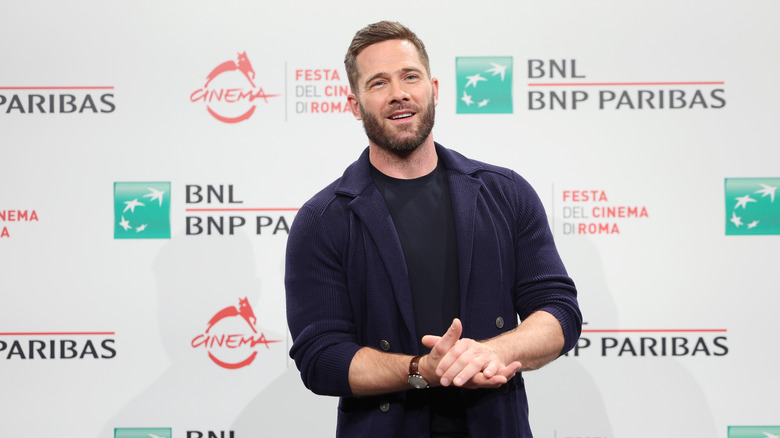 Daniele Venturelli/Getty Images
During his recent interview for Out Magazine in July, Ty Cole mentioned the discussion of wedding themes in the most recent episode of Luke Macfarlane's series "Platonic" on Apple TV+. In light of that, he asked Macfarlane, "If you planned a wedding, what would the theme be for it?" While Macfarlane didn't mention whether or not he and partner, Hig Roberts, were in a real-life wedding planning process, it did seem that the 43-year-old actor had some ideas about what his wedding might look like.
"If I were to have a wedding, the theme would be 'Wilderness Destination,'" Macfarlane explained. He continued, "I have this idea where everybody would get on a plane and we would fly to Alaska, have a beautiful wedding somewhere very remote, get back on the plane, and take you home." Now, that sounds like one unforgettable wedding. Cole commented that this remote wedding idea would ensure "no cameras," and it's clear that hosting a paparazzi-free event is an important part of Macfarlane's plan. "Exactly, no cameras," he replied. "We have so few opportunities to be private nowadays. My generation was writing their secret thoughts in a journal and they would lock it with a key and hide it. Now our secret thoughts are very public all the time, so it's important to keep some things private."
Luke Macfarlane and Hig Roberts are very private
True Luke Macfarlane fans know that while his wedding idea might sound a bit off the beaten path –– both literally and figuratively –– it does fit the star's personality well. It's clear that Macfarlane doesn't want his career in the public eye to get in the way of his private life staying private. The actor doesn't share much on social media. Interestingly, the few photos he's shared of his partner, Hig Roberts, have showed the couple enjoying the great outdoors. So, an outdoorsy, adventurous wedding is sure to fit the pair to a T.
It's easy to see that Roberts also aligns with Macfarlane's views on privacy. He keeps things fairly quiet on his own Instagram. That said, he also shared his love for the pair's daughter with a series of photos and the caption "Tessie girl" with a heart emoji, adding, "Your entrance into our family has filled our hearts. The light, tenacity, and spirit you immediately showed is a blessing we will forever grasp. We are happy Dads. We love you endlessly T." If a wedding is in the cards for this couple in the near future, it's safe to say that they'll be just as aligned when it comes to plans as they are in life. And, either way, they've got one truly beautiful family.