Who Are Kevin Bacon And Kyra Sedgwick's 2 Kids?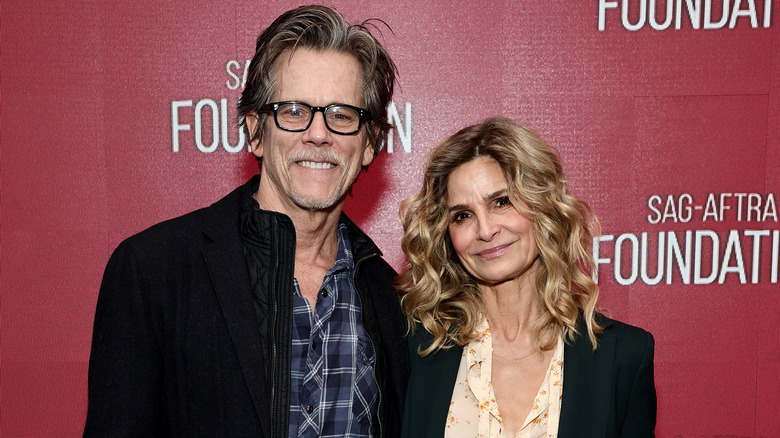 Jamie Mccarthy/Getty Images
Kevin Bacon and Kyra Sedgwick have been making their relationship work for decades, and have proven themselves to be one of the most successful Hollywood couples. The duo first began dating in the late 1980s and quickly began their lives together, getting married in 1988. They started their family soon after saying "I do," welcoming their two children, Travis and Sosie, and the siblings have grown up to share many common interests with their famous parents.
Since expanding her family, Kyra says that her acting career has taken a back seat to her role as a mother. "My motherhood really defines me," the "Closer" star shared on "The Drew Barrymore Show." The actor added, "I've been an actor forever and you know I have my own career, my own life and I always have, but 'Mom' is my title. It's the thing I think about in the morning, it's the thing I think about when I go to sleep."
For his part, Kevin says that being a parent is also the biggest part of his life. "The proudest accomplishment of my life is my children," he told Closer Weekly, adding that all he ever wanted was for his kids to be good people and set that example for them.
Travis Bacon inherited his father's love of music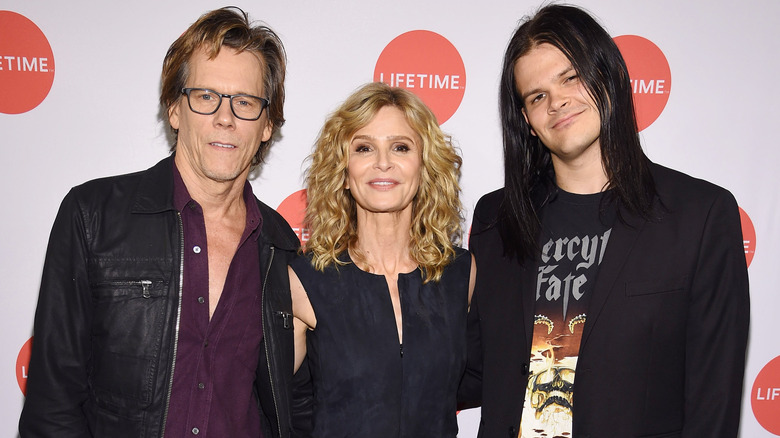 Dimitrios Kambouris/Getty Images
Kevin Bacon and Kyra Sedgwick's oldest child is son Travis Bacon. Travis was born in 1989, and while fans may not immediately recognize him as Kevin and Kyra's son due to his long, dark hair and tattoos, he and his dad do share one very similar trait in common; their love of music. Kevin is more musical than you may have thought and even plays in a band with his brother. Meanwhile, Travis also has his own band called Black Anvil. Unlike his father's group, Travis' band plays heavy metal music. However, Travis and Kevin still bond over their shared passion. "We've collaborated on amazing stuff because I'm a musician too," Kevin previously told Hello! of his connection with his son.
Meanwhile, Kyra is equally proud of her firstborn and doesn't hesitate to show it. In 2021, "The Summer I Turned Pretty" star took to her Instagram account to share a photo of Travis performing. "My insanely talented kid rocked the house yesterday and I was lucky enough to be there!" she wrote in the caption of the snap.
However, Travis is also involved in other aspects of the entertainment industry, with a love for the horror genre like his dad. Travis even announced on social media that he wrote, filmed, scored, and starred in a horror short with his friends in 2022.
Sosie Bacon is an actor like her parents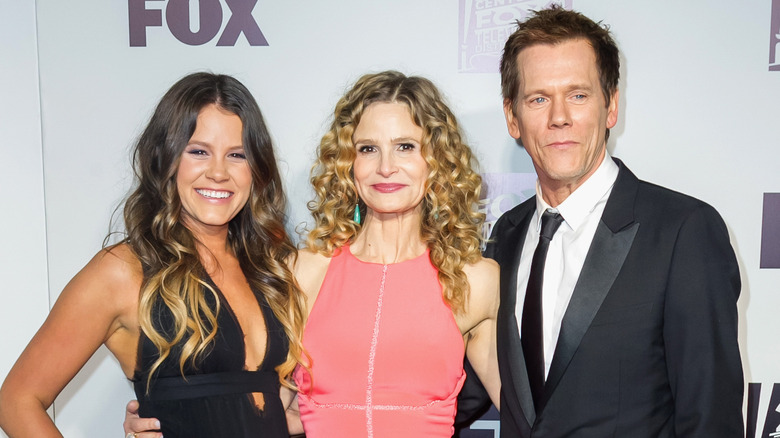 Rodrigo Vaz/Getty Images
A few years after welcoming Travis, Kevin Bacon and Kyra Sedgwick added daughter Sosie Bacon to their family in 1992. Like the rest of her family, Sosie took an interest in the entertainment business and followed in the footsteps of her parents by becoming an actor. She's starred in projects such as "13 Reasons Why," "Mare of Easttown," and "Narcos: Mexico." She's even had a role in the 2022 horror film, "Smile."
When it comes to her parents offering up advice for her career, Sosie told Harper's Bazaar that Kevin and Kyra have attempted to stay out of her way as much as possible. "I don't think that they encouraged or discouraged either way. Having parents that are in this, you see a lot of the negative sides of it, not just the flashy, fun side of it," she admitted. Meanwhile, during an interview with Good Housekeeping, Kyra admitted that she and her husband know what it's like to struggle with acting at times, and never wanted her own children to feel like that. However, she says all she wants is for Sosie to be happy and "follow her passion."
It appears that Kevin and Kyra have made entertainment a family affair. All the while, they've remained devoted parents throughout raising their children and supporting their dreams.