Pieces Princess Anne Has Reworn Over The Years
Tim Graham/Getty Images
English fashion designer Vivienne Westwood once said, "If you love something, wear it all the time. Find things that suit you. This is how you look extraordinary." Apparently, the women of the royal family have taken this to heart, with many of them famously wearing and re-wearing their favorite fashions. Most notably, Catherine, Princess of Wales, will repeat a fashion moment and dazzle every time, but the tradition started long before she was born. Princess Anne has been pulling items from the vault for over five decades, proving that fashion may be fleeting, but style is eternal.
Although the senior royal may fly under the press radar more than some of the family's younger members, Princess Anne was quite the daring tabloid darling in her heyday. While that certainly had something to do with Anne's relationship history and the time she was almost kidnapped, we're setting all of that aside for now. It's time to dig into more sartorial matters.  
Princess Anne made headlines with bold fashion firsts in the 1970s, including baring her legs in a miniskirt and appearing on the cover of Vogue on her 21st birthday. The miniskirt may have been retired, but the princess has hit copy and paste on many other outfits over the years, right down to the accessories. And while the only daughter of Queen Elizabeth II is often awarded the title of hardest working royal based on her number of annual engagements, we think her wardrobe deserves its own royal MVP title, too.
Princess Anne keeps it green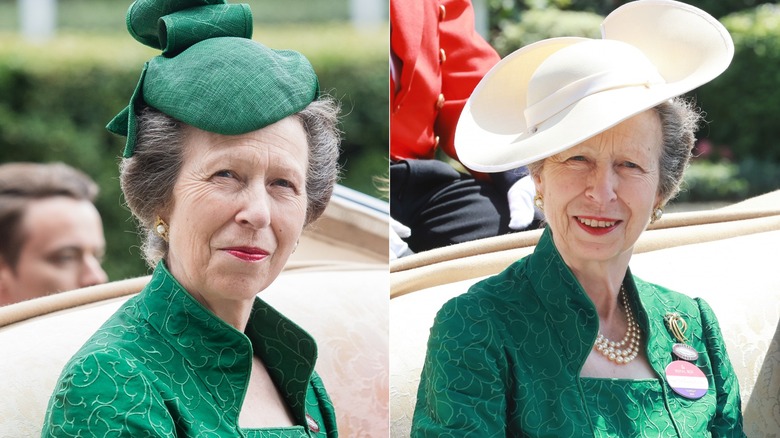 Chris Jackson & Samir Hussein/Getty
We know Princess Anne is not hitting London's local thrift shops and secondhand stores. She is, after all, a royal and has access to some of the world's most sought-after designers and coveted couture. However, that does not mean that the princess isn't worthy of the title Queen of Green for the refreshing way she repeats her clothing. Rather than take the wear-it-and-forget-it approach, the princess takes pride in sustainability by frequently shopping what we assume is her vast closet.
The green theme looks good on the princess in more ways than one, as was evident at Ladies' Day at the 2023 Royal Ascot. She glowed in a dark green Sue Palmer dress and matching hat. The dress, which features a subtle jacquard design, was previously worn by the princess at the 2017 Royal Ascot and was immortalized in her 70th birthday portraits in 2020. Palmer, a local British dressmaker, was also chosen to design the bridesmaid dresses for Anne's daughter, Zara Phillips, at her 2011 wedding to Mike Tindall. As the U.K. Fashion and Textile Association president for over two decades, Anne has always supported local designers and dressmakers like Palmer, telling Vanity Fair, "I very seldom buy anything which isn't made in the U.K."
When she trotted out the green dress in 2023, Princess Anne paired it with another wardrobe favorite: her gold, diamond-studded ribbon brooch that she's worn since the '60s.
The princess is mad about plaid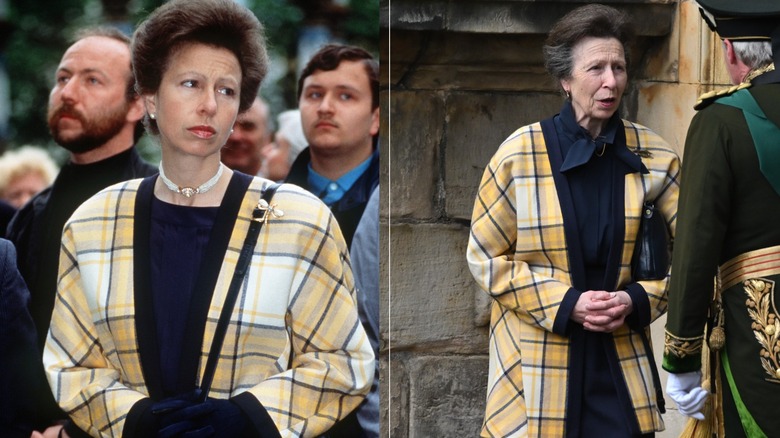 Pool/Getty & Tim Graham/Getty Images
What better place to wear plaid than Scotland? That seems to be what Princess Anne was thinking in July 2023 when she donned a familiar bright tartan blazer for a full day of engagements. The royal started with the National Service of Thanksgiving and Dedication to honor the Coronation of King Charles III and Camilla, Queen Consort. After watching her brother receive the Honors of Scotland, Anne left the event only to continue her royal duties by attending the opening of the Royal Hospital for Children and Young People and Department of Clinical Neurosciences. 
The princess wasn't the only one making an encore performance that day. Her coat was on at least its third public appearance in as many decades. In case you couldn't tell from the broad shoulders and slightly boxy fit, this coat was born in the 1980s. The princess first debuted the bold blazer and a yellow pillbox hat in 1987, repeating the look at the 1988 Royal Ascot. In 1990, she once again reached for it (sans hat) to brighten up a diplomatic tour of the Soviet Union. Each time Anne wore the statement piece, she let it do the talking by keeping the rest of her look simple and understated in almost identical navy dresses. A subtle change in jewels and accessories kept the look fresh and moving forward. 
Princess Anne stays well suited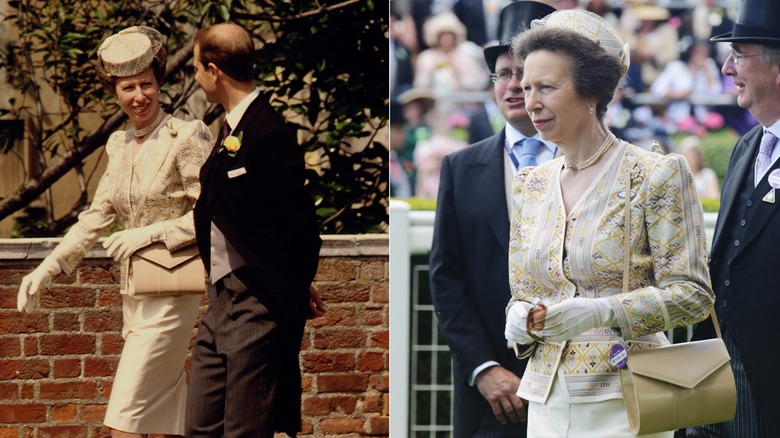 Mathieu Polak & Kirstin Sinclair/Getty
Princess Anne hit a trifecta when she wore this winning suit to not just one but three Royal Ascots over the years. The slim-fitting skirt and jacket by Maureen Baker first came out of the gate in 1988, and it was such a sure thing that the princess trotted it out again in 1994 and 2014. Some might recall that the British designer was also the woman behind the dress Anne wore in 1973 when she wed her first husband, Captain Mark Phillips. Just like that gown, Baker's cream-colored suit design is elegant, classic, and timeless. It's no wonder the princess didn't leave it hanging in the closet between race days. Instead, she kept it in the spotlight, wearing it at the 1992 wedding of Lady Helen Windsor and Tim Taylor, and again in 1995 to a VE Day commemoration. 
At first glance, Anne appears to have accessorized the suit in exactly the same way, from the purse to the pearls and the pillbox hat. Closer inspection reveals that the princess made changes so subtle they were easy to miss. For starters, she had the hemline lowered in the most recent iteration of the suit and removed the netting from the hat in later years. She also switched between single and double-strand pearls and added gloves depending on the occasion. We think it's a safe bet that she's not done reinventing this one yet.
An orange creamsicle look fit for a princess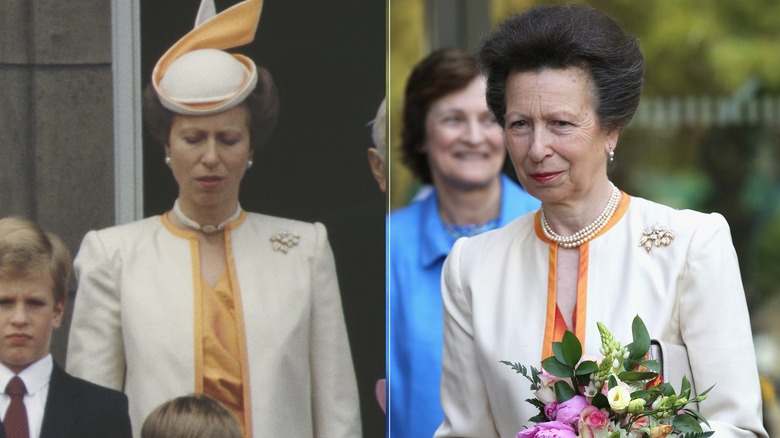 Chris Jackson & Princess Diana Archive/Getty & undefined
Princess Catharina-Amalia of the Netherlands may be officially known as the Princess of Orange, but we think the title could apply to Princess Anne whenever she arrives at an engagement this orange and cream skirt suit. Queen Elizabeth II's daughter first unveiled this ensemble for Trooping the Colour 1987, and she's worn it again since. While Anne's mother was known for her monochrome style, this chic look embraces its pop of color. Striking in its simplicity, the orange piping on the open front jacket and straight skirt needs very little to stand out. Perhaps that's why the only real change the princess made in the ensemble over the years was in the hat. When she dusted off the outfit for public events in 2008 and 2012, she went bigger and bigger with the headpiece. She finally gave up the hat part of the look altogether in 2015 for an appearance at the Women's Institute AGM. 
The princess seems to operate from that old adage "if it ain't broke, don't fix it" when it comes to her signature smart-looking skirt suits. Maybe that's because she wears them so well. In fact, British Vogue editor Edward Enninful once told Vanity Fair, "She is timeless in her style, and she wears a tailored suit better than anyone else I can think of." He also called her a "style icon," saying that Anne "was all about sustainable fashion before the rest of us really knew what that meant." 
The coat of Christmas past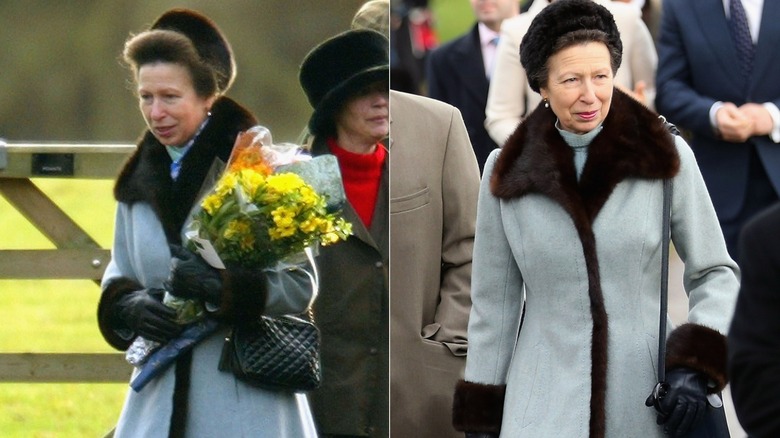 Scott Barbour & Chris Jackson/Getty
Yes, we know it's not terribly unusual to wear a winter coat more than once. That's what outerwear is for, after all. However, most of us don't hang on to the same one for 50 years and, if we do, what are the chances that it still fits well? On top of that, what are the chances that the coat still looks as good as new five decades after we first wore it? 
Well, Princess Anne clearly has not had any problems with this beautiful blue coat with fur trim that has been keeping her warm since she was just a girl in her 20s attending the wedding of Chris Collins and Susanne Lumb. Since then, it has become as regular a sight at Christmas as Santa's red suit, with the princess showing up to Christmas Day services at Sandringham wearing the luxurious layer over her holiday fashions for many years. The coat was last spotted in 2012. 
The former Olympian does not chase trends, and this seems to be something she inherited from her mother. "The queen and I had a discussion the other day about the difference between fashion and style," Anne told Australian Woman's Weekly (via Time) in 2022. "I think maybe that's relevant in the sense that she didn't do fashion but she certainly does style, and style tends to last longer." Evidently, the princess' coats tend to last longer, too. 
The princess' purple coat reigns supreme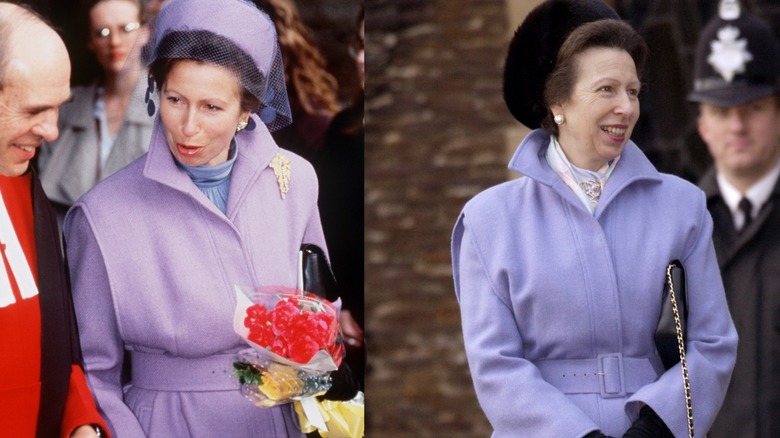 Tim Graham & Tim Graham/Getty
Queen Elizabeth II will be remembered for many things, including her love of bold, monochromatic outfits. And when it comes to wearing a single color from head to toe, Princess Anne clearly learned from the best — just look no further than this lavender coat. The coat, which features a flared-out stand collar and a wide lavender belt, is tailored to perfection. While this isn't always the case, Anne usually pairs it with a matching lavender hat and wears light purple underneath. 
Purple has long been associated with status, wealth, and, yes, royalty, so it's not surprising that Anne, and many other members of the monarchy, have embraced it for centuries. Queen Elizabeth I was rumored to be so enamored with the color purple that she forbade anyone but close family members from wearing it. Good thing that ban didn't last, or this particular coat might not have enjoyed its nearly 30-year run. Since first appearing in 1979 when the princess wore it on a work trip in Toronto, it has been a staple item for the princess.
Once again, it's clear that Princess Anne knows when a garment works. As royal fashion expert Bethan Holt said in The Telegraph, "She seems to approach her wardrobe with the same attitude that she does her public role; unshowy but determined to do everything just right."
Princess Anne's go-to mourning jacket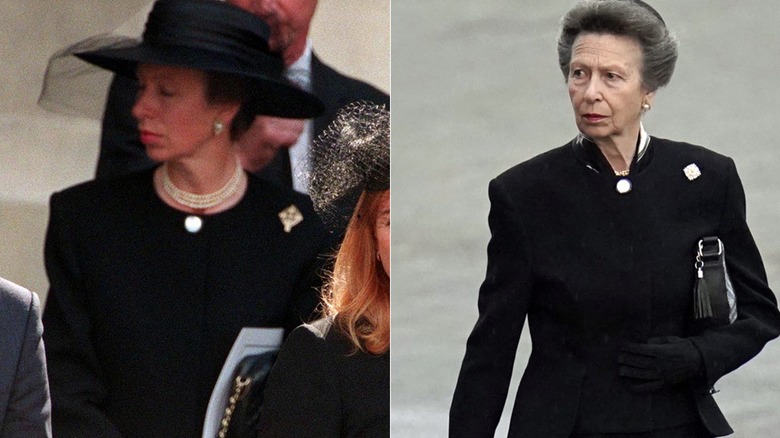 Princess Diana Archive & Wpa Pool/Getty
Princess Anne rotated through several black ensembles following the death of her mother, Queen Elizabeth II, in 2022, including a simple yet sophisticated black jacket with a peplum-style hem and a single pearlesque button at the neckline. The princess kept the look sleek and chic with a slim-fitting black pencil skirt, a small black headpiece, and black shoes and stockings. Her trademark brooch was pinned to her shoulder, with her pearls visible underneath her blouse. It was a look befitting a time of royal mourning, which may be why this is not the first time we have seen her wear it.
Princess Anne wore the same jacket at the 1997 funeral of Princess Diana. In fact, it appears that the only thing she changed was her headpiece, wearing a much larger hat and veil at her sister-in-law's service. While it's been widely reported that the two princesses weren't that close, Anne does share an innate sense of style with Diana, and both were ahead of the times when it came to wearing the same clothing more than once. As fashion writer and personal stylist Virginia Chadwyck-Healey observed in The Telegraph, "I love how Princess Anne's approach to wearing and rewearing is now the new norm in the fashion world." 
Princess Anne's mother of the bride dress didn't go to waste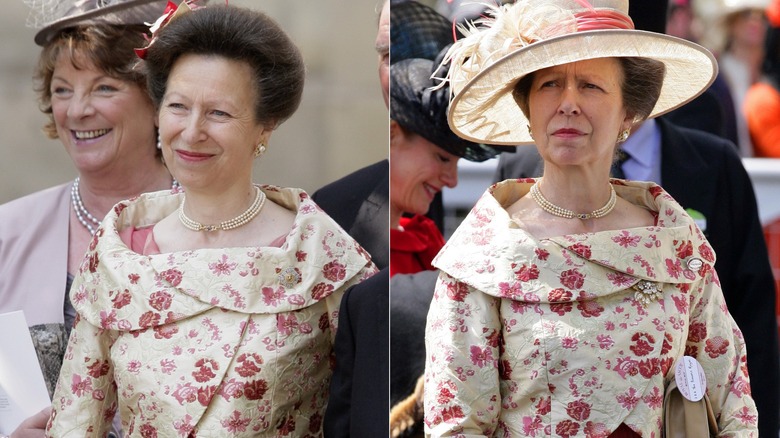 Max Mumby & Max Mumby/indigo/Getty
Behind every bride is a woman with a one-and-done bridesmaid's dress or mother-of-the-bride dress hanging in the depths of her closet. And while the members of the bride's wedding party are often assured they can absolutely wear it again, more often than not, the dress stays hidden or is thrown into a donation pile. Unless you are Princess Anne, that is. Queen Elizabeth II's daughter proudly pulled her widely photographed MOB dress out of retirement and wore it again in public the following year. 
For her daughter Zara Tindall's 2011 wedding to Mike Tindall, Princess Anne chose a rose-colored dress with a pleated skirt and floral print jacket. A small fascinator, her go-to triple-strand pearl choker, and a pair of pearl earrings gave the princess a polished, pretty look as she watched her daughter and son-in-law exchange vows. But rather than preserve the dress for sentimentality's sake, Anne appeared at the 2012 Royal Ascot in the exact same dress and jewels, swapping the fascinator for a wide-brimmed hat. Maybe it's good luck that she didn't keep the dress under wraps since the marriage, like most of the princess' fashions, seems to be built to last.
On her wedding day, Zara wore a favorite piece from Princess Anne's collection: the Meander Tiara. And yes, Anne has been spotted out and about in the historic headpiece a number of times over the years as well — who's surprised?
Princess Anne has flower power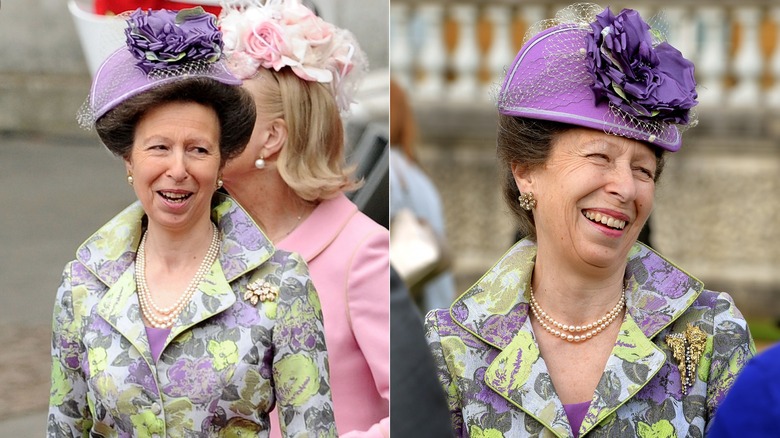 Ian Gavan/gp & Wpa Pool/Getty
Florals at a garden party may hardly be groundbreaking by Miranda Priestly's standards, but that didn't stop Princess Anne from hosting the Not Forgotten Association Garden Party at Buckingham Palace in 2022, looking like a spring bouquet. The princess wore a showy lavender and green floral coat over a matching lavender dress, and her purple hat was festooned with a single large show-stopping flower.  This is not the first time these blooms have appeared. They first sprung up at the wedding of the Prince and Princess of Wales in 2011 and again for Ladies' Day at the 2012 Royal Ascot.
While some celebrities and public figures wouldn't dare be photographed twice in the same outfit, much less three times, Princess Anne's refusal to worry about such trivial things is part of her appeal. "The Princess Royal has an unusual relationship to fashion — she certainly has never paid any attention to trends, and in later life has adopted a more frugal approach to her wardrobe than other members of the Royal Family," fashion expert Miranda Holder said in Gloucestershire Live. "She often wears old pieces time and time again, but it's through this irreverence that she has become an unexpected style icon."
This coat may be Princess Anne's most repeated item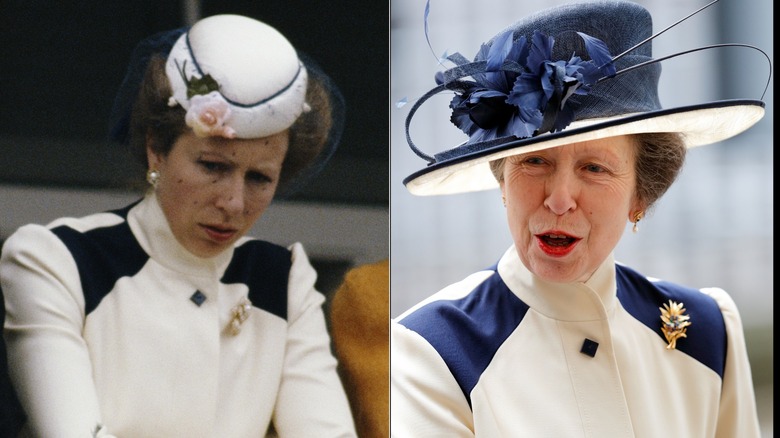 Tim Graham & Max Mumby/indigo/Getty
Nine is the number of times that Princess Anne is said to have worn this smart military-style navy blue and cream ensemble, making it, if not her most repeated item of clothing, definitely near the top of the list. As with many of her looks, the princess debuted this one at the Royal Ascot in 1980. It enjoyed several encore performances during the decade before Anne gave it a 20-year rest, pulling it out of retirement in 2011 for the Duke of Edinburgh's 90th birthday. Since then, the long jacket has been living its best second life, making several public appearances, including one as recently as 2018. 
Twenty years between appearances is a long time, and one might wonder where the princess keeps her outfits when they are off-duty. Per the Daily Mail, they are cataloged and stored at the princess' home, where they take up an entire climate-controlled wing of the property. Such attention to detail must make it easier for the princess to remember when and where each outfit appeared. Yet knowing she's worn something multiple times has not been a deterrent for Anne when it comes to selecting the perfect outfit for an occasion. As Miranda Holder said, per Gloucestershire Live, "Princess Anne has never been afraid to express herself. She has always possessed an inner confidence which allowed her to carry off any outfit with aplomb, which has contributed to her accidental trendsetter fashion status over the years."