Signs Blake Shelton And Gwen Stefani's Marriage Might Be On The Rocks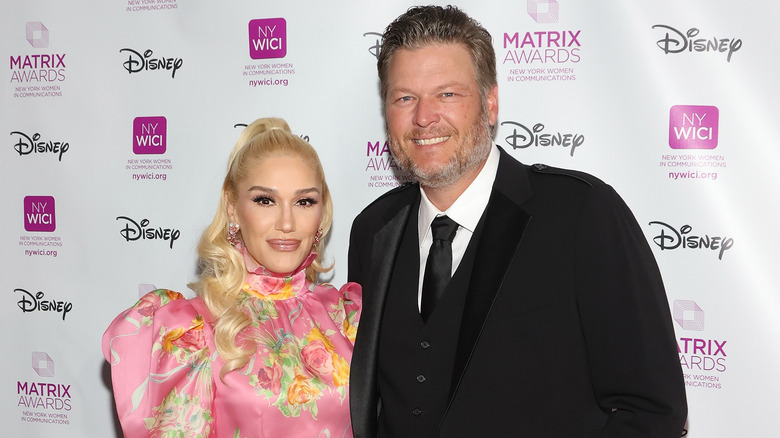 Taylor Hill/Getty Images
Blake Shelton and Gwen Stefani have easily been one of TV's and the music industry's favorite couples, after meeting on the NBC singing competition show "The Voice" back in 2014. The twosome not only shared a love of music and a job coaching contestants on the show but had connected over their painful divorces. Stefani and Shelton officially began dating the next year and haven't stopped gushing about each other since. They've even both said in interviews that the other "saved their life."
The couple did wait a while to make it legal though because they didn't get engaged until October 2020. Yet, they did tie the knot less than a year later in July 2021. Both Stefani and Shelton celebrated their two-year anniversary in 2023 with Instagram posts that illustrated how in love they still are. Stefani posted a video of romantic moments they've had together, while Shelton shared a photo from their wedding on Instagram. He captioned it, "Every day has been the best day since I met you."
However, it should come as no surprise that not everything is as perfect as it looks on social media because Stefani and Shelton's relationship has reportedly hit a rough patch. An insider told InTouch Weekly, "Friends are worried that if they don't address their problems before they spiral out of control, divorce might be in the cards for them." So what's going on with these two? Let's break down the signs that their marriage might be on the rocks.
Blake Shelton is allegedly exhausted with their marriage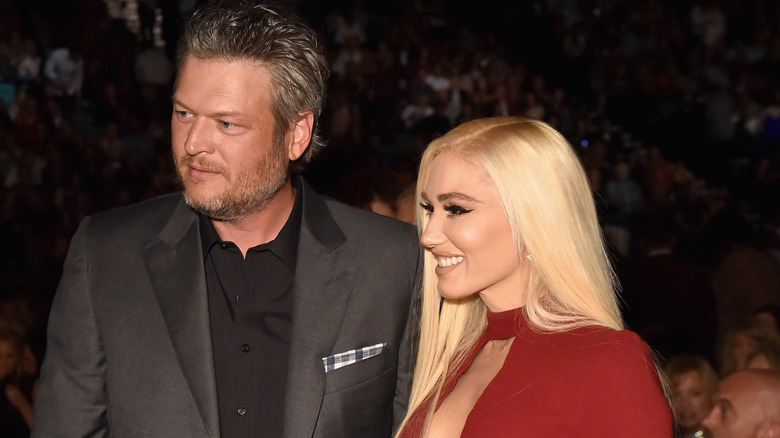 Jeff Kravitz/acma2018/Getty Images
It appears that between his career and marriage, Blake Shelton is struggling with "burnout." In 2022, he seemingly even made a major life change because of it, leaving "The Voice" after 12 years on the show.  A source explained to Radar that he was tired of feeling overwhelmed with all the behind-the-scenes drama and controversies surrounding the competition. His wife, Gwen Stefani, told Extra that he was just run down though, saying, "I don't know if people realize, if he's doing two seasons a year, right? In between that, he's touring."
Yet, it seems it's not just work that's been stressing Shelton out, because there are reports that he feels he's reached a point of exhaustion in his relationship. Stefani has apparently noticed that change between them as well, with insiders saying she's been on edge on account of it. As a source told InTouch Weekly, "She's confided to pals that it's killing her to see them drifting apart like this." Their marriage fatigue has apparently caused their "spark" to go out too, which has to be especially hard because they were once very passionate.
While marriage burnout is a common problem, it could indicate that divorce may be on the horizon. As psychologist Jess Baker explained to The Independent, "It feels like it's too much effort to keep trying. You have effectively given up but are still in the relationship. It might mean it's time to end things."
Blake Shelton and Gwen Stefani reportedly fight a lot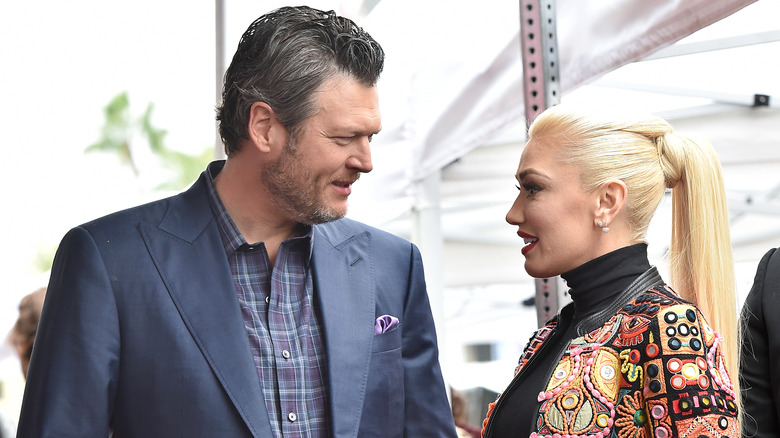 Axelle/bauer-griffin/Getty Images
If you've watched "The Voice," then chances are you've seen Gwen Stefani and Blake Shelton "fight" on TV. For example, when they were battling over a contestant during a Season 22 episode, the No Doubt singer joked, "Let's see what fighting looks like in our marriage!" Unfortunately though, that comment may be telling because the duo have reportedly been arguing a lot. As an insider explained to InTouch Weekly, "Gwen and Blake both have habits that annoy each other, like when Blake tracks mud through the house ... And what he eats grosses Gwen out."
While bickering is normal for couples, the tension between Stefani and Shelton has allegedly escalated. They were even said to have fought on their wedding anniversary because Stefani thought her husband overdid it with food and beer. "They exchanged some choice words before Blake left in a huff," a source said. Another unnamed person also told Radar that their disagreements were becoming a real problem, saying, "It seems like they argue constantly now — they've even slept in separate bedrooms after particularly bad fights."
You could say that Shelton and Stefani have disagreed on more things than not throughout their relationship. For one, they apparently can't agree on politics, which allegedly caused them butt heads during the 2020 election. In addition, there have been reports that Shelton and Stefani have been fighting over her wanting Botox. 
The Voice judges may be too different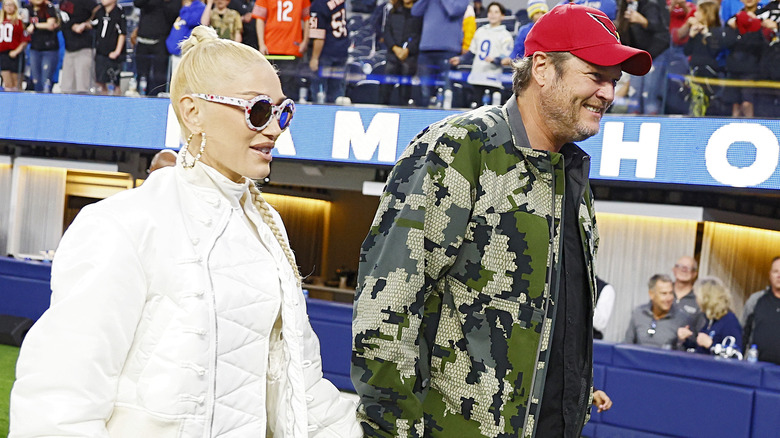 Ronald Martinez/Getty Images
Despite their status as a Hollywood power couple, Blake Shelton and Gwen Stefani are still very different individuals. Even when it comes to their shared passion for music, they don't approach it the same way. As Stefani said on "The First One" podcast, "I wish he would write with me ... But he just doesn't like writing that much. It makes me so mad."
Their differences have seemingly become more pronounced over the years, too. As a source told InTouch Weekly, "There isn't much for them to talk about." They are apparently very different people, which has caused issues within their living situation, with Shelton preferring Oklahoma and Stefani preferring Los Angeles. "When she's in Oklahoma, she misses LA," a source said, adding, "Blake's not really comfortable living in the big city with all the traffic."
Even when Shelton and Stefani decided to buy a LA mansion together, they allegedly conflicted over how to decorate it. Shelton, of course, wanted it to look more country, whereas Stefani pursued a more modern look. It seems that the couple just have many opposite views in general when it comes to things like fashion, politics, and even friends.  Although opposites are said to attract, that doesn't always result in a lasting marriage. As relationship therapist Rachel Sussman explained to Insider, "[W]ith the passage of time, a lot of couples tend to resent the things that are opposite."
The musicians are frequently apart for work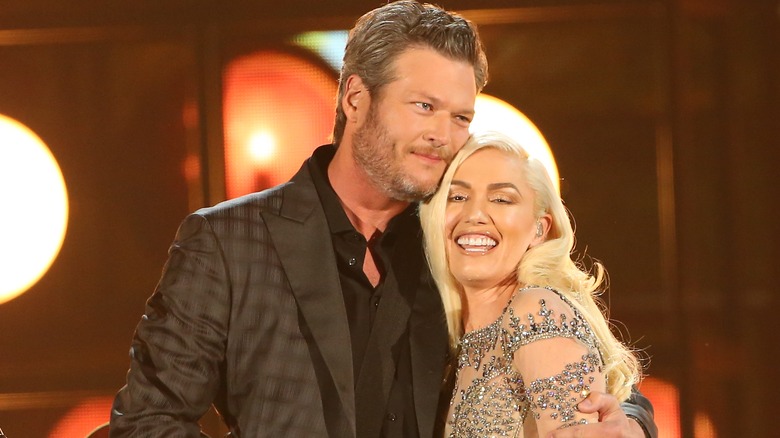 Jb Lacroix/Getty Images
It's safe to say that as popular musicians, Gwen Stefani and Blake Shelton spend a fair amount of time apart for work, which may have taken a toll on their marriage. They did get to work together on "The Voice" for a while, though. Shelton even told NBC, "The best part about working with my wife is that I never have to be apart from her." However, he quit the show in 2022, so that's no longer the case.
It also probably doesn't help Shelton and Stefani's marriage that one of them often has to hit the road to play concerts. In early 2023, that was Shelton, who admitted that the worst part of touring was being away from Stefani for long periods of time. He told Entertainment Tonight that February, "It's terrible. Right now, they're having bad storms back in California, and I hate not being there." Stefani, however, isn't just waiting at home for Shelton to return either. She told Fault that between her own concerts, her businesses, and TV gig, she's been busy as well.
While Stefani and Shelton seemingly understand what the other has to do for work, time away from each other isn't necessarily good for their relationship. As celebrity dating expert Laurel House told Elite Daily, this can even lead to cheating, "When there is a lack of physicality, one or both of them may crave it and attempt to satisfy it through outside relationships."
Gavin Rossdale and Miranda Lambert cause them drama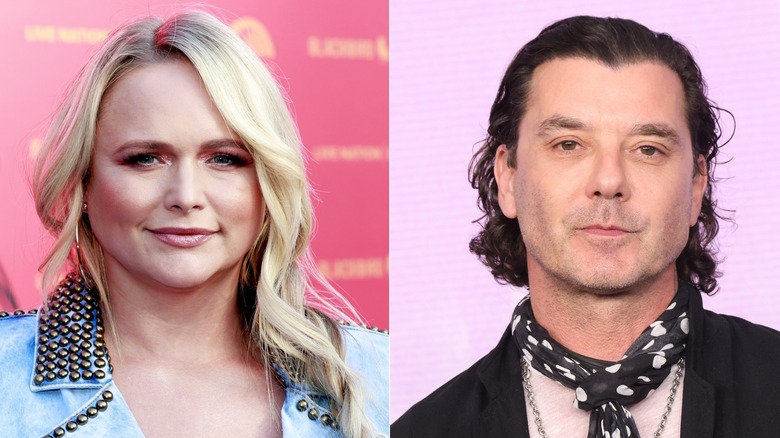 Emma Mcintyre & Taylor Hill/Getty
It's no secret that both Gwen Stefani and Blake Shelton had previously been married to other people and went through messy, painful divorces. Stefani's ex, Gavin Rossdale, had famously cheated on her with their children's nanny. The details of Shelton's divorce aren't as clear, but he's implied that his ex-wife, Miranda Lambert, cheated on him as well. Either way, you could say they both came into their relationship with baggage. They also may not have given that enough time to heal, seeing as they got together quickly.
Then there's the drama that Stefani's and Shelton's exes apparently still caused after their divorces. Shelton and Lambert in particular have had to attend the same country music events, which can't be easy for Stefani. There were rumors that she was livid when Shelton spoke to his ex at the 2016 Academy of Country Music Awards, for example, as well as when Lambert referenced their relationship in a 2018 acceptance speech. As for Stefani's ex, Rossdale, he's apparently been vocal about his disdain for Shelton's scooping up Stefani and bonding with their children.
Let's not forget that the public adds another layer of pressure to celebrity relationships too. This is especially true after a public breakup because people tend to choose sides. As celebrity relationship expert Laurel House explained to Elite Daily, "[C]elebrities are constantly watched, scrutinized, judged ... This constant state of insecurity, questioning, and scrutiny can lead to distrust, accusations, and separation."
Gwen Stefani and Blake Shelton stopped trying for a baby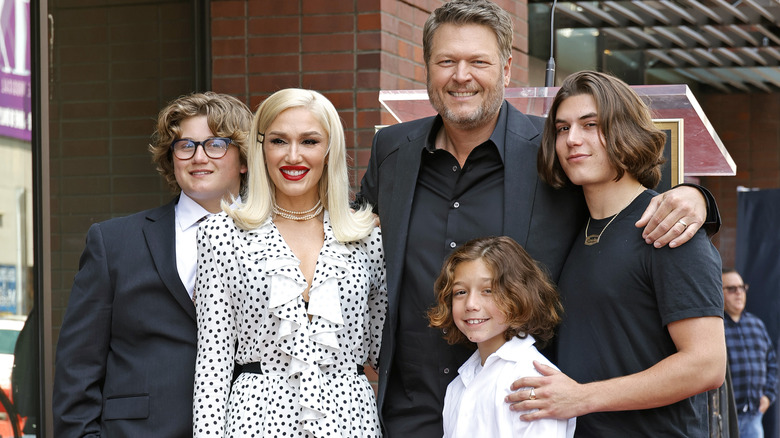 Frazer Harrison/Getty Images
You could say that because Blake Shelton and Gwen Stefani are supposedly no longer trying to expand their family, their marriage may be in trouble. As a source told Us Weekly, "They've given up on their dream of having a baby," adding that the process of surrogacy became too much for them. That insider suggested that may have been Stefani's decision too because she felt pressured. They also revealed, "Blake's family hoped he'd have his own children."
It seems it's not just Shelton's family who's bummed that he didn't have kids of his own. Shelton himself told "Today" that he felt like he missed out on starting his own family because he always put it on the back burner. Stefani was apparently aware of this, though, considering that another insider told Entertainment Tonight in 2017 that she had every intention of having a baby. "Blake is dying to be a father. He loves Gwen's kids, [which has] made him realize he could be a good father," they explained. 
Shelton has made it clear he adores Stefani's three boys, Kingston, Zuma, and Apollo. He even told People that being their stepfather is very special to him. Yet, according to some therapists, if having children is important to one partner but they stop trying to have them, they can grow to resent the other partner. On the other hand, forcing someone into something they no longer want can be just as harmful.
There have apparently been issues with Blake Shelton's stepparenting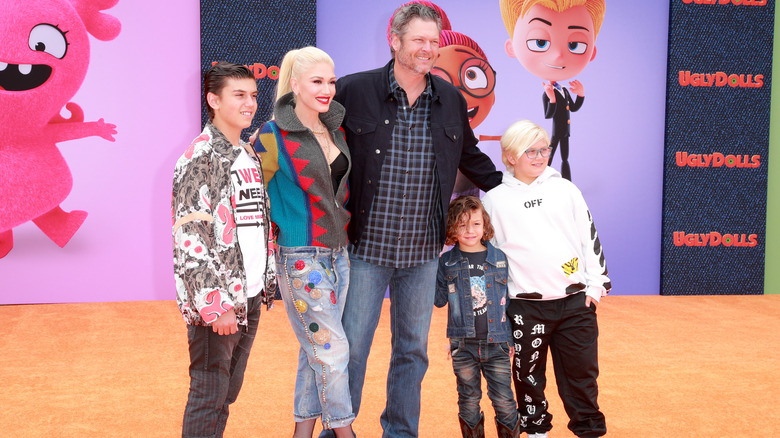 Rich Fury/Getty Images
Blake Shelton may have told People that he takes being a stepfather seriously, but Gwen Stefani apparently disagrees. That most likely isn't a great sign for their marriage because her children, Kingston, Zuma, and Apollo are obviously very important to her. Yet a source told InTouch Weekly that Stefani isn't a fan of Shelton acting like one of her kids and being way too laid-back with parenting them. "Under her watch, they have homework, chores, activities, strict bedtimes and no junk food," the source said, adding, "Blake doesn't enforce those things."
Stefani's ex, Gavin Rossdale, has seemingly taken issue with his stepparenting as well, but for almost the opposite reason: Instead, he feels that the "God's Country" singer is acting like too much of a father figure to his three boys. As an insider explained to OK!, "He's gotten ticked off at Blake in the past for seemingly overstepping his bounds."
Some might also think Shelton hasn't always been the best role model for Stefani's boys, seeing as he came under fire in 2016 after some homophobic and racist tweets he posted in the past resurfaced. Shelton apologized and later spoke to "Today" about the responsibility he now has to be a good influence on them. "It's one thing for me to ... be their buddy," he said, "but you do have to consider after a while that they start to listen to things that you say."
Blake Shelton and Gwen Stefani might be too competitive with each other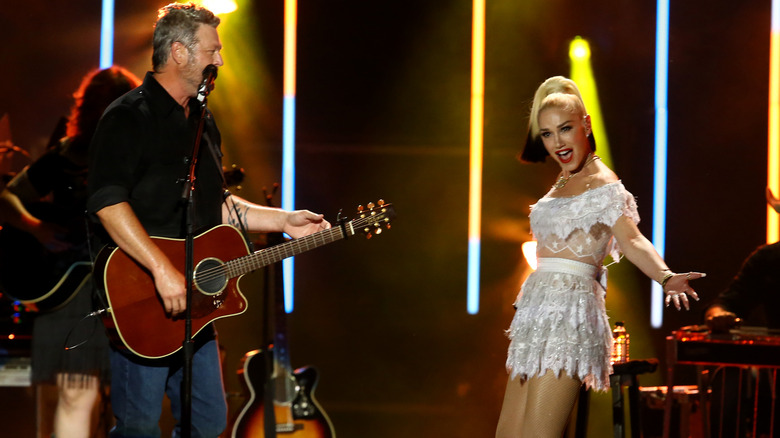 Terry Wyatt/Getty Images
If you watched "The Voice," then you already know that Blake Shelton and Gwen Stefani can be competitive with each other, seeing as they've faced off as coaches on the singing competition show. However, that may not have been healthy for their marriage. The "Just a Girl" singer even admitted on the show that she had worried about that before deciding to return for another season. "I didn't know if it was gonna feel awkward to be fighting against him," she told InTouch.
Stefani might have been onto something because sources say competing with each other had caused trouble in their relationship. An unidentified person close to the situation told Radar, "[B]ehind the scenes, there was sometimes a clash of egos." They continued, "He would often get all the attention. And that would hit a nerve — she was jealous." That wasn't the only time that jealousy was an issue, though, because another observer said to Radar that Shelton was livid when Stefani flirted with a young contestant right in front of him.
It seems that ambition and jealousy are big reasons why celebrity marriages often don't work. Actor Scarlett Johansson summed it up to Cosmopolitan when discussing her divorce, saying, "[I]f one person is more successful than the other, that also proves challenging. There may be a competitive thing," she said. That could be why Shelton and Stefani's romance may be on the rocks now, too.
Gwen Stefani may worry that Blake Shelton will cheat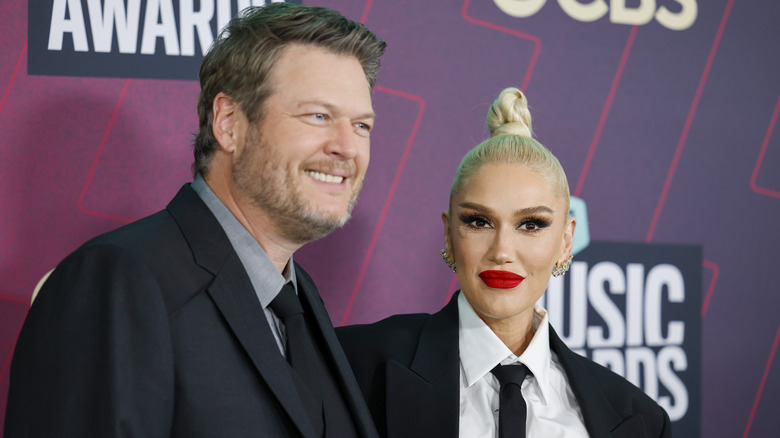 Jason Kempin/Getty Images
It can't be a good thing if Gwen Stefani is worried that her husband, Blake Shelton, would cheat on her, but that could be the case. She allegedly urged Shelton to cut ties with his friend and their former "The Voice," co-star, Adam Levine, because he was accused of stepping out on his wife, Behati Prinsloo. Yet an insider told Radar, "For her, it's personal. She isn't worried about Adam being a bad influence [on Blake], this is about principle."
It would make sense if Stefani is worried, though, because her ex-husband, Gavin Rossdale reportedly had an affair with their children's nanny. The "Don't Speak" singer recalled that time to Harper's Bazaar, saying, "It was the beginning of hell. Like six, seven, eight months of torture, trying to figure out this big secret." That said, Stefani is probably scared to go through that again and may worry that Shelton is capable of the same.
It may also not help that Shelton's ex, Miranda Lambert, had accused him of cheating on her when they were married and even cited it as the reason behind their divorce. Then there are the rumors that Shelton had already cheated on Stefani in 2018 with Chloe Kohanski, a contestant from Season 13 of "The Voice." A source had even told Life & Style at the time that Shelton and Kohanski's inappropriate relationship was one of the reasons Shelton and Stefani had held off on getting married.
Blake Shelton and Gwen Stefani's romance feels too phony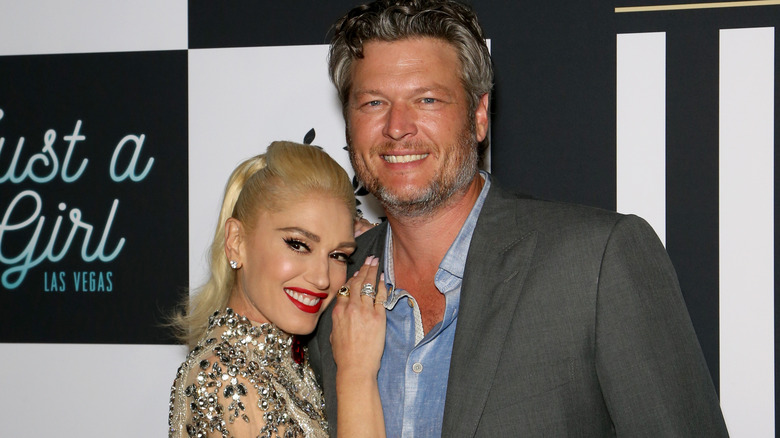 Gabe Ginsberg/Getty Images
Some Blake Shelton and Gwen Stefani fans may find the idea that their marriage is struggling surprising, considering how over the top they've always been in expressing how in love they are. For years, they've gushed about each other on social media and in interviews. For example, in 2018, when asked about Stefani on "Today," Shelton said, "How can I not be [in love]? She is the greatest." Stefani is just as mushy, having once written to Shelton on her Instagram, "i love u more than anything."
However, some believe that Stefani and Shelton's relationship seems too phony — that they just did it for the publicity. An observer even once told Radar, "They are not as loving toward each other behind the scenes. Gwen often looks irritated by him backstage." Stefani brushed off the rumors that their romance was for show, though, joking that the network brought them together. Yet, even if their passion is real, their need to constantly broadcast it may still be a bad omen. As a relationship expert told the Daily Mail, this may speak to a need for outside validation rooted in feelings of insecurity about their marriage.
All in all, there are several signs that Stefani and Shelton's marriage is potentially on the rocks, but there still seems to be love between them too. So perhaps they'll be able to work out their issues and stay together in the end.