Who Are Anderson Cooper's 2 Kids?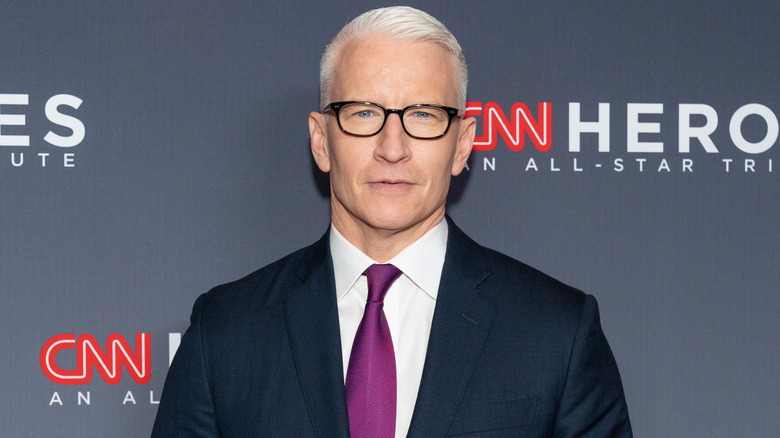 lev radin/Shutterstock
Anderson Cooper is a television journalist who became famous for his role as an anchor on CNN. Other audiences may know him from his show, "Anderson Cooper 360," where Copper discusses new topics from multiple points of view (hence 360) so that you, the audience, can form your own opinion on the matter at hand. 
Along with being a busy television personality, Cooper also juggles a family with ex-partner, Benjamin Maisani. Cooper and Maisani broke up after nine years together. The couple began dating in 2009 but didn't publically announce it until 2015. In 2018, their split was confirmed by Cooper via Entertainment Tonight. He made a statement that said, "Benjamin and I separated as boyfriends some time ago. We are still family to each other, and love each other very much."
What you don't know about Anderson Cooper is that despite the fact he and Maisani are separated, they still live together. And, on top of that, they co-parent two beautiful children together: Wyatt and Sebastian. And it seems these two are the biggest reasons why Anderson Cooper is living with his ex. 
Meet Wyatt
The oldest of the two boys, Wyatt Morgan Maisani-Cooper, is constantly lighting up Anderson Cooper's Instagram feed with his sweet smile and baby-blue eyes. When Wyatt made Cooper a father at age 52, he shared this special moment with his followers in a post: "As a gay kid, I never thought it would be possible to have a child . . . I am grateful to a remarkable surrogate who carried Wyatt, and watched over him lovingly, and tenderly, and gave birth to him. It is an extraordinary blessing — what she, and all surrogates give to families who can't have children." Wyatt was truly a miraculous gift for Cooper.
In the post, Cooper also explains how Wyatt got his name, "He is named after my father, who died when I was ten . . . My son's middle name is Morgan. It's a family name on my mom's side." Cooper got confirmation that his parents would like his son's middle name via a baby name list they made when his mom was pregnant with him. 
According to People, Wyatt took his first step at 13 months, but Cooper missed it because he was abroad for work. Thankfully, the broadcaster's ex Benjamin Maisani was there, who officially adopted Wyatt in 2022, as their second child, Sebastian joined the family. 
Meet Sebastian
Sebastian Luke Maisani-Cooper joined the world and his family on February 10, 2022. Cooper shared with his fellow CNN news anchor John Berman on an episode of "Anderson Cooper 360," that he was "definitely calmer than I was the first time," when speaking of the birth of Sebastian. Cooper also stated that Wyatt was more than excited to take on the role of big brother.  
The birth of his second child led Cooper to take some much-needed time away from work. On an episode of "Live with Kelly and Ryan," Cooper talked about his paternity leave, stating, "It's great to be able to come home and decompress, and obviously, my kids are asleep but I've taken the last couple of weeks off . . . I've never taken three weeks off before and it's just been so amazing. And every night to be able to bathe Wyatt and give him his milk, he falls asleep on my chest and there's nothing better . . . I'm usually on the air at nighttime. I miss a lot of bedtimes. So weekends I can do it, but to be able to do it for three weeks in a row, it's just the greatest. Nothing better."
Fans of Cooper love seeing his dream of being a father come true. While discussing fatherhood and having a third child, he told People, "I love the idea of it — but there's nothing planned."