Kody Brown Is Blameless In His Divorce From Christine, According To Robyn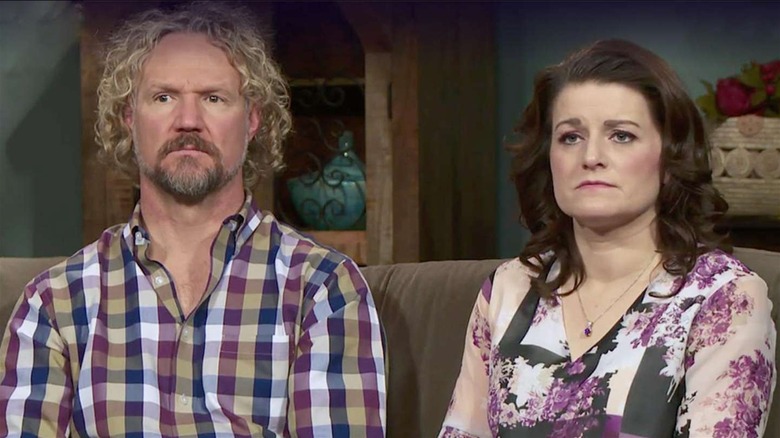 TLC/YouTube
When Kody Brown's first three wives decided to leave him, the patriarch's remaining spouse, Robyn Brown, had her fair share of impressions to voice. While Kody's breakups have undoubtedly affected Robyn, her side of the story seems to always favor the controversial polygamist.
The pair got together in 2010, legally marrying each other in 2014. For that to happen, Kody had to divorce his first wife, Meri Brown. He wanted to adopt Robyn's three children from a previous marriage. According to Robyn, Kody is not to blame for the fallouts of his other three marriages, but her ex-sister wives definitely are — especially Christine Brown.
Kody and Christine called it quits after spending more than 25 years together, sharing the news on Instagram. Robyn claims Christine didn't nurture her relationship with Kody, while Christine thinks Robyn is getting special treatment from the reality star as his favorite wife. Christine is not the only ex-wife who thinks so.
Robyn says Christine didn't take care of her marriage with Kody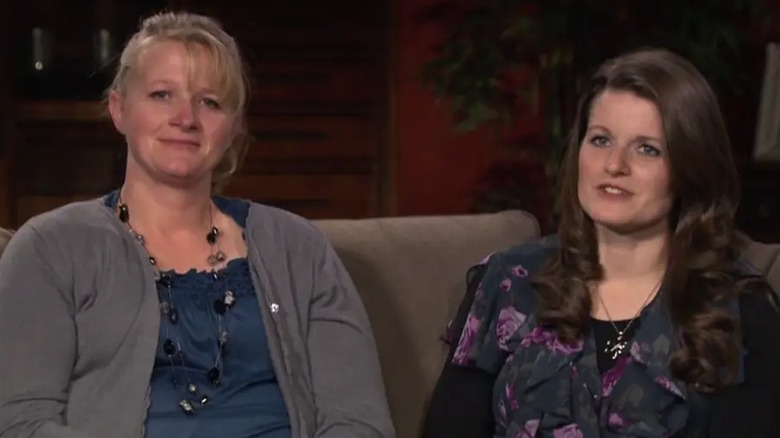 TLC/YouTube
If you ask Robyn Brown, her polygamist husband was the perfect partner to his ex-wives. In the "Sister Wives: One on One" special that aired in January 2023, Robyn admitted to thinking Kody Brown was blameless in his divorce from Christine Brown. "[Kody's] a loving person. He's a loving husband. And what you're seeing is years of people not taking care of their relationships," she said to the special host, Sukanya Krishnan, Insider reported. Robyn went on to state that the patriarch was affectionate with all of his ex-wives throughout their marriages. She claimed her husband kept the romance alive while commenting on the ex-wives' "stretch marks" and "weight gain" at the time. 
When asked to comment on Christine's claim that she was Kody's soulmate, Robyn was visibly taken aback. "[Kody wanted] the soulmate experience with each one of his wives," she responded, adding that Christine was the one who let her and Kody's marriage fall apart. "[Christine] had something with Kody. She did not take care of it," Robyn concluded.
Kody's only remaining wife didn't hold back on his other exes, either, claiming all of them wanted nothing to do with the patriarch. "They handed him to me and said, 'We don't want to spend time with him, basically,'" she shared in the first installment of the exclusive sit-down, via Cheat Sheet. However, that's not how her ex-sister wives see the situation. On multiple occasions, Kody's estranged wives have claimed the polygamist was playing favorites, and none of them got chosen.
The ex-sister wives aren't the best of friends
It's no secret that the Brown family and "Sister Wives" fans think Robyn Brown is Kody Brown's favorite wife. Christine Brown has been pretty open about how she perceives the entire situation, stating that she feels like everybody else's needs are above hers, as per People. During the tell-all special, when asked whether she thought Robyn was the favored wife in the family, Christine said, "I felt like it was apparent [that Robyn was the favorite]. To me, it was very apparent from the beginning because I'm not blind," according to Us Weekly.
Christine is not the only sister wife to feel that way. "Robyn is the one that [Kody] is most comfortable with," said Meri Brown, adding that Robyn is also the one who's most loyal to the patriarch — something he values most. When confronted with the question of a favorite himself, Kody stood up for Robyn and said she was the only one of his wives at the time who wasn't badmouthing him behind his back, Today reported.
After leaving Kody, Christine admitted to not being on the best terms with Robyn. In an exclusive interview with Us Weekly, the mom of six revealed she doesn't speak much to the last sister wife standing. But she says they weren't ever all that close. When asked whether she regretted not having a better relationship with Robyn, Christine said she was focusing on taking care of herself and that she had no remorse over the past.