Michael Strahan Lost A Ton Of Money In His Divorce From Jean Muggli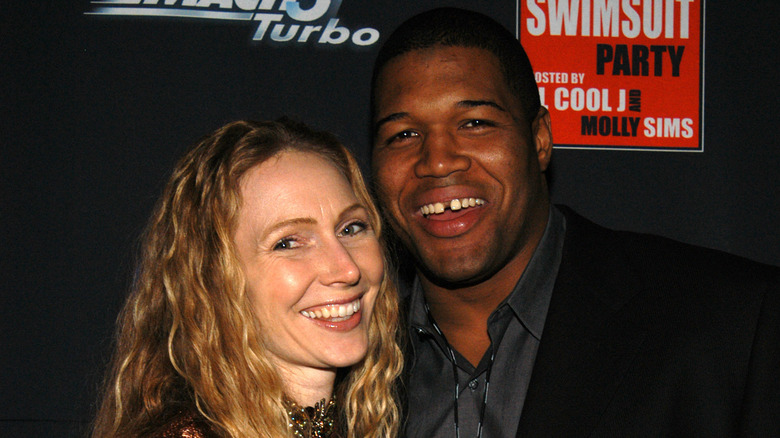 Jason Nevader/Getty Images
Michael Strahan, football player turned morning talk show host, has found success in both his very different career paths. As a player for the New York Giants, it is estimated he earned more than $76 million over the course of his 15-year NFL career. Then, he went from the defensive line to the "Good Morning America" news desk, also sitting for a stint with Kelly Ripa on "Live! With Kelly and Michael" and appearing on "Fox NFL Sunday." His contract with ABC News is purported to be over $20 million per year, though exact numbers weren't disclosed. Throw in his other business ventures, like his namesake clothing line, and it's safe to say he is raking in millions annually.
Which is great . . . unless you're going through a divorce. Strahan shares twins, Isabella and Sophia, with his second wife of seven years Jean Muggli. The couple's split was messy and complicated, as divorces can be when one party is a famous celebrity and the other isn't. As part of the 2006 finalization, a judge ordered Strahan to pay Muggli $15.3 million plus $18,000 a month in child support, claimed NJ.com. The New York Post followed up that as the pair officially split in 2005, before the finalization and awarding of the settlement in 2007, Strahan would owe $311,150 in back pay.
Strahan didn't just sit back and take it, however.
Bring in the referee!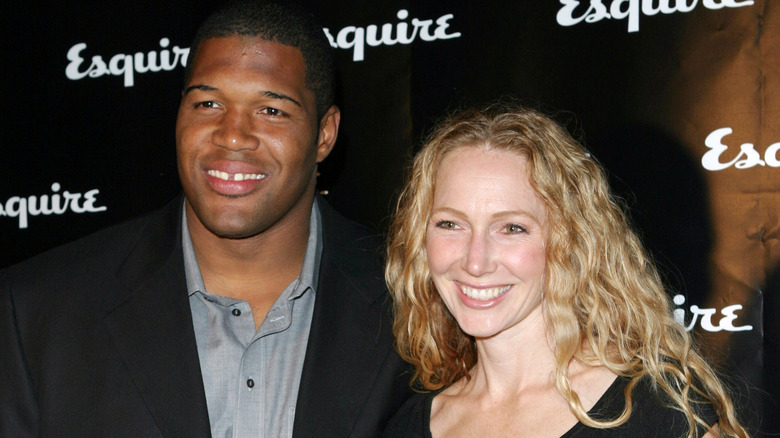 James Devaney/Getty Images
There were lots of accusations flying during the divorce of Michael Strahan and Jean Muggli. He accused her of physically and emotionally abusing their teen daughters and not taking them to their court-ordered therapy appointments, adding fuel to the never-ending messy custody battle between the exes. Meanwhile, she denied those accusations and claimed he refused to pay her what she was owed for months. Muggli's statements stem back to a nearly lock-tight prenuptial agreement signed before they wed in 1999.
According to ESPN, Strahan promised Muggli "50[%] of their joint marital assets and 20[%] of his yearly income from each year they were married." The Hollywood Walk of Fame star recipient tried to tell the judge that Muggli had never asked him outright for the 20% of his yearly income after their August 2005 separation. Therefore he shouldn't have to back pay his ex-wife. But the judge sided with Muggli, stating "the plaintiff is not credible in his claim that the defendant never asked for her separate funds," and demanded Strahan pay for the two years between separation and finalization on top of what he already had to forfeit.
After taking over half of her ex-husband's net worth, Muggli admitted, "It pays to tell the truth, and I told the truth, I never asked for a penny more than the prenup that Michael and his lawyers wrote and made me sign. And all I ever asked for was that to be upheld."
What is Jean Muggli doing with all of her income?
Undoubtedly, many celebrity ex-spouses ask for such compensation because they have been accustomed to living such a lavish lifestyle. Their children have too, which is why Michael Strahan's child support payment was $18,000 per month (reduced to $13,000 after he quit playing pro ball). Still, support for the twins aside, Muggli walked away with a huge lump sum.
Unfortunately, instead of taking her settlement and living a comfortable, peaceful life, the former wife of the pro athlete made headlines for unruly behavior. In 2021, The Sun reported that Muggli was arrested for violating an "order of protection" obtained by one of her longtime friends Marianne Ayer. New York police booked Muggli while Ayer claimed her former pal was "scary, evil and vile" and a "sociopath and narcissist." TMZ would later report that Ayer accused Muggli of "committing grand larceny, disorderly conduct, harassment, coercion, and forcible touching."
Fortunately, it seems like the issue is largely being handled away from media scrutiny. Meanwhile, Muggli has been doing a pretty good job keeping herself out of the public eye and quietly enjoying her wealth out of the headlines. After all, when you're earning millions from your divorce settlement, why wouldn't you want to?