The Stunning Transformation Of Ariana Greenblatt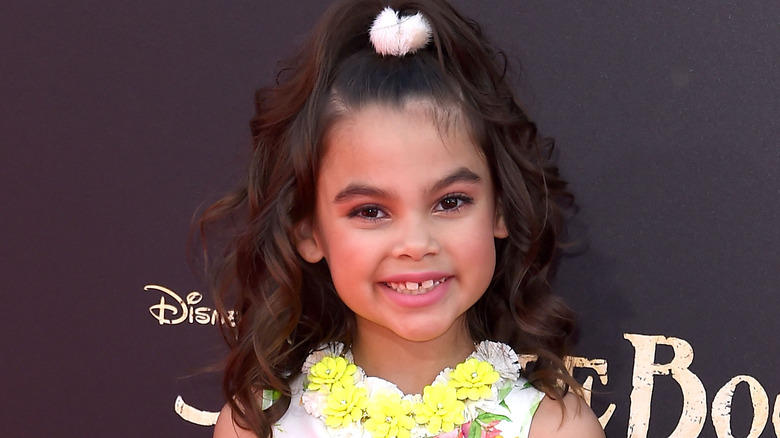 Steve Granitz/Getty Images
Whether you know her from her turn in "Stuck in the Middle" as Jenna Ortega's younger sister, Daphne Diaz, her role as the young Gamora in "Avengers: Infinity War," or you're a new fan after seeing her as the eye-rolling Sasha in Greta Gerwig's "Barbie," it's safe to say, you do know about Ariana Greenblatt.
Greenblatt may be young — just 15 years old as of 2023 — but she has already built up a seriously impressive resume. In addition to "Stuck in the Middle," "Avengers," and "Barbie," she has also starred in "The One and Only Ivan," "Love and Monsters," "In the Heights," and the upcoming Cate Blanchett film "Borderlands." She was named "One to Watch" by The Hollywood Reporter in 2019 — and so far, it's clear that they were definitely right. Greenblatt is well on her way to becoming one of the It-girls of her generation.
Let's take a look back at her journey to stardom so far.
Ariana Greenblatt grew up dancing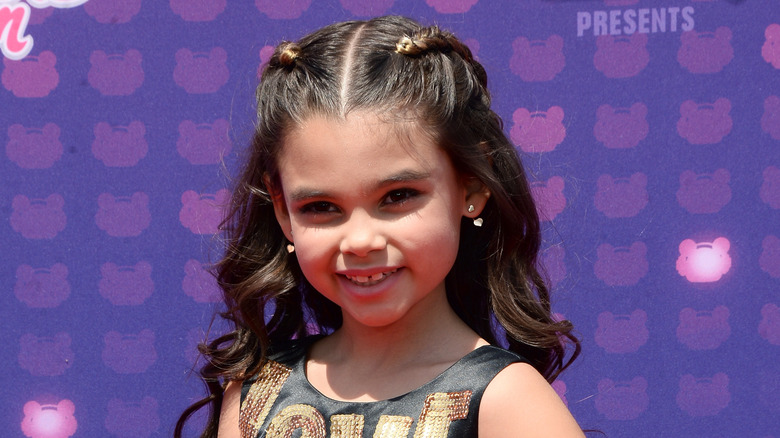 Matt Winkelmeyer/Getty Images
Ariana Greenblatt was born on August 27, 2007 to a Jewish father, actor Shon Greenblatt, and a Puerto Rican mother, Soli. She grew up in Florida and developed a love of dancing. As she put it to Elle, she was a dancer "since I was literally born." But even though Greenblatt studied dance, she also seemed suited to acting. "[E]very time I had a dance I would treat it like the biggest performance of my life," she told Women's Wear Daily in 2023. "So I've always kind of had that bug in me, to perform."
Her real childhood dream was to combine her love of dance and her love of acting and to become a musical theater performer. "I really wanted at the time to be on Broadway," she told Unpublished Magazine. Her dream role? Matilda, which she got. And luckily, that led to the rest of her acting career. "That is how I found my manager," she said.
Ariana Greenblatt began booking acting roles for Disney as a child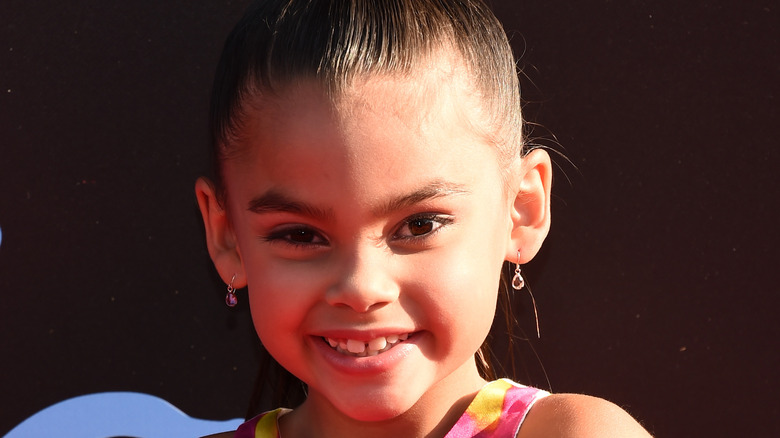 Amanda Edwards/Getty Images
When Ariana Greenblatt was just 6 years old, she became a professional actor, landing not one but three separate roles on the Disney Channel — on "Liv and Maddie," "Legendary Dudas," and of course, "Stuck in the Middle." As she told Unpublished, "One summer I went on a family vacation to LA and my manager set up a couple of general acting auditions. ... That general meeting turned into three auditions which, to everyone's surprise, turned into three bookings." As they say, good things come in threes! 
Of course, this Greenblatt's life. "I got all three roles and I was like, 'What is happening to my life?'" she recalled to V Magazine. "Something clicked. Like, 'I can't stop, I can't go back.' I was 6, what am I saying? I fell in love with acting." From that moment, she never looked back.
Ariana Greenblatt got her start with Stuck in the Middle
As Daphne Diaz in "Stuck in the Middle," the young Ariana Greenblatt got the chance to star on a TV show. She ended up appearing in over 50 episodes of the show between 2016 and 2018. At just 6 years old, Greenblatt didn't know much about acting when the show began. "Doing 'Stuck in the Middle' on Disney Channel taught me everything, especially hard work and dedication," she later told Unpublished. "It was really like a crash course on storytelling and filmmaking for me. I was very young when I started 'Stuck' and unlike everyone else in the cast, I had never done anything in Hollywood. It was all new to me." 
The show was also her first experience with fame. All of a sudden, she was getting recognized on the street. After getting her first taste of Hollywood, Greenblatt was set on an onscreen career. As she put it to The Hollywood Reporter, "There was no way I was going to stop and go home back to dance." Greenblatt relocated to L.A. and has been living there ever since.
When Ariana Greenblatt's career took off, she also started private school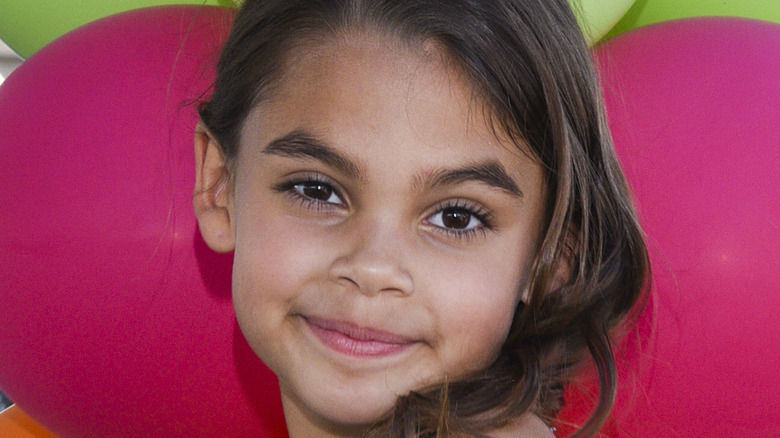 Michael Bezjian/Getty Images
As Ariana Greenblatt became busier with acting work, she made some changes to her school life. After two years of homeschooling on set during "Stuck in the Middle," she decided that private school would be a better fit. "Since 'Stuck,' I've been in a small private school, which I enjoy much more because I like having a routine, a place to go in the morning, to meet friends, and actually having different school periods," she told Unpublished. "My school is very flexible, so if I have to go to Canada or anywhere else in the world for work, they are definitely flexible. The curriculum is entirely online, which also makes it really helpful." 
She even has a "travel teacher" named Trish who can come with her to and from set. This made things a lot easier for Greenblatt when the COVID-19 pandemic hit a few years later. "I have a great studio teacher that's always with me when I'm doing movies, but during quarantine, I've been doing Zoom calls for school," she told 1883 Magazine. "In the beginning, it was really hard for me to focus, but I got used to it!"
Ariana Greenblatt's career took off with Avengers: Infinity War
Although Ariana Greenblatt got her big break with Disney's "Stuck in the Middle," it wasn't until she landed a role in "Avengers: Infinity War" that her career really began to take off. In the 2018 Marvel film, she played the younger version of Zoe Saldaña's character, Gamora.
Working on such a large production was a brand new experience for Greenblatt. For one thing, the entire production was, as she put it to Glitter, "Secretive. ... Very, very secretive." In fact, she even had to stand under a "veiled umbrella" on set so that the press wouldn't find out they were shooting scenes with a young Gamora.
Plus, it was extra exciting because she was already a big fan of the franchise. "My dad and brother Gavin are huge fans of the [Marvel Cinematic Universe], and the 'Guardian' films are my favorite," she said.
Ariana Greenblatt got to dance again on Dancing with the Stars Junior
After leaving behind her dancing roots to pursue acting in Los Angeles, Ariana Greenblatt got an opportunity to put her dancing shoes back on in 2018 when she was offered a spot on "Dancing with the Stars Junior." 
In hindsight, Greenblatt explained that she was a little underprepared for the experience. "I had literally just finished filming 'The One and Only Ivan' in England when they offered me the opportunity," she said to Unpublished. "[S]o I went right into it, which in retrospect was a little crazy, but it was still summer and I didn't have school so I thought, 'Let's do it!' It was something I had never done before."
Even though appearing on the show was stressful, she had a great time. "Performing in front of a large, live studio audience was something very new to me and we always had just the one take; the one shot to make an impression," she recalled. "It's intense. My goal was to make it to the finals, which I did! So mission accomplished." 
In 2019, Ariana Greenblatt was officially one to watch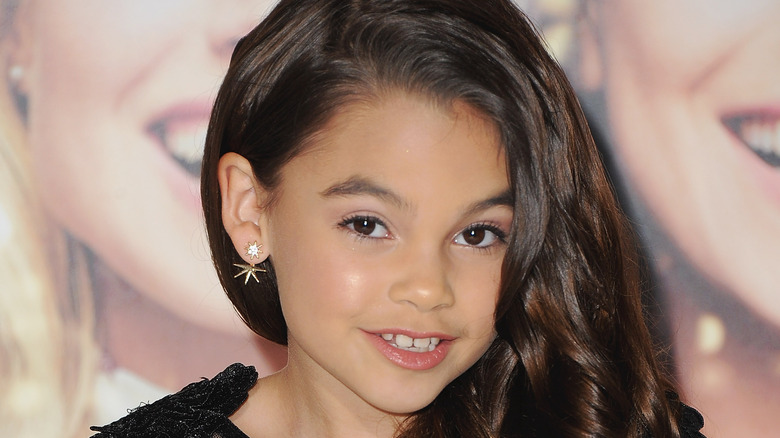 Jon Kopaloff/Getty Images
After "Avengers: Infinity War," The Hollywood Reporter named Ariana Greenblatt one of its top 30 stars under age 18. She was featured alongside the likes of Millie Bobby Brown, Sadie Sink, Dafne Keen, and Storm Reid, to name just a few. 
Making the list was a huge honor for Greenblatt, who was just 11 years old at the time. She was, as she told Glitter, "honestly shocked." She added, "I was honored to be included in that group. It was a really fun shoot. It had this Wes Anderson look, which was cool." The photoshoot featured Greenblatt with a huge '60s-inspired hairdo and a mod-style geometric dress posing on a sofa.
Nevertheless, Greenblatt tried not to let all of the attention go to her head. As she put it, "To be recognized is always nice, but it's always about the work for me, to just keep building off the last project, take a new risk or challenge."
Ariana Greenblatt tried her hand at YouTube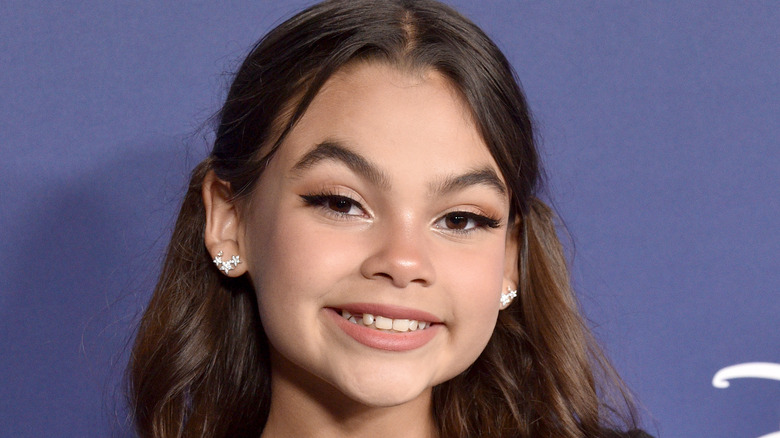 Gregg Deguire/Getty Images
Ariana Greenblatt has always loved YouTube. "I grew up on the internet, watching YouTube all the time," she revealed to Numéro. In fact, as she told Fault in 2023, one of her guilty pleasures is still "[i]ndulging in nostalgia by watching old YouTube videos from my younger years."
In 2020, Greenblatt took her love of YouTube to the next level — she started her own YouTube channel. "I made tragically cringy videos because I had nothing else to do in quarantine," the actor confessed to Numéro. 
Even though Greenblatt's YouTube career was apparently little more than a short-lived quarantine hobby, as of 2023, the actor is experimenting with vlogging once again. "I'm trying a new approach, and I have this camcorder that I've been bringing around with me, so maybe in the future, I'll put something out," she told Who What Wear. 
Ariana Greenblatt starred in the challenging 65 in 2023
As Ariana Greenblatt has gotten older, she's taken on more challenging roles. In 2023, she starred alongside Adam Driver in "'65," a film about two survivors of a spaceship crash who find themselves on a prehistoric version of planet Earth. As Koa, Greenblatt played one of the survivors — Driver played the other. "I've never done a film where it was just two people on set every day," she later told Who What Wear. "It was just us two and the crazy weather and situations that we were put in. It was a really cool dynamic to build with Adam."
What made things extra tough, though, was that her character didn't understand English. In the end, the role proved to be her most challenging yet. "It taught me a lot about the industry and about acting, especially about acting and communicating when you can't speak the same language," she told Numéro. "I'm grateful for the experience and for getting to learn from an incredible actor like Adam Driver, because it has set me up with more knowledge for the future."
Over the years, Ariana Greenblatt has tried to separate herself from social media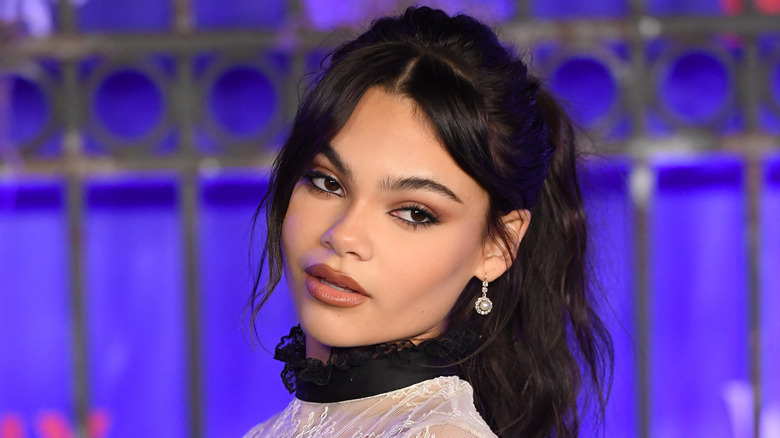 Michael Tullberg/Getty Images
As a Gen Z star, Ariana Greenblatt has grown up alongside the rise of social media. Although the actor once loved posting on social media, these days, she prefers to keep a healthy distance from Instagram, TikTok, and Twitter. 
"I have recently started to use social media less and try to detach myself from the internet," she explained to Numéro. She went on, "I hate being perceived on the internet, and knowing people can form whatever opinion they want about me is terrifying."
As of 2023, the star has almost 2 million followers on Instagram; however, she tends to keep her posts professional rather than revealing much about her private life. On Twitter, the star also keeps things professional. As for TikTok, her main account is basically inactive. "The thing with me on TikTok is I have a private account that I'm on all the time, but my main account, it's like I'm never there," she told Who What Wear. 
Working on Barbie was a dream come true for Ariana Greenblatt
In 2023, Ariana Greenblatt starred in what is probably her biggest film to date — Greta Gerwig's wildly successful "Barbie." Greenblatt played Sasha, the sassy teenaged daughter of America Ferrera's character Gloria. In the film, mother and daughter end up traveling to Barbieland with Margot Robbie's Stereotypical Barbie to save it from the Kens who have recently discovered the patriarchy (yes, it is a truly wild film).
For Greenblatt, the opportunity to star in such a huge film alongside so many legendary actors was a dream come true. For one thing, she was already a big fan of the doll. "I grew up playing with a lot of Monster High dolls and always integrated them into the Barbie Dream House along with the Barbie car. ... I was obsessed with all the details, and merging different doll worlds together was the most enjoyable part," she told Fault. "Working on the film was a dream come true as we got to bring many variations of Barbie to life on the big screen." 
Plus, the film gave her a chance to work with some of her heroes. "Working with Greta and the entire cast was a dream," the actor gushed in an Instagram post. "Special thank you to Margot, talking to you about boys and music will always be my favorite memories. Ur my big sister always and forever." 
So far, Ariana Greenblatt has managed to maintain a pretty normal teen life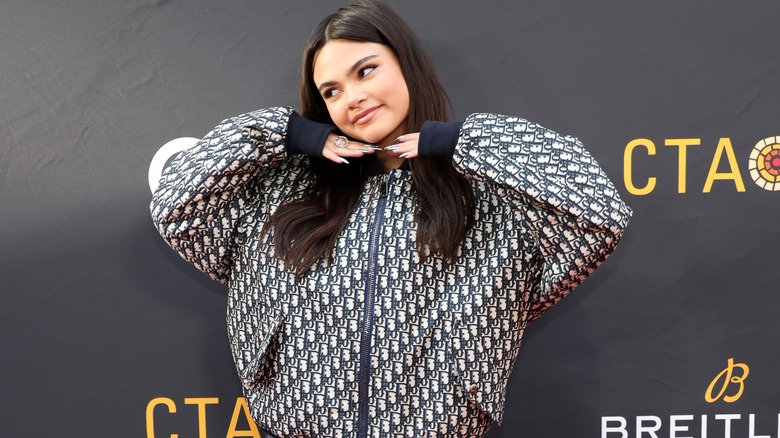 Monica Schipper/Getty Images
As of 2023, Ariana Greenblatt is already one of the most famous teenaged actors around. She's starred in multiple blockbusters and has almost 2 million followers on Instagram. Nevertheless, the teen has managed to keep her life surprisingly normal. 
For one thing, she still goes to a regular school. "Let me tell you, teenage kids do not give a poop about what I'm doing. ...They definitely keep me humble in the nicest way," she said to Elle in 2023.
Plus, Greenblatt enjoys a range of pretty ordinary hobbies. Instead of partying with Hollywood's elite, she spends her time off being what she calls a "full-time grandma." "I find really beautiful hobbies that I enjoy doing, such as baking little pastries or crocheting blankets," she told Who What Wear. Another hobby? As she said to Numéro, "My favorite thing to do with my friends is drive around and listen to music." She also told Unpublished, "I don't miss out on those little things like school trips and dances. Hanging out with my friends from school keeps me grounded and reminds me what's normal." 
Ariana Greenblatt is set to star in Borderlands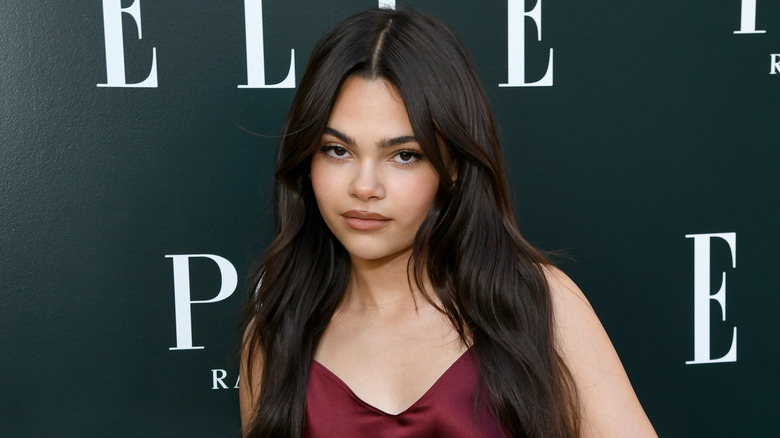 Jon Kopaloff/Getty Images
With "Barbie" out in cinemas, fans may be wondering what's next for Ariana Greenblatt. Well, first up is "Borderlands," an Eli Roth film based on the popular video game series featuring the likes of Jamie Lee Curtis, Cate Blanchett, Jack Black, Haley Bennett, and more. With a cast like that, the film is sure to be huge.
As for Greenblatt, the filming process holds a special place in her heart. "'Borderlands' is so special to me. It was the most fun I've ever had on a set," she confessed to Numéro. "The cast was such a random group of people, but we ended up being like a big dumb family. Director Eli Roth is one of the funniest, most creative people I know. My character is unhinged, blonde, and explosion obsessed."
But that's not to say the role didn't come with challenges. As the actor explained to Elle, turning a video game character into a real, living person wasn't easy — she wanted to give it her own "little twist" by giving her "normal teenage girl feelings." 
There is still a lot that Ariana Greenblatt wants to explore in her career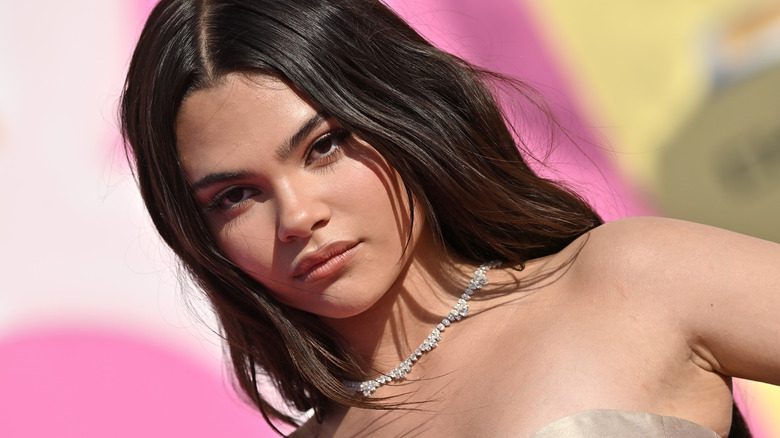 Axelle/bauer-griffin/Getty Images
Looking at Ariana Greenblatt's resume, you might easily think she had already done practically everything an actor could ever want to do. But that's far from the case. In fact, Greenblatt still has plenty of goals. As she told Elle, she has a list of people she'd love to work with, including Natalie Portman, Timothée Chalamet, Joaquin Phoenix, Winona Ryder, Angelina Jolie, Martin Scorsese, Wes Anderson, Quentin Tarantino, Jordan Peele, and Tim Burton. 
She also says she'd love to direct one day, following in Greta Gerwig's footsteps, and she apparently already has a director's instincts. "We could be making a really dumb TikTok, but I have to make it cinematic, somehow," she said. But Greenblatt also wants to keep acting — perhaps in horror films or coming-of-age stories, as she told Fault.
Oh yeah, and she would love to get a car. Somehow, Greenblatt really has remained a normal teen throughout it all.