Kristen Bell Is Gorgeous Without Makeup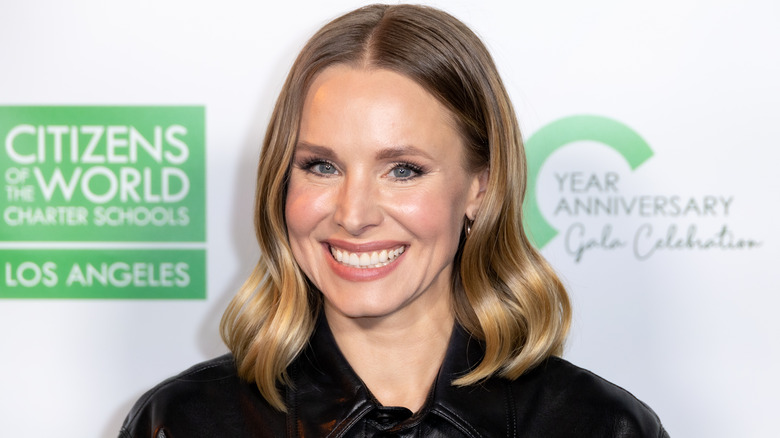 Elyse Jankowski/Getty Images
After "Veronica Mars" starring Kristen Bell first debuted in 2004, Bell's star just kept rising. She narrated "Gossip Girl," starred in "The Good Place," and voiced Anna in Disney's "Frozen" movies. And impressively, she's done it all while managing to look pretty much the same — with an ageless beauty thing going on that we absolutely love. And while she definitely looks amazing when she's glammed up for the red carpet, Bell also looks gorgeous without makeup.
If you need proof, just take a look at some of Bell's candid pics on Instagram that show how good she looks. There's a post from her birthday where she got breakfast in bed, or this post where she's holding her one-eyed rescue dog, and another post of her and her husband Dax Shepard at the gym — in all of them, she looks simply stunning. It might be that she's got a really impeccable no-makeup makeup look, but it really does seem like Bell's comfortable showing us what she looks like without any makeup on at all.
Kristen Bell swears by sunscreen and washing off makeup thoroughly
Kristen Bell has talked about her relationship with makeup and how she uses it, or doesn't: "Makeup and skin-care products are really fun, and beauty has always been something that interests me, but not from a place of 'I have to,'" she told NewBeauty. "It's more, 'Isn't it fun that we can paint our bodies?'" And while Bell fans might be used to seeing her in full makeup on screen or at awards shows, the actor said that much of the time, she goes without it. That's not to say that she doesn't put anything on her skin. Bell has also explained some of the skincare products that she uses, which help keep her looking so young.
Bell, who was an ambassador for Neutrogena for a while, explained to 29 Secrets that her skincare routine is locked in and has a number of must-haves. She will always wash her face, paying particular attention to removing all the makeup she has to wear for work, and will never fall asleep with makeup on. She always wears sunscreen, which was something that Bell's mom drilled into her when she was growing up. Bell said her mother "taught me that a full skincare regimen including sunscreen would do my skin favors later on in life." Clearly, she listened and it has certainly paid off!
Hyaluronic acid helps keep Kristen Bell's skin hydrated
Kristen Bell may look gorgeous without makeup, but she does have some skin challenges. She has eczema, which can cause itching and redness, so Bell has an anti-redness skincare routine. "I can't use oils on my face," Bell said, "but hyaluronic acid gives me the moisture that I need. Right now I'm using Eminence Organics Strawberry Rhubarb Hyaluronic Serum." Another hyaluronic product that Bell likes is Tata Harper's Hydrating Floral Mask, which is good for a boost of hydration for your skin, as well as reducing redness, and Bell likes that it does all that using natural ingredients.
It isn't just her face that she takes care of. Bell makes her own body scrub, using "brown sugar and honey and coconut oil," she told Elle. As for non-product-related ways that Bell keeps herself looking and feeling young, she told Vogue in an interview that she uses meditation as a way to calm down her mind, which she found also has benefits for her skin and body. And she's tried out cold plunge, which can help boost your dopamine and mental focus; she posted a video on Instagram to give some advice from what she's learned about cold plunging for anyone looking to try it themselves. If it works for Bell, it could be good for you, too.