What Happened To FashionTap After Shark Tank?
The social networking app FashionTap was created by fashion blogger Amy Roiland. The app was designed so bloggers and influencers could post photos of their outfits and tag each individual piece of clothing, accessory, or makeup item with a link to a store where it could be bought. Roiland appeared in Season 7 of "Shark Tank" to pitch her app to the Sharks and try to get a deal. Certain fashion brands, like SHEFIT, have seen success after "Shark Tank", so there's no harm in pitching.
Roiland told the Sharks she was looking for a $100,000 investment for 10% of her company. She explained how the app worked and how users could easily purchase the clothes they see. She explained that people sharing links to elements of their outfits would receive a commission every time one of those pieces was sold.
Shark Kevin O'Leary did not see why FashionTap was necessary compared to social media sites like Instagram and Facebook. At the time of filming, Instagram users were unable to directly tag what they were wearing and link it to shops — they could only tag the store's overall page. Roiland explained that the direct links to products are what made FashionTap stand out.
Marketing was Roiland's goal with the investment
The Sharks asked FashionTap founder and CEO Amy Roiland about the app's revenue. Roiland told them she wanted to create e-commerce capabilities and hoped to get 10% from each sale with big retailers. She also wanted to set up brand sponsorships, so successful FashionTap users would be paid to model certain pieces and link them. Lastly, Roiland said affiliate links gave the users 3% to 35% of the sale when the item was bought.
Roiland had yet to do an official launch at the time. She had only soft-launched FashionTap through her own fashion blog. After six months, she received about 6,000 downloads and had 1,500 active users monthly. She planned to use the $100,000 investment for marketing FashionTap and increase the number of users. At the time of her "Shark Tank" episode, however, Roiland wasn't making money from the app — all of it was going back to the users while she grew the app.
Guest Shark Chris Sacca thought Instagram was a good enough fashion social network. Mark Cuban wanted to know how Roiland would convince users to join FashionTap with her investment, and since she had not answered that question in her pitch, he was out. Sacca followed shortly after. Kevin O'Leary was pessimistic that the app would be successful and stepped back, and Daymond John did too, agreeing with Sacca that Instagram was doing enough for the fashion world.
Roiland stood firm on the deal she brought to the table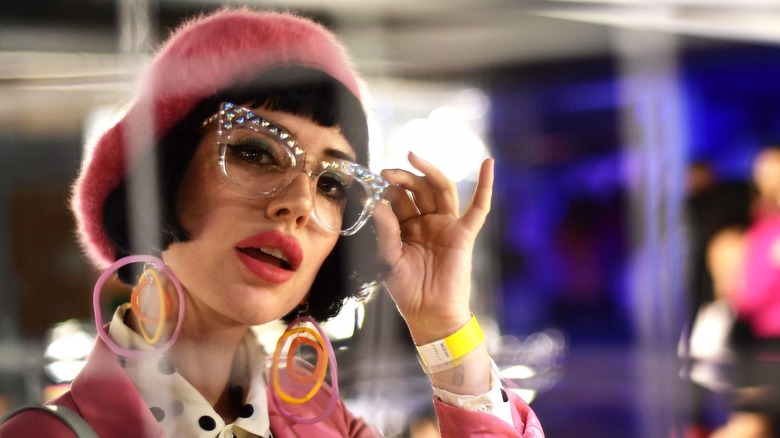 Matt Winkelmeyer/Getty
Shark Barbara Corcoran always looks to see if an entrepreneur has ambition before investing. She must have seen that ambition in Roiland, because Corcoran gave her an offer: the same investment but for 25% equity. She felt that FashionTap was similar to Grace and Lace, her most successful investment from "Shark Tank" at the time. However, Roiland was firm on wanting to only give 10% of the company, perhaps due to having other investors already holding equity in FashionTap. The Sharks were shocked that Roiland did not negotiate, and Corcoran dropped out.
The FashionTap app is no longer available, and their Twitter page has not been updated since 2017. However, Roiland is still a successful fashion blogger and runs the blog A Fashion Nerd, along with a YouTube channel. She has 234,000 followers on Instagram and more than 600,000 on TikTok as of August 2023.
Her success has not come without controversy. Several TikTokers have shared videos speaking out against Roiland. In one instance, TikToker Anna Reports News criticized Roiland, saying she asked a studio owner to allow her to do a photoshoot for free. When the studio owner did not agree to the deal, the TikToker claimed Roiland got upset and left a heated voicemail. Others criticized Roiland for using her toddler in fashion blogger content, describing the content as "child exploitation.".