Who Is Tristan Thompson's Brother, Amari?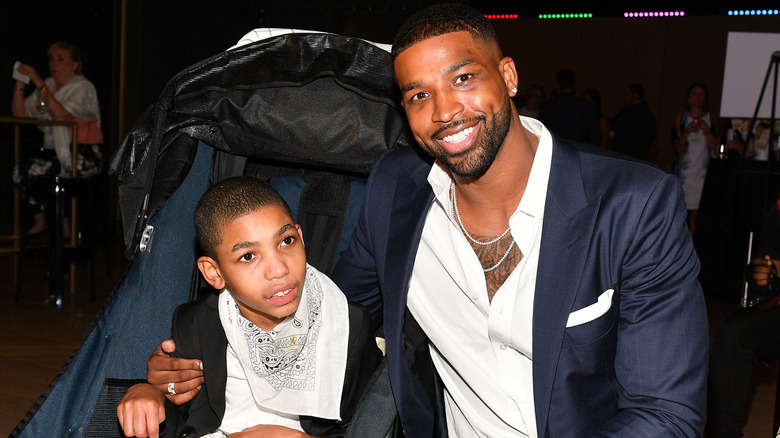 George Pimentel/Getty Images
Tristan Thompson may be best known for his basketball career and high-profile relationship with Khloe Kardashian. However, the NBA star is also a family man. Not only does Thompson have four children, but he's also a doting brother to his three younger siblings, especially his youngest brother Amari, who suffers from health complications.
In early 2023, Tristan's mother, Andrea Thompson, died after a heart attack. Andrea, a former school bus driver, was a huge part of her children's lives. Tristan previously opened up about his close relationship with his mom, revealing that they would talk on a daily basis, adding that he would often help his mother keep his other brothers Dishawn and Daniel in line. "I'm like the big daddy with all of them," he told NBA.com.
"Everyone knows that my mom, she's very dedicated in taking care of her sons — especially Amari. But at the same time, you need to make sure that she's ok," he revealed to the outlet. With Andrea gone, Tristan has stepped up to ensure that his younger brother has the support system he needs, and that has included Kardashian and the rest of her family in a big way.
Tristan and Amari moved in with Khloe Kardashian after their mother's death
Amari Thompson has epilepsy, a disorder that causes seizures. In addition to helping take care of his younger brother, Tristan Thompson says that Amari is one of his biggest inspirations. "My younger brother fights each and every day," he told NBC Sports Chicago. "Most 16-year-olds can enjoy life and have the freedom and be able to experience things with their peers. It's harder for him. He motives me," Tristan added. Meanwhile, Khloe Kardashian has also become a huge part of supporting Tristan and Amari.
Shortly after Andrea Thompson's death, the basketball player and his younger brother moved in with his former girlfriend Kardashian after severe weather damaged their home. Despite Kardashian and Tristan's split, during an episode of "The Kardashians," the reality star admitted that she wanted to keep a promise she made to Andrea after her death, vowing that she would always help take care of Amari. Khloe also added that she stepped up because that is what families do for one another during tough times. "I promise you, Amari will be perfectly ok. We will all look after him, help him and protect him," the Good American founder wrote in an Instagram tribute to Andrea.
Together, Tristan and Kardashian are helping to support Amari and surround him with family, including their two children True and Tatum.
Tristan Thompson started a charity in Amari's name
Over the years, Tristan Thompson has partnered with charities, including Epilepsy Toronto. He also created the Amari Thompson Fund to help other people suffering from the same condition as his younger brother. Of course, Tristan admits that Amari is the person who inspires him to do better in life. "What makes [Amari] special, is just his fight — especially a kid his age, being able to go what he goes through," Tristan said during his interview with NBA.com, adding that his brother is a true fighter who is known for staying positive despite any challenges he may face.
Tristan has also confessed that he wants to help end the stigma around epilepsy, revealing that education is the key. "I'm just trying to cut that barrier down and really just educate those to understand — it's not contagious, it's not something to run away from," Tristan stated, revealing that people suffering from epilepsy can find ways to treat the disorder and still have amazing lives.
Meanwhile, Tristan continues to do what he can for his brother in the wake of their mother's death and remains a dedicated sibling and guardian to Amari. In July 2023, Amari celebrated his 17th birthday with his big brother by his side. Khloe Kardashian and her family were also there to spend the day with their surrogate family member as they showered him with love and support.