Here's Where Taylor Swift's Exes Are Now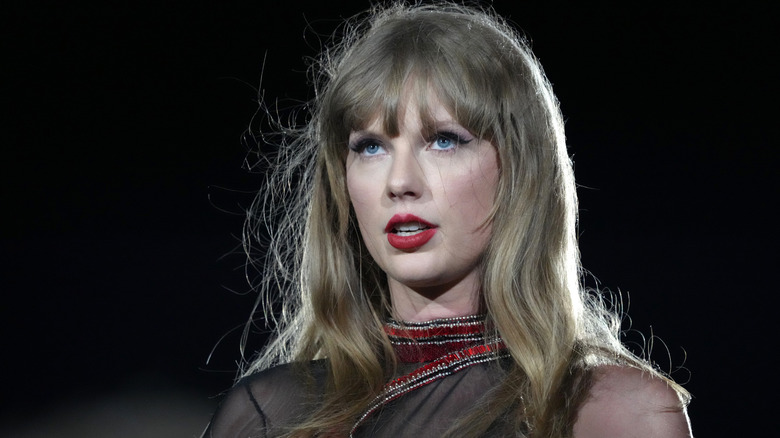 Jeff Kravitz/tas23/Getty Images
The ever-enchanting Taylor Swift, known for her musical eras, chart-topping hits, and deeply personal lyrics, has had her fair share of high-profile relationships over the years. From whirlwind romances to amicable breakups, her love life has been a rollercoaster of emotions and has captivated music listeners worldwide.
But why is Swift's love life such a fascinating subject for her fans? Well, it's partially the thrill of discovering the stories behind her chart-topping hits. Her music is like a window into her soul; each song tells a tale of heartache and personal growth. So, whether she's single or mingling, there is major interest in her love life, and we can't stop devouring her albums the second they drop. Swift has also called out the sexist undertones in the reaction to her music, telling Good Morning America per E! News, "You're going to have people who are gonna say, 'Oh you know, like she just writes songs about her ex-boyfriends,' and I think, frankly, that's just a very sexist angle to take. No one says that about Ed Sheeran."
We're taking you on a journey through Taylor Swift's dating history, focusing on her biggest loves and where they are now. These exes have inspired heartfelt ballads and scathing lyrics, which leaves us wondering just what they've been up to since splitting from her. Whether you're team "Jaylor," "Tayvin," or "Hiddleswift," we'll provide you with all the deets on those who have been a part of the star's captivating romantic narrative.
Brandon Borello (2004) and Sam Armstrong (2005)
Ah, the days of high school love! Taylor Swift's dating history has been a treasure trove of heartbreak and inspiration for her iconic songs. Let's rewind the clock and take a peek into two of her early romances: Her high school boyfriends, Brandon Borello and Sam Armstrong.
First up, we have Brandon Borello, who reportedly dated Taylor back in the early 2000s. Their romance was sweet, but as fate would have it, they had to part ways when Brandon went away to college. The challenges of long-distance love proved to be too much, and the duo called it quits. Yet, their time together left a lasting impact on Taylor, becoming the muse behind the heartfelt tunes "Tim McGraw" and "Our Song." It appears as if Brandon barely has any social media history, and while it's been rumored he works in business, he kind of just disappeared post-Taylor Swift fame. 
Sam Armstrong was another significant figure in the singer's high school dating history. Unfortunately, their story took a dramatic turn when Armstrong cheated on Swift during their time together. Not long ago, Sam was allegedly quite vocal about the situation on Twitter, spilling the beans about his actions and giving away his identity, which led to an online attack from The Swifties fandom. This tumultuous chapter in the star's life inspired the defiant anthem "Should've Said No." Sometimes you just have to turn heartbreak into a hit song, right?
Joe Jonas (2008)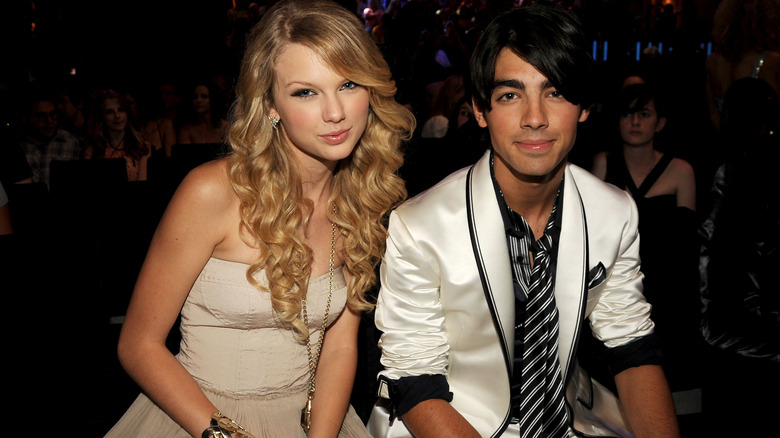 Jeff Kravitz/Getty Images
Joe Jonas, the heartthrob who once had Taylor Swift's heart in the palm of his hand. Their whirlwind romance took the world by storm in 2008, but as we all know, not all love stories end with a fairytale happily ever after. Jonas allegedly broke up with her over the phone in an infamous 25-second phone call (though the actual number has changed several times in re-tellings over the years) that left Swift reeling and the tabloids buzzing. The breakup left a bitter taste in the pop princess's mouth, and the aftermath was messy, with the musician pouring her heart out into songs including: "Forever & Always," "Last Kiss," "Holy Ground," "Better than Revenge," "You All Over Me," and "Mr. Perfectly Fine."
But life goes on, and so did Joe Jonas. After his band The Jonas Brothers went on hiatus, he formed DNCE and hit the jackpot with the song "Cake by the Ocean." In 2019, the Jonas Brothers reunited, and their album "Happiness Begins" soared to the top of the charts, proving that they still had the magic touch as a trio. And speaking of happily ever after, Jonas found his with actress Sophie Turner. The couple tied the knot in 2019 and welcomed their first child, a daughter named Willa, in July 2020.
On Dax Shepard's Armchair Expert podcast, Jonas shared that the drama is long behind them, thankfully, and he even hopes that Swift's fans have forgiven him.
Lucas Till (2009)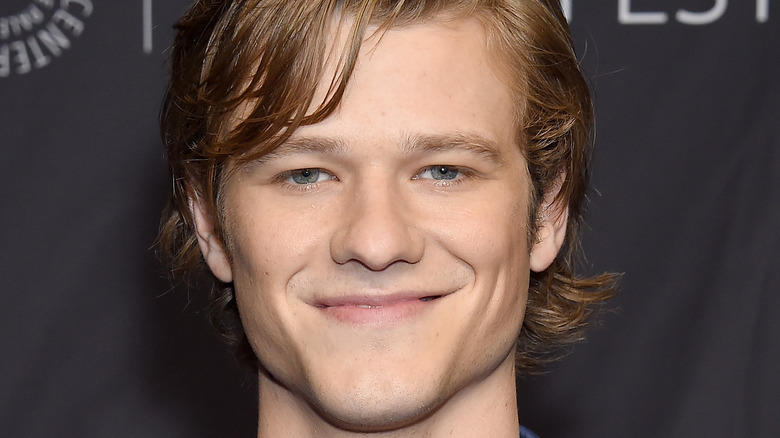 Gregg Deguire/Getty Images
Remember that adorable blonde-haired, blue-eyed cutie, Lucas Till, from "Hannah Montana: The Movie?" Well, he also appeared in the music video for Taylor Swift's "You Belong With Me,"(you remember, the one that caused Kanye West's head to spin around 10 times). Till and Swift dated for a hot minute back in 2009 after meeting while filming, but their romance fizzled out pretty quickly, and they realized they were better off as friends. And we aren't sure if their short-lived romance inspired any of Swift's hits.
After starring in "MacGyver," which was canceled in 2021, the actor landed himself an exciting new gig on the FX series "The Spook Who Sat by the Door" as the suave CIA agent, Graham Renfroe. The show is all set to take us back to the groovy '60s and '70s, and it sounds like a must-watch with a promising cast that includes Y'lan Noel and Christina Jackson. Till's other acting credits include "The Spy Next Door" in 2010, "Monster Trucks" in 2016, and his portrayal of Havok in the X-Men prequel films from 2011 to 2016. 
Taylor Lautner (2009)
When Taylor Lautner was at the top of his "Twilight" game in 2009, he and Taylor Swift had a brief romance that inspired one of her sweetest and most regretful love songs, "Back to December." Lautner was the handsome werewolf from "The Twilight Saga" who captured our hearts. After his vampire movie days were over, he tried to conquer the action star world with films like "Abduction" and "Tracers." Unfortunately, for the man with the "sweet smile," as Swift called it, these movies turned out to be box office flops.
He later swapped action for comedy, starring in the BBC series "Cuckoo" from 2014 to 2018. And in 2022, he took on a new role as Troy Lambert in the movie "Home Team." As for his love life, Taylor went on to marry his wife, also named Taylor, in 2022.
As fate would have it, Lautner's wife is a massive Swiftie herself. She met and even got a picture with Taylor Swift when she was just a kid. Recently, Lautner made a surprise appearance in the music video for Taylor's vault track "I Can See You (Taylor's Version)," and we are living for this reunion. But the real icing on the cake was when he showed up at Taylor Swift's Eras Tour in Kansas City. He couldn't help but shower her with praise, calling her a wonderful human being. 
John Mayer (2009)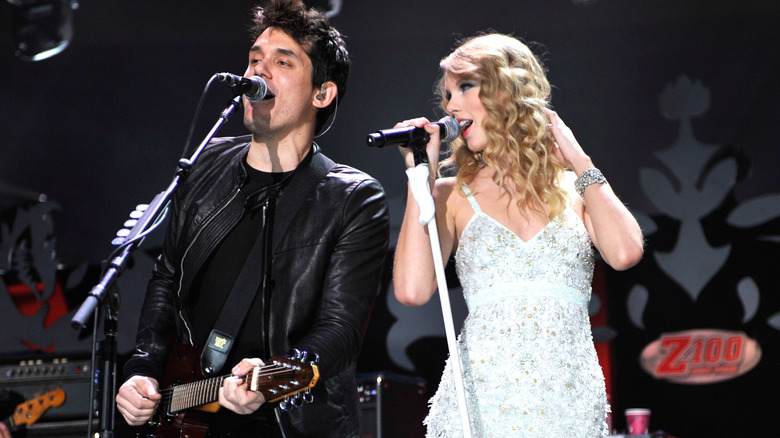 Kevin Mazur/Getty Images
In 2009, Taylor Swift found herself entangled in a romance with none other than notorious bad boy John Mayer. The pair's relationship, which sparked when Taylor was just 19, inspired one of her most ruthless breakup songs to date: "Dear John." It was the only song that's inspiration has been this explicit, with the majority of her music's muses being primarily speculative. The "Your Body is a Wonderland" singer was none too pleased when the song came out, telling Rolling Stone, "It made me feel terrible because I didn't deserve it. I'm pretty good at taking accountability now, and I never did anything to deserve that. It was a really lousy thing for her to do." Despite their past, Swift showed class and empathy by asking her fans not to cyberbully Mayer before the release of "Dear John (Taylor's Version)."
After splitting from Swift, Mayer faced a wave of backlash for a series of off-putting interviews in 2010 with Rolling Stone and Playboy, leaving his devoted fanbase stunned. At one point, he infamously referred to Jessica Simpson as "sexual napalm." Fast forward to more recent times and the deep-voiced crooner embarked on a solo acoustic tour at the beginning of 2023. As for his current love life, Mayer revealed on the Call Her Daddy podcast in 2022 that he desired marriage but was not currently dating, indicating a shift in his approach to relationships since he quit drinking six years ago.
Jake Gyllenhaal (2010-2011)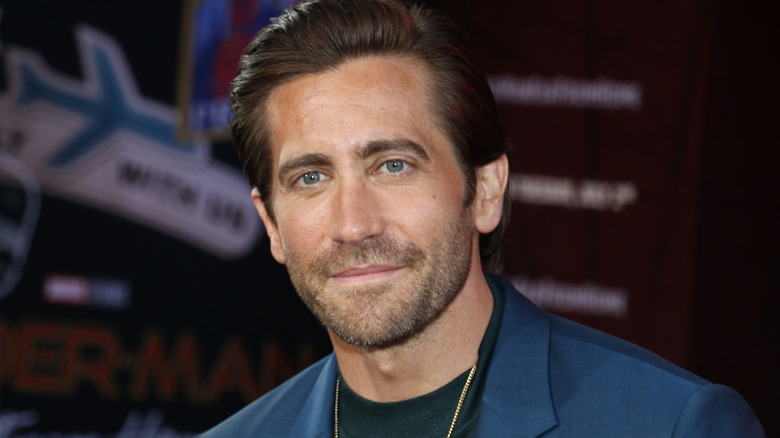 Tinseltown/Shutterstock
Jake Gyllenhaal, the heartthrob known for his captivating performances on screen and once had a whirlwind romance with the pop sensation. The pair dated for just a few months during the holiday period from 2010 to 2011, leaving Swifties swooning over what is considered one of Taylor's best songs ever, her epic anthem "All Too Well." It's safe to say Gyllenhaal had one of the biggest impacts on Taylor, spawning an entire album, "Red."
Since then, Gyllenhaal has continued to make waves in the movie industry, starring in high-profile films like "Nightcrawler" in 2014 and "Southpaw" in 2015. In 2019, he portrayed the cunning Mysterio in "Spider-Man: Far From Home," showcasing his versatile acting skills and earning him even more admirers along the way.
Beyond his acting career, Gyllenhaal made headlines in 2021 when he finally responded to Swift's heartfelt and lengthy song about him, reigniting interest in their past relationship. He told Esquire Magazine, "It has nothing to do with me. It's about her relationship with her fans. It is her expression. Artists tap into personal experiences for inspiration, and I don't begrudge anyone that." Since 2018, Gyllenhaal has been linked to Jeanne Cadieu, a 26-year-old French model who's not only a stunner but also an Ivy League student, attending Columbia University. The couple has been spotted together at various events and made their red carpet debut in September 2021.
Conor Kennedy (2012)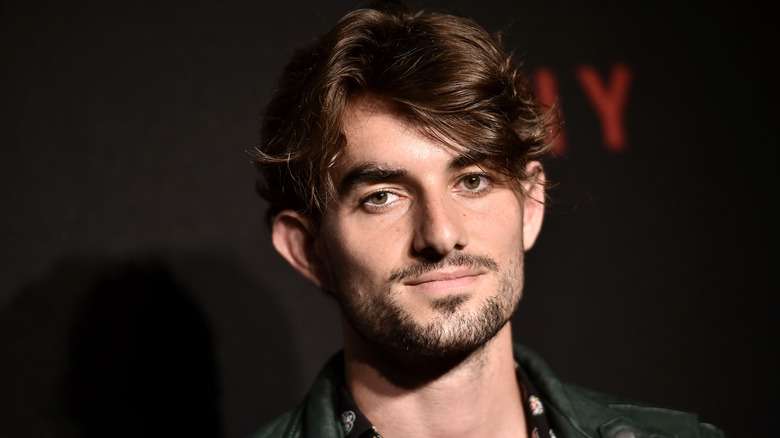 Steven Ferdman/Getty Images
Conor Kennedy, the dashing young man who briefly captured Taylor Swift's heart in a summer fling in 2012, left a lasting impact on the pop superstar. Their brief romance appeared to help Taylor move on from her previous relationship with Jake Gyllenhaal, and it even inspired her song "Begin Again."
Although their love story was short-lived, the memories lingered, and Conor found himself forever etched in the lyrics of one of Taylor's heartfelt tunes. Clearly, the pair had a lighthearted and sweet romance, and though it didn't last it obviously helped Taylor get out of her Jake Gyllenhaal-less funk. Not one to simply do the taking in a relationship, Taylor was a rock for Conor after his mother's death. Per the Daily Mail, a source told the New York Post, "It has been a very difficult time for Conor, losing his mother, and Taylor has great positive energy. She is definitely helping him through this."
But Conor Kennedy is more than just a fleeting romance in the footnotes of a Taylor Swift biography. In October 2022, he made headlines when he revealed his courageous and commendable act of going to Ukraine to fight in the midst of the Russian invasion. The young Kennedy proved that he is not only a romantic figure in Swift's past but also a man of bravery and conviction. In recent times, Conor has found love again in the arms of Brazilian singer Giulia Be, with the couple's romance reportedly beginning in November 2021.
Harry Styles (2012-2013)
Frazer Harrison/Getty Images
 Ah, Harry Styles, the heartthrob who once had a brief but memorable romance with Taylor Swift back in 2012. While their youthful fling may have ended years ago, it's heartwarming to know that after some maturing, they've managed to forge a genuine friendship. While Styles inspired almost the entirety of the 1989 album with hits like "Out of the Woods" and "Style," the two superstars have come a long way since their dating days, and his journey, in particular, has been nothing short of remarkable.
After One Direction's hiatus in 2016, Styles soared to new heights with a mega-successful solo career. His debut album in 2017 showcased his artistry and captivated audiences. In 2022, he released his third album, "Harry's House," which featured exciting collaborations and was met with critical acclaim.
His acting career took flight with his impressive performance in "Dunkirk" in 2017, and he continued to make waves in Hollywood with his leading role in Olivia Wilde's 2022 film "Don't Worry Darling." His on-set connection with Wilde blossomed into a nearly two-year relationship and a thigh tattoo for the "Watermelon Sugar" singer. Since this romance ran its course, Styles has kept fans guessing about his relationship status. He was spotted kissing model Emily Ratajkowski, he's seemingly single and keeping busy for now — completing his Love on Tour marks another milestone in his journey as a global icon.
Calvin Harris (2015-2016)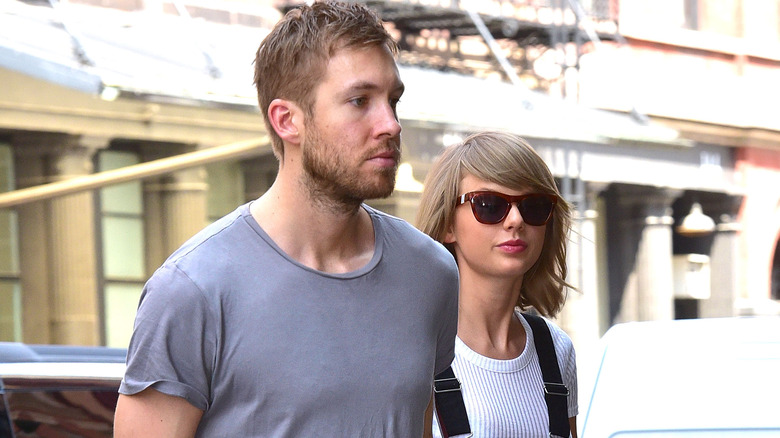 James Devaney/Getty Images
Calvin Harris and Taylor Swift were introduced by mutual friend Ellie Goulding at the Elle Style Awards in February 2015, and their romance quickly captured the public's attention. However, after 15 months together, the couple decided to call it quits in June 2016. Swift's songs about Harris include "I Forgot That You Existed" and "Dancing With Our Hands Tied."
The split initially appeared amicable, but things took a messy turn when reports surfaced that Swift had secretly co-written Harris' hit song "This Is What You Came For" under the pseudonym Nils Sjoberg. This revelation caused a media frenzy and further tension between them, with Harris feeling that his talent was being belittled. Harris went on a Twitter rant in response to the situation, but in a candid interview with British GQ in 2016, Harris reflected on the outburst and expressed regret over his reaction. 
Since splitting from Swift, Harris has been keeping things relatively low-key in his public life. He's even been nurturing his green thumb by tending to his farm, Terra Masia, on the beautiful island of Ibiza. Who knew the man behind the "sick beats" had such a knack for agriculture? While Harris' love life has seen its fair share of ups and downs, he's now happily engaged to Capital 1 FM Breakfast DJ Vick Hope. 
Tom Hiddleston (2016)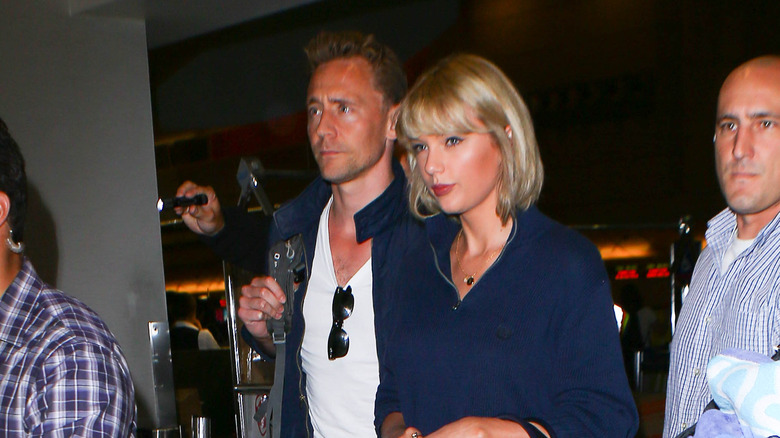 Starzfly/bauer-griffin/Getty Images
Tom Hiddleston, best known for his portrayal of Loki in the Marvel Studios movie "Thor," had a whirlwind romance with Taylor Swift in 2016. Their relationship took them on adventures around the world, including meeting his parents in the U.K. However, their romance lasted only three months, and they called it quits in September 2016. At the time, their romance was seen by some as a possible rebound from Taylor's previous relationship with Calvin Harris. Still, it inspired hit songs like "Getaway Car," "Cruel Summer," "Midnight Rain," and "Long Story Short."
Hiddleston eventually found love with British actress Zawe Ashton in 2020, and they got engaged in March 2022. They also proved their love in the most British way possible when they showed up at Wimbledon wearing coordinated outfits. The pair have also become parents, welcoming their first child in October 2022.
Fans are eagerly awaiting the release of "Loki" Season 2, and the trailer for the upcoming season shows his character, the god of mischief, experiencing "time slipping" and shifting between the past and future. The season is set to premiere on Disney+ on October 6, and viewers can expect more thrilling adventures as superhero variants cause chaos in different timelines of the multiverse. Moreover, Hiddleston has been lending his velvety voice to projects outside of acting. He recently narrated a sleep story for the Calm app, providing fans with a soothing bedtime experience.
Joe Alwyn (2017-2023)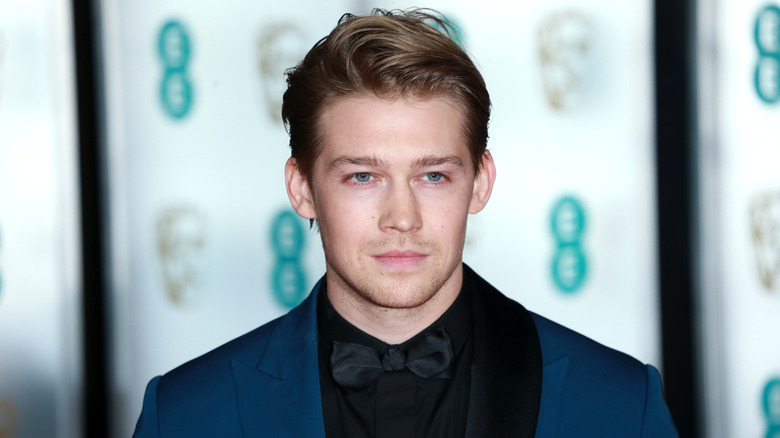 Fred Duval/Shutterstock
Songs: Several, but most notably End Game, Delicate, Gorgeous, King of My Heart, Call It What You Want, Lover, Paper Rings, Cornelia Street, London Boy, and You're Losing Me
After enjoying a highly private six-year-long relationship, Taylor Swift and Joe Alwyn called it quits. The details of their romance were shrouded in secrecy, with both of them keeping their personal lives away from the public eye. Despite the privacy, Swift's music offered glimpses into the development of their relationship, with the couple even co-writing songs together during quarantine, including "End Game" and "Delicate."
Their romance is believed to have begun around the same time as the Met Gala in 2016, and they officially became a couple in late September of the same year. Outside of their relationship, Alwyn is known for his acting career, with notable roles in films and TV series. He's garnered praise for his performances and has been steadily making a name for himself in the entertainment industry. Alwyn's acting career took flight when he starred in the 2016 film "Billy Lynn's Long Halftime Walk," which was billed as a breakout moment for the talented actor. In recent years, he starred in the Hulu drama series "Conversations with Friends" and made appearances in films like "Stars at Noon" and "Catherine Called Birdy." As of now, he is working on an upcoming anthology film titled "And," where he shares the screen with Taylor's good friend, Emma Stone.
Matty Healy (2023)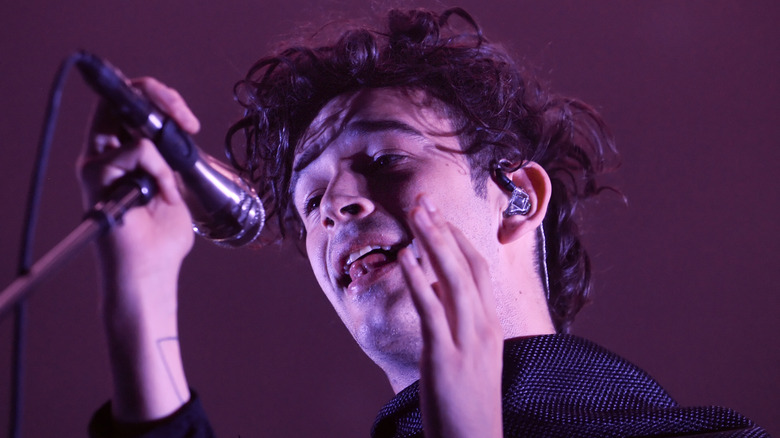 Jack Fordyce/Shutterstock
Taylor Swift's relationship with Matty Healy, the lead singer of The 1975, was a brief and highly publicized romance that made headlines in 2023. The two were linked together in the wake of Swift's split with Joe Alwyn. However, this relationship appeared to be short-lived, as it ended almost as soon as it began. During their time together, Healy was seen attending several concerts on Swift's Eras Tour, adding fuel to the speculation surrounding their romance.
Healy found himself in the spotlight recently and it wasn't just due to his brief fling with Swift. The 1975 was scheduled to perform in Malaysia at the Good Vibes Festival, but the show was cut short when Matty Healy used his platform to criticize the country's LGBTQ+ laws. Healy protested against these laws by kissing his bandmate Ross MacDonald on stage, leading to a ban on the band's performance and the cancellation of the festival's remaining lineup by the government. This incident sparked debate and concerns among Malaysia's LGBTQ+ community about potential consequences.
The 1975 later canceled concerts not only in Malaysia but also in Indonesia and Taiwan, citing "current circumstances." Indonesia has bylaws against LGBTQ+ individuals, while Taiwan is known for being more accepting. The band's actions in Malaysia raised awareness of the country's intolerance and brought attention to the band's previous onstage protest in Dubai, where Healy kissed a male fan in 2019. Healy's actions illustrate his commitment to advocating for LGBTQ+ rights and using his platform to raise awareness.