What Princess Margaret's Funeral Was Really Like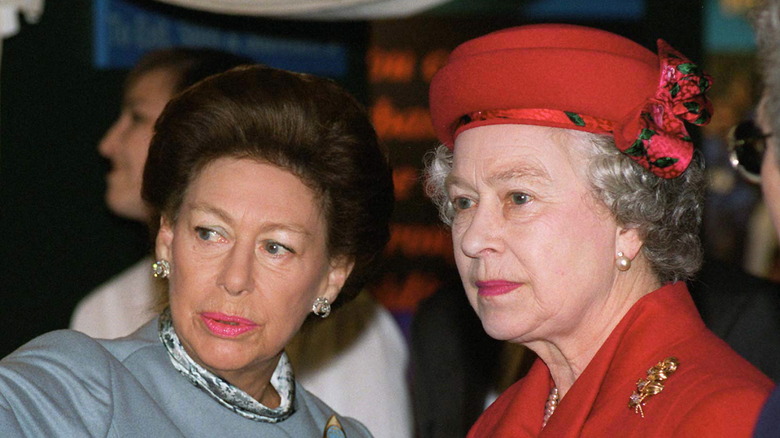 Tim Graham/Getty Images
Many members of the royal family have captivated the interest of the public over the course of history, but few had the same intriguing flair as Queen Elizabeth II's only sister, Princess Margaret. When she was born in 1930, it wasn't planned for Margaret to ever be a senior royal. Only when her uncle King Edward VIII abdicated did her father become King George VI. This thrust Margaret and Elizabeth into the spotlight as they became incredibly prominent members of the House of Windsor — the heir and the spare. As such, Margaret's life changed dramatically — but despite her position at Elizabeth's right hand, the princess always tried to live her life by her own rules.
Everything from her romantic life to her love of the arts secured Margaret's place in the hearts of the adoring public. When she died in 2002 after suffering from a stroke with her two children by her side, it was a tragic day. Unlike other members of her family, Margaret died at the fairly young age of 71, surviving both her sister and her mother. 
The public may have expected a grand funeral to celebrate the life of one of Britain's most senior royals, but the reality was quite different. Margaret's death echoed the sentiment of her life; despite her position, she was determined to do it her way. Let's take a look at what Margaret's funeral was really like. 
Princess Margaret planned everything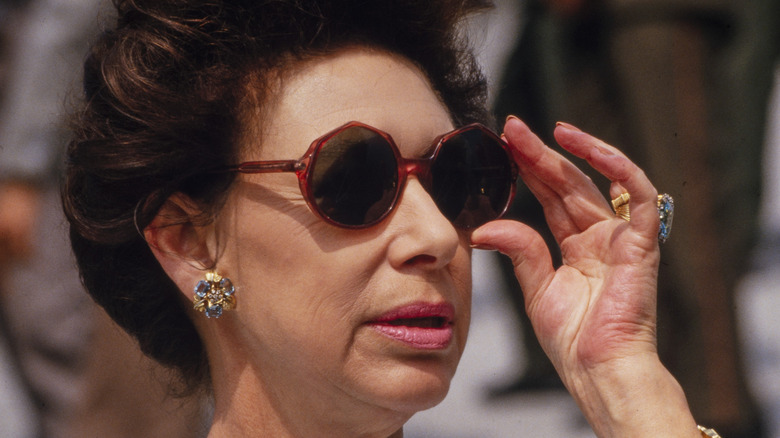 Forrest Anderson/Getty Images
Regardless of whether you're a royal or not, having your affairs in order should the worst happen is a very sensible thing to do. Many people plan their funerals in advance so it's less of a burden to loved ones at an already stressful time. Princess Margaret was no different, although it's not a stretch to assume that her big day required a little more detail than your average send-off. After Margaret's death, details surfaced that the princess had made her wishes known years prior. 
She then entrusted the documents to a senior staffer, Lord Luce, who kept them under lock and key. After all, it wouldn't have been great if they had fallen into the wrong hands before the occasion. Margaret did have two children with her ex-husband, Lord Snowdon — David Armstrong-Jones, 2nd Earl of Snowdon, and Lady Sarah Chatto. Losing a parent is never easy, but the siblings were able to have some input. Even though Margaret had laid out what she wanted, her kids gave the final approval before Queen Elizabeth II signed off on everything. 
"The late Princess Margaret was always a realist," a palace staffer explained to Evening Standard. "She wanted her passing to be marked simply and privately, but above all with as little fuss as possible and then for it to be business as usual." With her wishes well respected, Margaret's funeral wasn't the spectacle many were expecting ... 
Princess Margaret's funeral took place at St George's Chapel, Windsor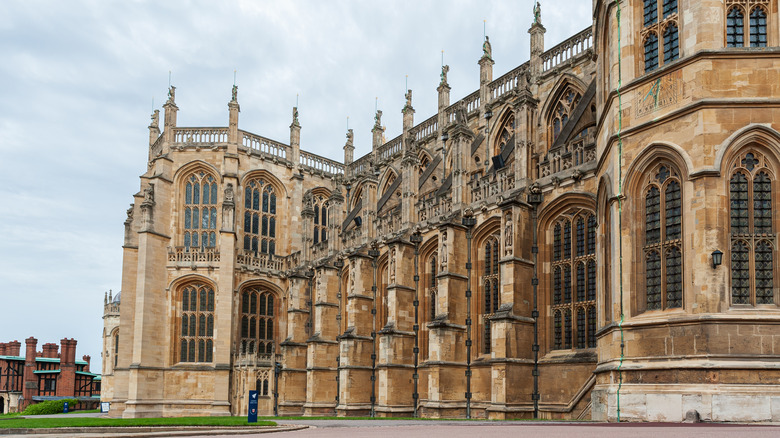 Jakub Rutkiewicz/Shutterstock
The public is used to seeing royal funerals take place in the heart of London at historic venues like Westminster Abbey. When Queen Elizabeth II died in 2020, her funeral was one of the biggest royal events ever seen, with an estimated 1 million people lining the streets to watch her final journey. While Princess Margaret wasn't a monarch, many people expected to see something of the same scale, but it was about as different as it could be.
Westminster Abbey was shunned in favor of St George's Chapel at Windsor Castle. The chapel may not be as grand as Westminster Abbey, but it's just as historic and has seen some iconic occasions in its time, including the wedding of Prince Harry and Meghan, Duchess of Sussex. Windsor has always been an important place for the monarchy, with the queen choosing to ride out the bulk of the pandemic at her residence there. Given the tranquility of the estate, it's not surprising Margaret chose it, favoring a low-key event over a grand spectacle in Britain's capital.
As for the details, the funeral itself was on February 15, 2002. Leading a ceremony this significant calls for a more senior member of the clergy, which is why the responsibility fell to the then-Dean of Windsor, the Right Reverend David Conner.
It was a very private affair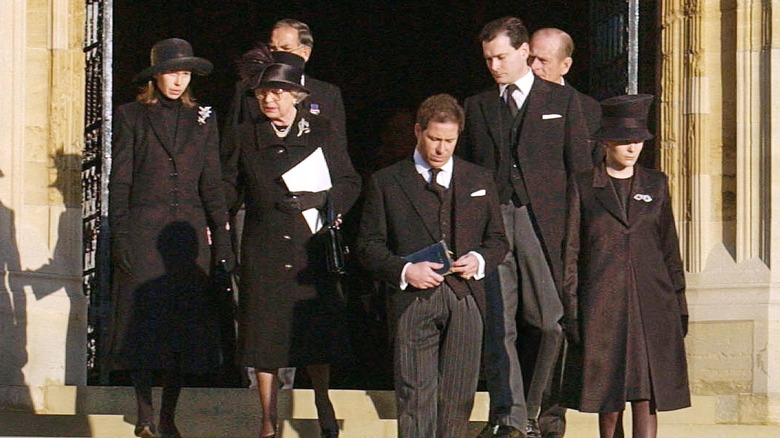 Tim Graham/Getty Images
As we've already established, Princess Margaret wished for her funeral to be as quiet as possible. Of course, what low-key means to regular members of the public means something else entirely when you're a member of one of the most powerful dynasties in the world. While Margaret's funeral was an intimate affair by royal standards, there were still 450 people in attendance, including direct family members and friends. Interestingly, Margaret's funeral took place exactly 50 years after the burial of her own father, King George VI. 
While her father's funeral also took place at St George's Chapel, his was a much grander affair. Before being transported to Windsor, George's coffin lay in state at Westminster Hall where over 300,000 subjects filed past in just three days. His service was led by the Archbishop of Canterbury himself. 
As you might expect, the royal posse donned their best outfits for Margaret. Of the few photos that exist of the day, Queen Elizabeth II can be seen wearing a fitted black coatdress paired with a pearl necklace, a brooch, and a sleek black hat. Margaret's was the first major funeral since the death of Princess Diana almost six years prior. Margaret was allegedly keen to avoid the circus that surrounded her former niece-in-law's send-off. 
Princess Margaret was cremated, a strange choice for a royal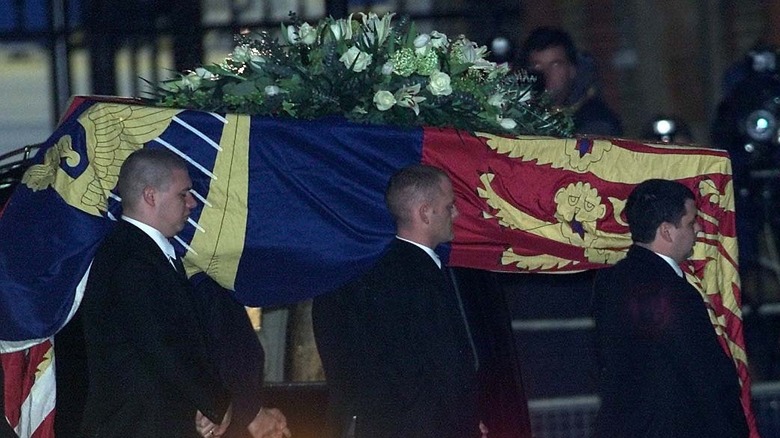 Colin Davey/Getty Images
When it was announced that Princess Margaret was being cremated and not buried as is royal protocol, it seemed like a strange choice. In fact, it was such a departure from tradition that the princess is the only senior member of the House of Windsor to do so. But Margaret's reasoning behind her final wishes makes perfect sense. It wasn't to draw attention to herself or cause a stir, but simply because she wanted to be eternally close to her beloved father, King George VI. 
"I think she'd like to be with the late king, which she will now be," Lady Glenconner, one of Margaret's trusted aides, told The Scotsman. "There's room I think for her to be with him now. She just said she was going to be cremated." According to reports, the cremation was more out of necessity than anything else. There simply wasn't enough room for Margaret to be buried alongside her father — unless she was cremated. 
Furthermore, Margaret didn't particularly like the idea of the alternate resting place — Frogmore on the Windsor estate, which she allegedly described to one of her friends as "an awful damp place" (via The Daily Mail). While the princess may not have chosen Frogmore, she would have been in good company as both Queen Victoria and her beloved husband, Prince Albert, are buried there. As for the cremation itself, it was performed quietly at a location in Slough.
The music paid tribute to her love of the arts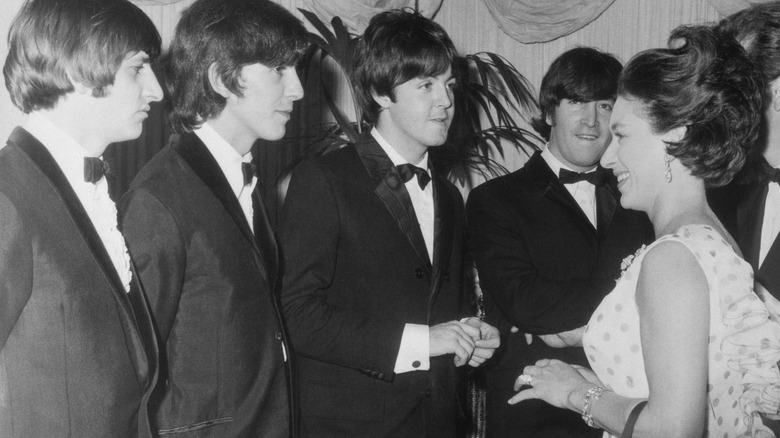 Bettmann/Getty Images
Just like us mere mortals, royals have their own likes and interests. Princess Margaret was particularly fond of music, a passion that blossomed in her childhood. According to The Royal Household, "She had a strong interest in music from an early age, taking piano lessons by the age of 4 and later becoming an accomplished pianist." Her love of the arts carried on throughout her life, with her taste just as varied as you may imagine. Over the years, she was photographed chatting with everyone from the Beatles to Elton John. 
A British style expert and former partner of Margaret's son, Susannah Constantine, gave a rare insight by talking about Margaret in her memoir, "Ready for Absolutely Nothing": "Everyone knew she loved a drink and a fag, but few had the pleasure of seeing her dance around to Desmond Dekker's 'Israelites' in her drawing room. If there was one thing she guarded with her life, it was the right to play DJ when hosting at Kensington Palace" (via Hello). Constantine was with the 2nd Earl of Snowdon for six years in the '80s and got to know the princess well. 
It's hardly surprising then that Margaret carefully picked the music she wanted to be played at her funeral. Guests were treated to Brahms' Symphony No. 2 and Tchaikovsky's "Swan Lake." Of course, other royal standard music was played, but Margaret got to play DJ one last time before saying her final goodbye. 
Her ex-lovers were there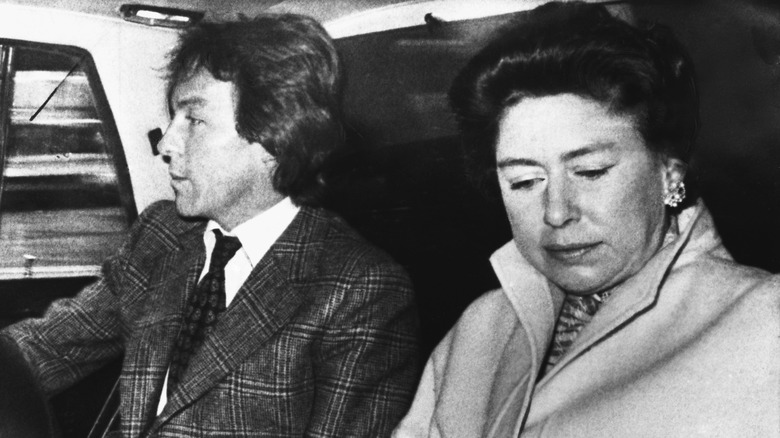 Hulton Deutsch/Getty Images
There were many intriguing things about the life of Princess Margaret. Her ill-fated love affair with her father's equerry, Group Captain Peter Townsend, left a lasting mark on her. According to the former Archbishop of Canterbury, George Carey, who spoke in the documentary "The Real Crown: Inside the House of Windsor," the romance was one of the things the princess was left to look back on in her final days. "She was sad. There were moments when she expressed that sadness. Here is a woman who longed for love and commitment, and the love of her life was forbidden from her, and there was a deep human sadness in that" (via The Daily Mail).
Margaret went on to marry Lord Snowdon. Snowdon was in attendance at the funeral, perhaps to support their kids. However, another former lover, Roddy Llewellyn, was also there. The princess and Llewellyn, who was 17 years her junior, were pictured on vacation together in the '70s. The uproar in the press caused Llewellyn to release an apology: "I am not prepared to comment on the events of last week. I much regret any embarrassment caused to her majesty the queen and the royal family, for whom I wish to express the greatest respect, admiration, and loyalty" (via Tatler).
Amazingly, it wasn't just a flash in the pan like some thought. The pair stayed together for eight years before calling it off in the early '80s. Clearly, there were no hard feelings.
The ceremony wasn't on television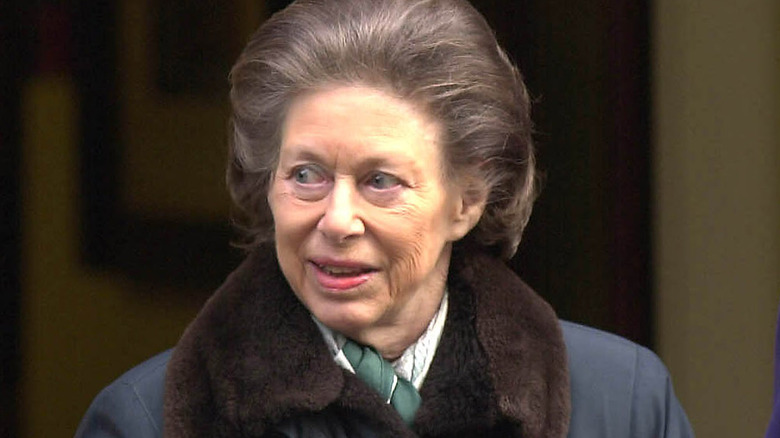 UK Press/Getty Images
These days, it's unusual for any big royal event to not be televised. The public wants to see every wedding, every coronation, and everything in between. These occurrences bring in millions of viewers, not just from England but from across the world. Queen Elizabeth II's funeral was watched by an estimated 29.2 million Brits alone. While some may feel entitled to be able to get a sneak peek, Princess Margaret's service was not televised. 
Exactly why the service wasn't broadcast to Margaret's public isn't known, but it likely ties in with her desire for it to be a much more low-key affair than other royal funerals. Her death was just a few short years after the huge funeral of Princess Diana, where over 2 million attendees watched the procession of her coffin. A further 2.6 billion watched the events unfold on television, making it just about as public as it could be. 
Margaret would have also keenly remembered the ceremony of King George VI, who died in 1952 and had a large state funeral similar to Elizabeth's, but it did have a twist. George's procession was televised to the public, but the actual service was not. In fact, according to CBC News, Elizabeth's was the first time a British monarch's funeral was broadcast. It's true that Margaret's position in the family was not as senior, but having cameras there would have been an option — just one she chose to decline.
Mourners waited outside for six hours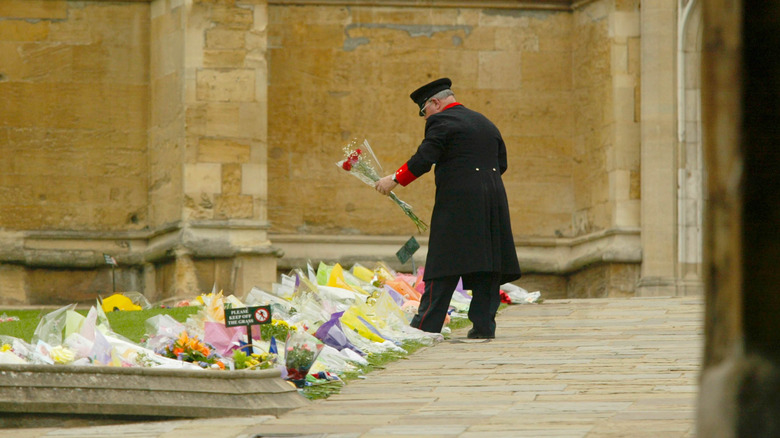 Sion Touhig/Getty Images
Even though the funeral was a private affair that was held away from the hustle and bustle of London, it didn't stop members of the public that wanted to pay their respects. Mourners did turn up to Windsor, but it was just a few hundred people. The royalists weren't about to be dissuaded by anything, though, with many of them staying outside for six hours while they waited for Margaret to arrive and the ceremony to unfold. 
Thankfully, they still had use of Windsor's stores as most decided to stay open, despite the poignancy of the day. "Around them the shops generally stayed open for business, though some had pictures of the princess in their windows," The Guardian wrote. Many stores closed when Queen Elizabeth II's funeral took place in 2022, with big British retailers like Tesco and Asda choosing to remain shut. Asda reopened after the ceremony took place. 
The die-hard well-wishers that showed up to pay their respects on Margaret's last journey were a testament to just how much the public felt an affinity toward her. At the time of her death, The New York Times wrote: "To many people, Princess Margaret was the black sheep of her generation of royals. But that reputation did not necessarily trouble her. According to a biographer, Theo Aronson, she once told the French poet and filmmaker Jean Cocteau, 'Disobedience is my joy.'" 
Mourners went back to Windsor Castle afterward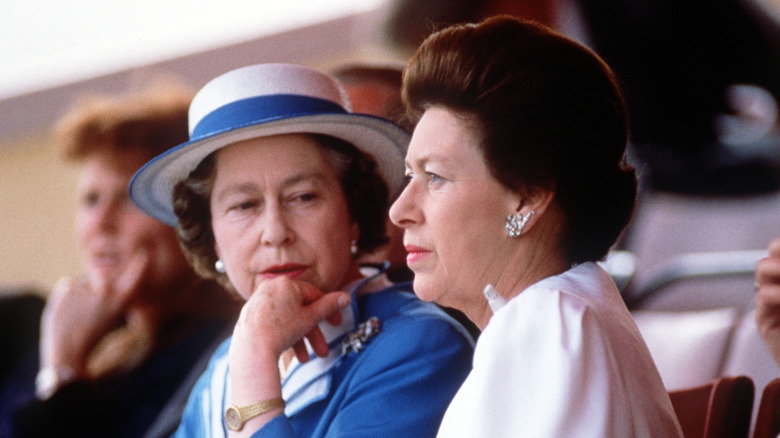 Tim Graham/Getty Images
The funeral service itself is one thing, but what happens when it's all over? In many cultures, there is some sort of gathering after the ceremony, whether it be a celebration of life like an Irish wake, or sitting shiva if you're Jewish. What was it to be for Princess Margaret? A big party like the many she attended over the years, or something more casual? As it turns out, it was simply back to Windsor Castle for tea. It doesn't get more traditionally British than that.
Things weren't quite over for the princess, though. As the mourners sat and talked at Queen Elizabeth II's residence, Margaret's coffin was being whisked away to the crematorium in Slough. The princess' loved ones may not have been with her for that part, but she was accompanied by two trusted aides: her private secretary and Lord Luce, who presumably went along to make sure everything went as smoothly as planned. 
Exactly what went on at Windsor Castle post-funeral has never been discussed, but it's not a stretch to assume that Margaret's friends and family comforted each other, shared stories about her dazzling life, and decompressed. After all, they may seem a million miles away from the rest of us, but the royals are still a family unit that lost a key member who was loved by many.
Princess Margaret's mother battled ill health to attend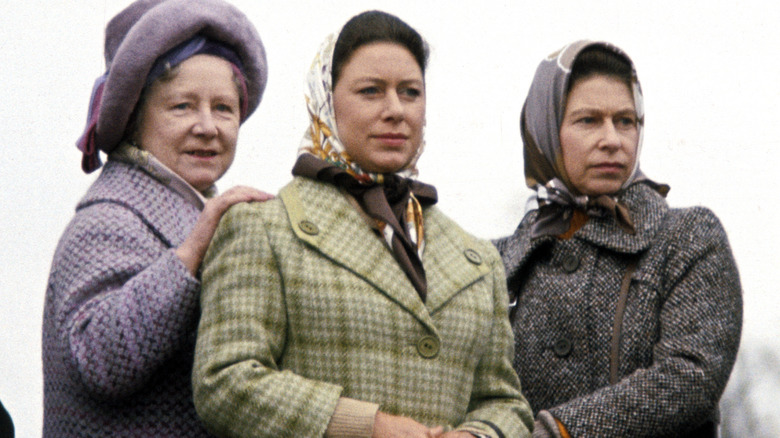 Anwar Hussein/Getty Images
One of the most poignant parts of Princess Margaret's funeral was the fact that her mother, Elizabeth, the queen mother, battled ill health to attend. Margaret may have been 71 when she died, but her mother was 101, making her a frail woman who, before the funeral, had been convalescing at Sandringham for several months. When her daughter died, Elizabeth was still holed up in Sandringham, some 140 miles away from where the funeral would take place in Windsor. 
According to historian Hugo Vickers, who appeared in Channel 5's documentary "Elizabeth: Our Queen," "When Princess Margaret died and the queen mother was still at Sandringham — where she would have probably stayed — she insisted on coming down to Windsor and taking part in the funeral" (via Express). Instead of an uncomfortable drive, the queen mother was taken by RAF helicopter, making it a much quicker trip. 
She was driven to St George's Chapel in a car with tinted windows. We were given a little insight into how stoic she was during the service when Margaret's friend Lady Anne Glenconner said, "The queen mother was in a wheelchair, and when the coffin went by she tried to stand up, or I think she may have been held up, so she could be standing when Princess Margaret's coffin went by" (via Express). Sadly, the queen mother died just a few short weeks after her youngest daughter on March 30, 2002.