Sophie Trudeau's Last Instagram Message To Husband Justin May Have Hinted At Trouble In Paradise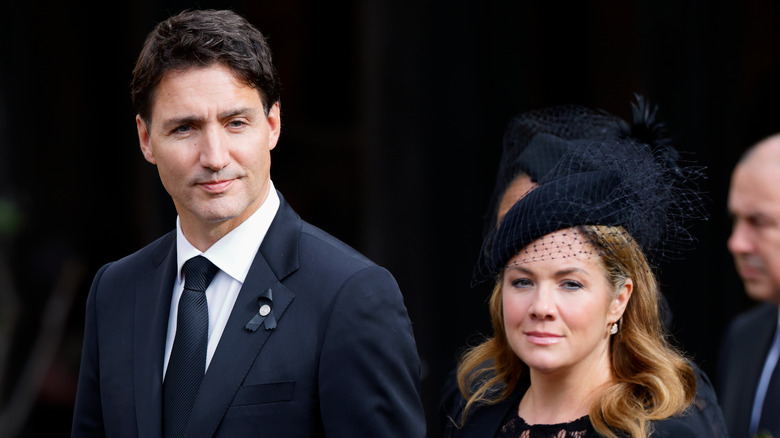 Max Mumby/indigo/Getty Images
On August 2nd, Canadian Prime Minister Justin Trudeau and his wife, Sophie Grégoire Trudeau, announced they're calling it quits via Instagram. Both Justin and Sophie released a joint statement on their respective Instagram accounts. They shared that they'd had "many meaningful and difficult conversations" before deciding to move forward with a separation. It's clear that in spite of their decision, they're still united as parents and former partners. "As always, we remain a close family with deep love and respect for each other for everything we have built and will continue to build," the statement read.
Needless to say, this news has been a shock to the public. Of course, when a major political figure splits from their spouse, it's always a bit of a gossip magnet. Consequently, the public is looking for answers about the split and why most people didn't see it coming, despite how much of the couple's lives have been in the public eye. Interestingly, just as this news broke via Instagram, another Instagram post from the past may have held a clue about what was to come.
Sophie Grégoire Trudeau's Instagram post gave a subtle warning
It's typical for folks in the public eye to post about their spouse for birthdays and holidays on social media. As a result, most people didn't bat an eye when Sophie Grégoire Trudeau made an Instagram post for her husband, Justin Trudeau, this past Father's Day. Yet, now that we know that the pair was just over a month away from putting an end to their marriage, it's easy to see Sophie's words in a different light.
The photo that Sophie posted on June 18 showed Justin giving the pair's son a piggyback ride. Sophie's caption read, "Piggyback anyone? This man could carry the love he has for his kids anywhere." While her caption continued, this was all she actually said about her husband. She continued, "Dads, never underestimate your role as mentors in your family for your sons and your daughters. Be kind to yourselves, check on your mental well-being, slow down in silence when needed... and most of all, take the risk of loving with everything you got. Happy Father's Day!" 
It's interesting to note that Sophie didn't say anything about Justin other than that he loves his children. This would be a fairly easy statement to make about your partner even if you weren't on good terms. As some commenters pointed out, this also looked like an older photo, indicating a possibility that the pair wasn't actually physically together for Father's Day this year.