Why HGTV's Erin Napier Doesn't Like This One Question For Couples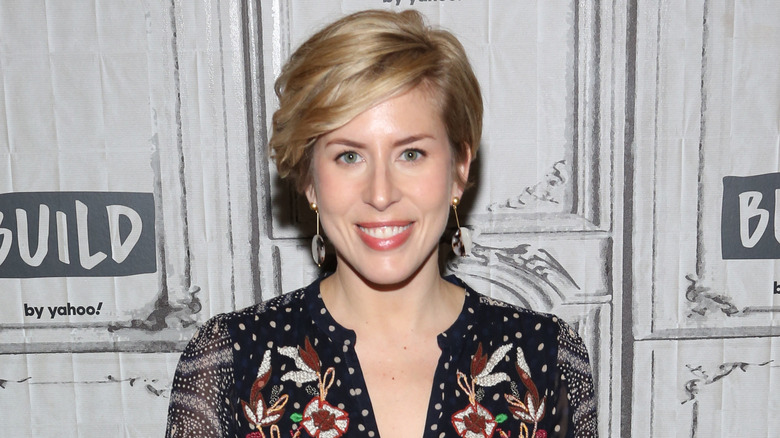 Manny Carabel/Getty Images
Erin Napier and her husband, Ben Napier, are the cohosts of HGTV shows "Home Town" and its spin-off "Home Town Takeover." The too-cute couple is obsessed with historical homes. On their show filmed in Laurel, Mississippi, they lovingly update many houses to make them modernly comfortable while keeping their old-school charm. As with many of our fav HGTV couples like Chip and Joanna Gaines, Ben is the muscle behind the handiwork and renovations while Erin brings the design skills.
As a home designer, Erin asks her clients many questions, like "How do you envision your kitchen?" or "How many bathrooms will you need?" But there's one in particular that the HGTV star makes a point to never ask — when is the baby coming? It's not because she can't stand creating a couple's dream nursery, but because she's intimately familiar with the pain the seemingly innocuous question can bring.
The Mississippi native said on Instagram, "Stop asking couples when they are going to have a baby. It's always asked with the best intentions, but the raw, awful feeling of explaining never got easier." Erin did go on to explain her reasoning, and though her journey might be different from others, she felt the weight of others' expectation that she would soon be pregnant just the same.
Why Erin advocates for minding your own business
Friends and relatives can't wait to ask couples when they can expect to shower a new bundle of joy with love. Whether you're newlyweds or have been together for a while, having a baby is the next step (at least if your relatives have anything to say about it). Remember, "First comes love, then comes marriage, then comes a baby in a baby carriage!" Except when it doesn't.
"For me, pregnancy was my biggest fear and it felt insurmountable. It felt impossible. I would turn out the light at the end of every single day and the weight of hopelessness made me feel pathetic," Erin Napier confessed on Instagram.
She said that the well-meaning question usually forced her to confront those feelings, and too often the question forces couples to smile through gritted teeth while lying, "One day we'll get around to it!" The home designer noted that it's a reality that many couples experience, especially those who are going through fertility struggles. "I'm one of the luckiest ones. For so many couples I've known there have been years of trying for a baby that never comes," she said.
In a final plea, she urges others to spare those they love the heartbreak and "help by not asking that one question."
Erin and Ben should get a reprieve
Fortunately for Erin Napier and her husband, Ben, they've gotten a reprieve from being questioned about when they will have kids. In October 2017, the couple announced they were expecting their first child together and welcomed their daughter Helen in January 2018. Then, in early 2021, the cohost couple premiered on an HGTV special to tell fans they were expecting again. Daughter Mae arrived one month later in May 2021.
The mama of the "Home Town" family seemed to finally be in the clear when it came to hurtful lines of questioning until speculation began swirling in 2022. Fans noticed Erin wasn't drinking coffee in one episode of her HGTV show and immediately concluded that she must be pregnant. According to Yahoo! Life, Erin again had to take to social media to clue in the public on how to best handle pregnancy assumptions, "Re: last night's episode, I am not expecting, I just don't drink coffee. I will not be expecting. Y'all don't have to Google thinking we are dropping cryptic hints. There are no hints. Our family is complete," she wrote on her Instagram Stories.
Wrapping up her (and many others) opinion on the matter, "It is weird and a bit rude to constantly speculate if a woman is pregnant."