Harry & Meghan's Body Language Puts Trouble In Paradise Rumors To Rest, Expert Tells Us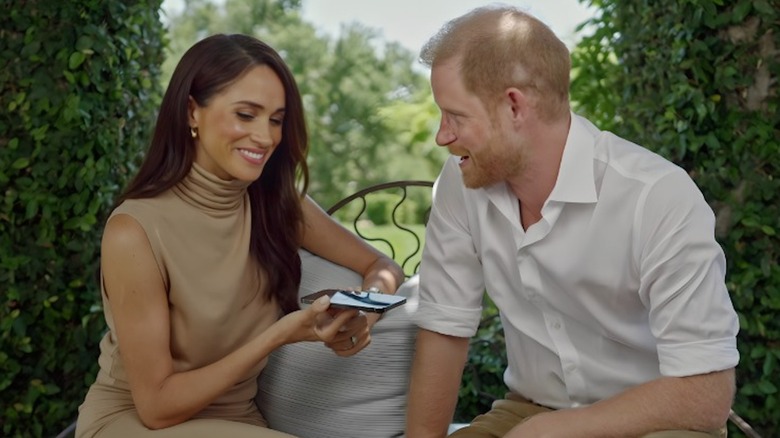 Vimeo
Rumors have been swirling lately that there's trouble in paradise when it comes to the marriage of Prince Harry, Duke of Sussex, and Meghan Markle, Duchess of Sussex. The royal couple has had a few bumps along the road this summer — at least when it comes to their professional lives. That includes the high-profile split between Spotify and Meghan's "Archetypes" podcast, which lasted just one season, and a Spotify exec using some not-so-nice language to describe Meghan and Harry.
But as far as their relationship itself, fans of the royal couple can rest easy that the two are still happy together. Harry and Meghan's relationship remains strong despite rumors, according to an insider. This was corroborated by Jess Ponce III, body language expert, communication coach, and author of "A.W.E.S.O.M.E." He told The List that you can tell how well things seem to be going between the royal duo if you watch their body language in a recent video that the couple released.
Harry and Meghan lean toward each other
In February 2023, Prince Harry, Duke of Sussex, and Meghan Markle, Duchess of Sussex, announced on their Archewell Foundation website that they'd be supporting the creation of the Responsible Technology Youth Power Fund. The fund helps support organizations working toward "shaping the responsible technology movement." The fund released a video on Vimeo about the project, featuring Harry and Meghan on the phone with some of the youth recipients of the first awards from the fund.
Jess Ponce III, body language expert and communication coach, explained to The List how you can take that video and see that Meghan and Harry's relationship isn't in trouble. First, the couple is sitting outside on a bench to make the calls on speakerphone, which is a good sign for Ponce III. "First and foremost, they are present as a team," Ponce III told us. "They both hold a common purpose by being on the call together, whereas it might be easier to do one-on-one calls." 
Harry and Meghan are not just sitting side by side; they're facing each other as they're talking. "Not only are they angled toward one another for the sake of being heard on the phone, which is being held by Meghan," Ponce III noted, "they are leaning into one another. This indicates comfortability and devotion. So the rumors of a rift are not evident in their body language — they are strong."
Meghan and Harry seem connected and close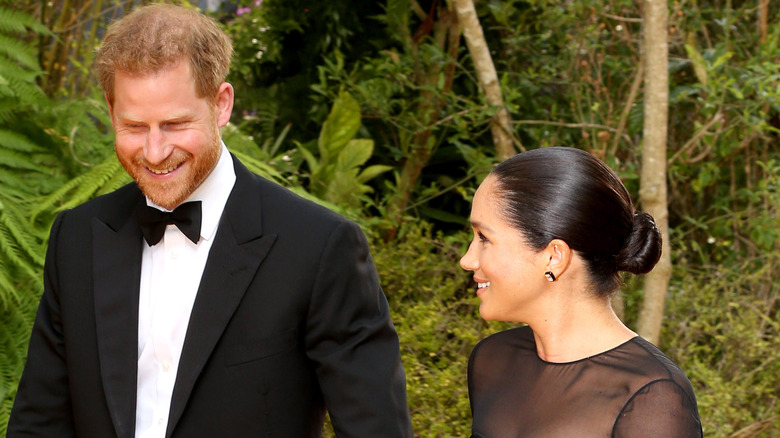 Fred Duval/Shutterstock
As Prince Harry, Duke of Sussex, and Meghan Markle, Duchess of Sussex, congratulated some of the recipients of the Responsible Technology Youth Power Fund, they were also listening intently as the callers talk about the projects that they're involved in that are designed to help make technology, like social media, a safer place for young people.
At one point, Harry said, "Thank you for doing everything that you do. Our kids, especially, are grateful." As one caller talked about how they're working to help prevent cyberbullying, Harry and Meghan looked at each other as Harry said, "This is amazing. This is exactly why we do what we do."
Of that moment of connection between the couple, body language expert Jess Ponce III said, "The timing of the eye contact is not accidental. He comes across as very sincere in his passion for the project, his conversation with the youth, and his commitment. When it comes to them as a couple, he was quite literally commenting on his and Meagan's affection and connection."
We're happy to hear that Harry and Meghan are happy together, and hopefully, that helps put some of the rumors of a rift between them to rest.