The Choice Of Words That Reportedly Upset Donald Trump Most At His Arraignment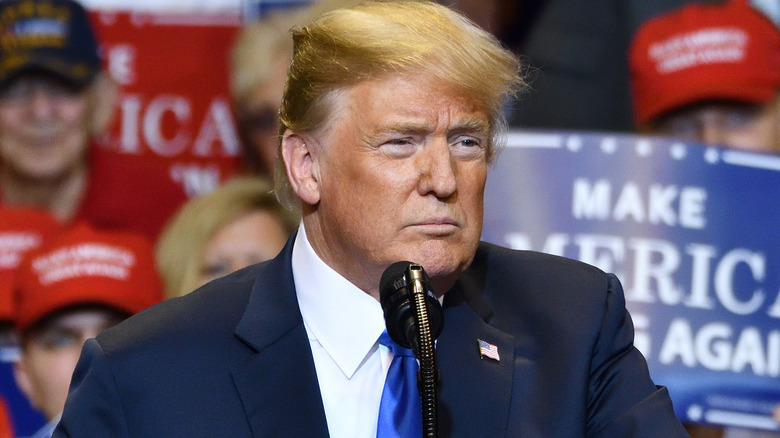 Evan El-Amin/Shutterstock
It wasn't a complete surprise that former president Donald Trump would be indicted a third time. There were definitely clues that it was coming — particularly the fact that Jack Smith, Special Counsel for the United States Department of Justice, sent him a target letter in July, confirming that he was the subject of a criminal investigation into what he did (or didn't) do on and before January 6, 2021, that may have played a role in that day's insurrection. The letter was indeed a sign of an impending charge, and Trump's campaign railed against the third indictment, calling it political persecution.
Trump appeared in court in Washington D.C. and he pleaded not guilty to the four charges against him in connection to January 6. Apparently, it wasn't the charges against him that caused the most annoyance for the former president, but rather how the judge presiding over the case referred to him at the arraignment, according to CNN. Magistrate Judge Moxila Upadhyaya greeted him by saying "Mr. Trump" and not "President Trump."
Donald Trump is used to being called president at his residences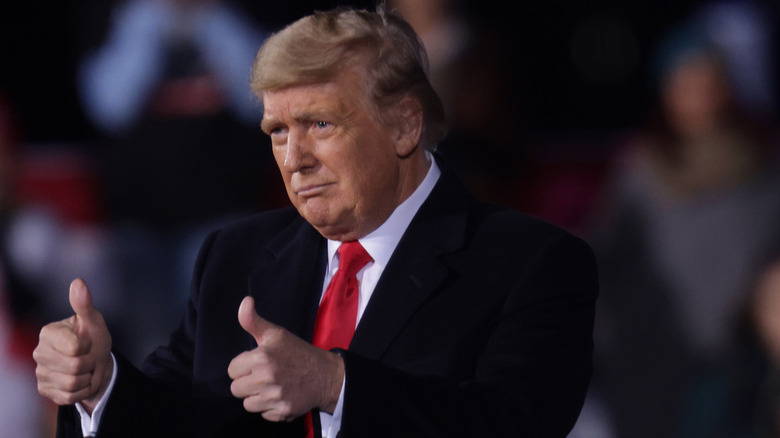 Alex Wong/Getty Images
Apparently, when Donald Trump is at his properties, like Mar-a-Lago and his Bedminster golf club in New Jersey, he's used to being called President Trump, CNN reported. So he didn't take too kindly to being called Mr. Trump and not President Trump by Magistrate Judge Moxila Upadhyaya at his Washington D.C. arraignment over his latest charges, according to the news organization.
Trump left the proceedings feeling "sour and dejected," according to CNN, after the former president pleaded not guilty to four federal charges related to his behavior on and before the Capitol insurrection on January 6, 2021, including conspiracy to defraud the United States and conspiracy to obstruct an official proceeding.
 For what it's worth, according to etiquette expert Emily Post, "Mr." and not "President" or "Mr. President" is the correct way in a formal setting to refer to a former male president of the United States. And there can't be much more formal of a setting than a federal courtroom.
Trump became the first president to be indicted on criminal charges in March 2023 in relation to the alleged cover-up of hush money payments to Stormy Daniels about a purported affair she had with Trump. He could be also facing a fourth indictment as he is currently still under investigation in Georgia over alleged election tampering.