The Real Meaning Behind Kelly Clarkson's Mine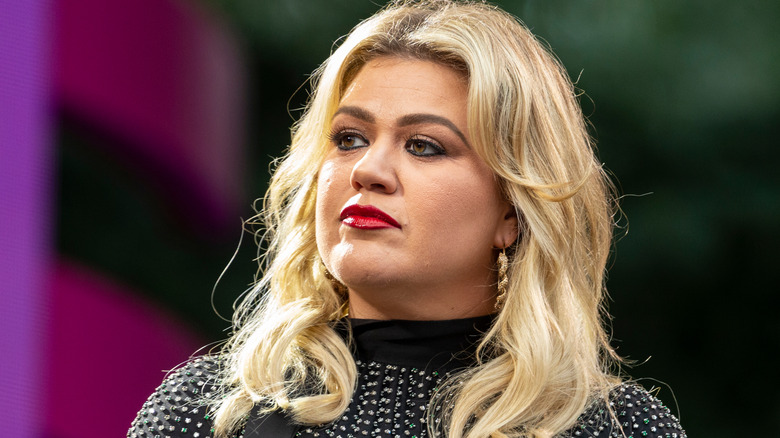 false/Shutterstock
It doesn't get much more heart-wrenching than "Mine," Kelly Clarkson's breakup anthem on her 2023 album, "Chemistry." In her hit single, the powerhouse vocalist is vulnerable about her messy divorce from Brandon Blackstock, a music manager and Reba McEntire's stepson. The exes first met back in 2006 and were married for seven years before Clarkson filed for divorce in June 2020. "Just to be brutally honest, I did not handle it well," the singer shared with Zane Lowe during a June 2023 interview. "I was crying so hard, even before separating." Fortunately, writing and recording her album was therapeutic for Clarkson, and these days, she seems to be on the other side of the awful ordeal. 
Her profound pain is present throughout the entire project, but it's especially palpable in "Mine." The song is diaristic with a vengeful edge, bluntly laying out how Blackstock damaged Clarkson's ability to trust and love, and how she wants him to suffer through the same traumatic experience. In between lines that express her candid thoughts and wishes, there are some clever references to one of her older songs and even a cult classic film. "Mine" is a stunning introduction to Clarkson's first pop album in six years. 
Mine is about Clarkson's divorce from Brandon Blackwell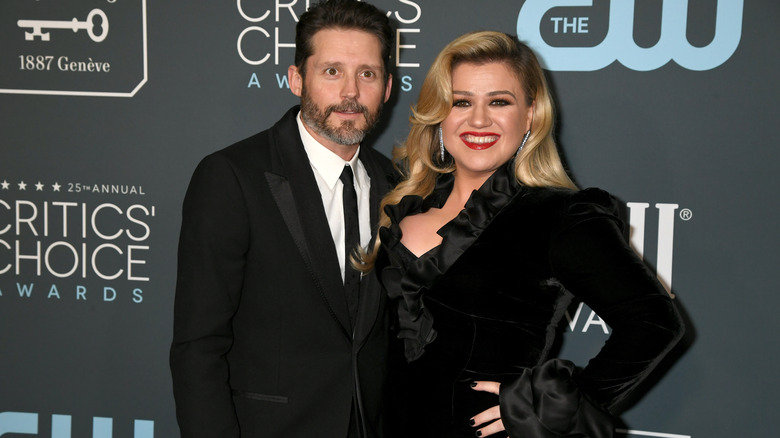 Jeff Kravitz/Getty Images
"Mine" chronicles Kelly Clarkson's post-divorce anxieties, sadness, and reflections. The singer has been open about the fact that the album tells the story of her split from Brandon Blackstock. "The whole divorce thing happened and I needed to write it," she told Variety in September 2022. "And then I didn't know if I was going to release it." After careful consideration, waiting a few years until she was ready, and communicating with Blackstock about the music, Clarkson released "Chemistry" on June 23, 2023. 
At the beginning of their relationship, Clarkson truly thought Blackstock was the one for her, as she recalls in the first verse of "Mine." "Thought with you maybe my heart wasn't meant to break," she sings. (The talk show host previously sang about all the hope she had for their romance in her emotional 2015 ballad, "Piece By Piece.") Later on in the track, she wishes for Blackstock to get a taste of his own medicine in his next relationship. "Right when you think it's perfect, they cross a line / And steal your shine like you did mine," Clarkson manifests. She also reveals in the "Mine" lyrics how she felt in the aftermath of the divorce — hopeless about love, unsure of herself, and no longer able to dream. 
The song references a movie and her previous work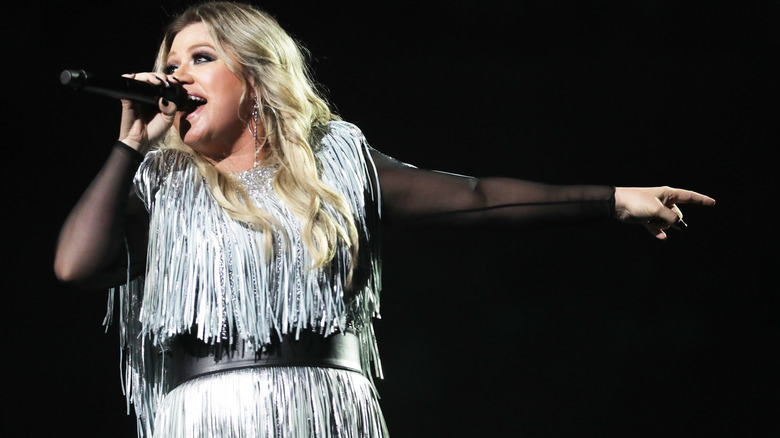 Leonard Zhukovsky/Shutterstock
Kelly Clarkson subtly alludes to a track from her 2015 album, "Piece By Piece," in "Mine" to emphasize how far she's come in her healing journey. She sings in the "Mine" pre-chorus, "I hope one day someone will take your heart and hold it tight / Make you feel like you're invincible deep inside." The word "invincible" appears to be referencing her song, "Invincible," which tells the story of a man coming into the pop star's life and making her feel amazing after a particularly low period. In her 2023 hit, Clarkson expresses her desire for Brandon Blackstock to find someone who makes him feel invincible, too — just for that feeling to be taken away like he took it from her.
There's another key reference in the lyrics, but it's not to Clarkson's own work. She croons in the chorus, "Go ahead and break my heart, that's fine / Eternal sunshine of thе spotless mind." In the 2004 film, "Eternal Sunshine of the Spotless Mind," Clementine (Kate Winslet) undergoes a procedure to wipe her mind clean of any memories of her ex-boyfriend, Joel (Jim Carrey). Presumably, Clarkson would like to just forget about her failed romance with Blackstock altogether. She explained to Howard Stern that the movie title line is supposed to express her urge to compartmentalize — in other words, to put the pain of the breakup aside.