A Look At Michelle Obama's Close Relationship With Beyonce's Mom
The relationship between Beyoncé Knowles-Carter and Michelle Obama has spanned 14 years. The singer was summoned to perform the Etta James classic "At Last" during President Barack Obama's 2009 inauguration ball. She was called once again in 2013 to sing "The Star-Spangled Banner" at President Obama's second inauguration ceremony. With Beyoncé's mother, Tina Knowles, being such a big factor in her daughter's career, it was only a matter of time before she would cross paths with Mrs. Obama.
Since meeting, Tina and Michelle have become good friends, collaborating on several initiatives. In 2012, Tina sat on the host committee of an Obama New York City fundraiser. Last December, the ladies came together for Revolt TV's "Cross-Generational Conversation," a talk between powerful women who spoke about their journeys in media, motherhood, and entertainment. During that panel, Tina and Michelle discussed the challenges and rewards of raising two daughters. Outside formal settings, the ladies have partied together, letting their hair down in a way not often seen from a former First Lady and mother of music royalty. Nevertheless, the duo has forged a close bond that transcends their professional dealings.
The women came together to honor Beyoncé's 'Formation'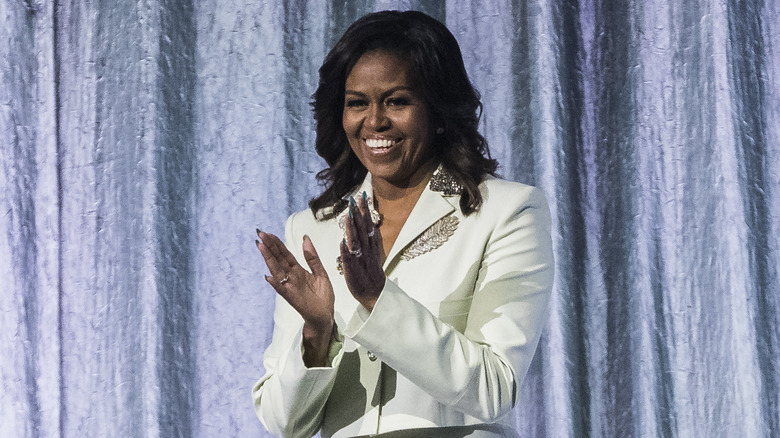 Michael Campanella/Getty Images
When Beyoncé Knowles-Carter released her powerful "Formation" video in 2016 from her critically acclaimed "Lemonade" album, many took note of her stunning looks in the visual. This included the iconic oversized black top hat, which became a staple of that era. To commemorate the singer's 36th birthday the following year, her mother, Tina Knowles, rallied some of Bey's closest friends to recreate the alluring look. Michelle Obama was among those called upon for the tribute photoshoot.
The black-and-white images showed Obama in a black off-the-shoulder blouse with a chunky bejeweled necklace and the large brimmed headpiece. Tina, Destiny's Child member Kelly Rowland, Beyoncé's mother-in-law Gloria Carter, daughter Blue Ivy, and tennis star Serena Williams were also pictured for the special gift to Beyoncé. While the photos were sentimental, they were also used to raise awareness about Hurricane Harvey, which devastated the singer's hometown of Houston, Texas, and the surrounding areas. In total, it is believed that at least 88 people in the state lost their lives.
The ladies hung out in Paris during Beyoncé and Jay-Z's 'On the Run 2' tour
Retired hair stylist Tina Knowles enjoys seeing her daughter hit the stage. In typical Tina fashion, she was in attendance during 2018's "On the Run 2" tour starring Beyoncé Knowles-Carter and her rap star husband, Jay-Z. Alongside her was Michelle Obama. The duo danced and sang along in the front row at Paris' Stade de France, going viral on social media as fans recorded the ladies enjoying the show.
Tina and Obama continue to have a great relationship that has stood the test of time. The former First Lady has not yet been spotted at Beyoncé's "Renaissance World Tour" stops with her pal, though Miss Tina has shown up with several of their mutual girlfriends. At the start of August 2023, the proud mom shared a photo with media moguls Oprah Winfrey and Gayle King at the New Jersey show. Considering that both Obama and Tina seem to love the "Renaissance" album, as well as its lead single, "Break My Soul," it will come as no surprise if these two reunite for a concert in the near future.