General Hospital Relationship Timeline: Jason And Elizabeth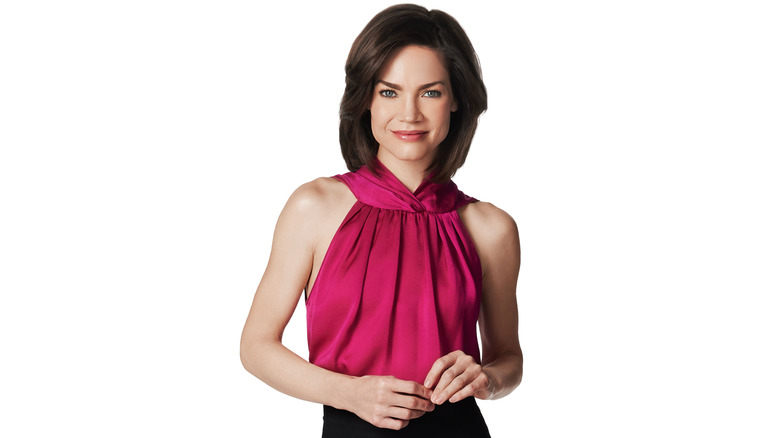 ABC/Ricky Middlesworth
Jason Morgan (Steve Burton) and Elizabeth Webber (Rebecca Herbst) were not quite a super couple on "General Hospital." When Elizabeth believed the love of her life, Lucky Spencer (Jonathan Jackson), had died in 1999, she found comfort in her newfound friend, Jason. Because Jason was a mob enforcer, his life was dangerous and that would often get in the way of any permanent relationship between the two. Jason got shot when dealing with enemy gangsters, so Elizabeth brought him to her art studio and patched him up. But, he soon realized his career was putting her in danger after he defused a bomb in the studio, so he left town. It turned out that (surprise!) Lucky was still alive (then Jacob Young), but they had trouble reconnecting because he'd been brainwashed by the evil Helena Cassadine (Constance Towers). Jason eventually returned to Port Charles, and he and Liz tried picking up where they left off.
They started getting closer, but Jason had concealed the fact that his boss, Sonny Corinthos (Maurice Benard), had faked his own death. Because she was friends with Sonny, the hurt Liz felt when she thought he was dead was devastating, and she decided the mafia world probably wasn't a good one for her to be in, so they broke up. Jason then immediately started dating Courtney Matthews (Alicia Leigh Willis), Sonny's sister, making Liz angry and jealous even though she was the one who broke things off with him.
Jason fathered Liz's son, Jake
Liz married Sonny's brother, Ric Lansing (Rick Hearst), and Jason married Courtney. Under her nose, Ric had done some heinous things including imprisoning Sonny's wife, Carly Corinthos (then Tamara Braun), in a secret panic room in their house. Meanwhile, Courtney started taking painkillers because she was distraught after a miscarriage, and accidentally ran over Elizabeth causing temporary blindness. Needless to say, both couples got divorced. Despite great turmoil in their lives, including Liz being terrorized by crazed mobster Manny Ruiz (Robert LaSardo), she and Jason reconnected — although Liz and Lucky tried to make things work, and Jason fell in love with Sam McCall (Kelly Monaco). Unsurprisingly, Sam and Lucky cheated on their respective partners, so Jason and Liz had sex. She got pregnant, and Jason proposed to her, but she turned him down knowing they were each still in love with their estranged partners. Of course, Liz pretended Lucky was her baby's father, but eventually revealed that Jason was the baby daddy.
After a jealous Sam turned a blind eye when she spotted the baby, Jake, being kidnapped in the park, she and Liz became bitter rivals. Jason split with Sam and he and Liz admitted they loved each other. After their friend, Emily Quartermaine (Natalia Livingston), was killed by the Text Message Killer, the two started secretly dating because of his dangerous job. At one point, Jason proposed again, but quickly called it off due to more mob violence. 
Liz would always come in second after Sam
When Jake was later presumed dead, Jason and Liz comforted each other, however by this time he and Sam had gotten married. But that didn't last long when their baby Danny died, so he turned to Liz again for comfort and kissed her, but felt guilty because he really loved Sam. In reality, Danny had been swapped with a dead infant. Liz found proof of this and after keeping it secret for a time, her guilt got the better of her and she revealed to Jason and Sam that Danny was actually alive. In 2012, Jason was shot by Cesar Faison (Anders Hove) and presumed dead. However, he turned up alive in a lab years later and escaped, but got run over, lost his memory, and had facial reconstruction surgery, so no one recognized him. 
He chose the name Jake, and Liz figured things out and kept hidden his true identity because she was afraid he would go back to Sam. She felt she would always come in second in Jason's heart. The two would eventually plan to get married, but when he learned he was Jason, he canceled the nuptials. Of course, it turned out he wasn't really Jason, but his twin brother Drew Cain who had Jason's memories implanted in his brain. The real Jason returned in 2017, and when the whole mess was sorted out, they agreed to just be friends and co-parent their not-actually-dead son, Jake.