Taylor Cole's Favorite Scenes In Her New Hallmark Movie Aloha Heart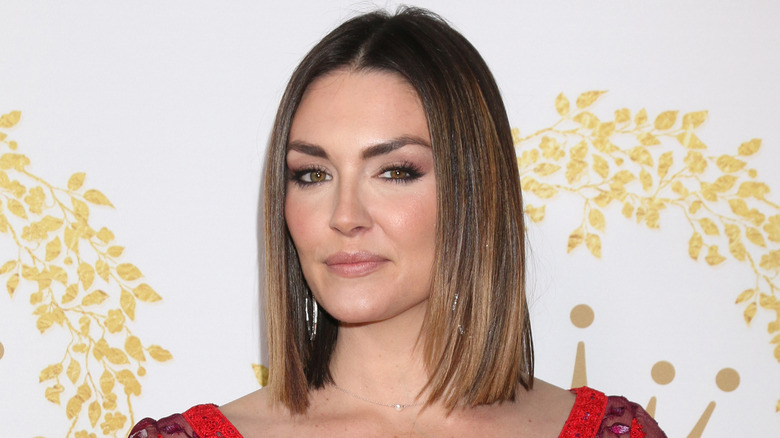 Kathy Hutchins/Shutterstock
So long winter wonderland! Taylor Cole is trading small, snowy towns like the one from "Making Spirits Bright" for the tropical island of Hawaii in her new Hallmark film, "Aloha Heart." Of course, there's plenty of romance, but there are also a few moments of environmentalism where Cole gets to show off her science-y side; after all, her character is a conservationist by trade. And it's these scenes that were amongst Cole's favorites to film.
She opened up to Just Jared about the movie, stating, "There's a few different scenes where I personally got to learn about water conservation and giving back to the land, recycling and all of those things, It just made me appreciate the message and the through line in this movie, because I feel like it's impactful. It'll stay with people, it'll inspire people with the awareness. Just being able to touch on something that will make this world a better place is always a favorite storyline in my eyes."
Cole being excited to learn about conservation while shooting "Aloha Heart" isn't just because climate concern is a hot topic right now. The Hallmark celeb told TV Fanatic about the script and her character, "I was immediately drawn to it because of the character; we easily share the same passion for protecting Mother Earth, this beautiful canvas we've been given. So, you know, I was immediately drawn to the script just because of her sheer nature."
The chemistry of love
Water samples and eco-friendly practices weren't the only filming aspect Taylor Cole enjoyed. What's a Hallmark film without a healthy dose of romance? In "Aloha Heart," conservationist Cole and a new hotel manager, played by Kanoa Goo, fall in love after a flirty back-and-forth. Cole gushed to Just Jared, "I really enjoy the Hallmark scripts where the two characters don't see eye to eye right away. They're butting heads, and the way that they communicate is just often they're having a hard time like seeing eye to eye. I just think that makes it so much more interesting and fun to learn from."
She went on to say there were plenty of cute and comical moments in the film. Speaking of Goo, who is a first-time Hallmark actor, Cole noted that she adored playing his very first onscreen love interest, recalling to TV Fanatic that she enjoyed showing him how important the films Hallmark makes are to fans. Cole also shared some kind words about her costar: "He's just a doll. He's just so sweet."
Don't be surprised if you recognize Goo; though he is new to Hallmark, the Hawaiian native has appeared in the film "I Was A Simple Man" and had a regular role on ABC's "The Rookie."
Aloha Heart took fans by surprise
When Taylor Cole announced in her Instagram stories that a Hallmark movie starring her and Kanoa Goo would premiere at the end of July 2023, many fans were caught off guard. Filming in Hawaii had been pretty hush-hush, and Cole hadn't dropped any hints that she was working on a new project.
Small clues were given, though, like when Valen Ahlo, a filmmaker and actor, posted to his Instagram stories in May in honor of the conclusion of filming (via Heavy). Or, when makeup artist Laura Aguon shared a few behind-the-scenes snapshots on Instagram of the cast and crew having fun on set. Cole and Goo were among the first to comment on the images. In May, around the time filming presumably wrapped, Cole posted a reel of herself golfing at a Hawaiian golf club as a part of an ad for Sokim New York. But if fans had not put two and two together, they wouldn't have speculated the real reason she was on the island was for a surprise Hallmark film.
We'll have to keep a closer eye on Hallmark star Cole, who, according to Deadline, recently signed an "exclusive, multi-picture overall deal" with the channel. No doubt she may have more surprise romance flicks up her sleeves!