Jackie Kennedy's Husband Aristotle Onassis Initially Dated Her Sister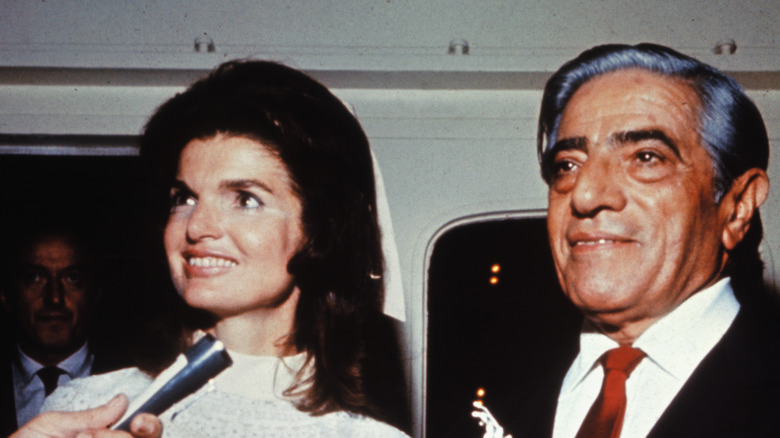 Bettmann/Getty Images
Though everyone predominantly knows Jacqueline Kennedy Onassis as John F. Kennedy's wife, she was indeed married to someone after the former president died. That person was tycoon Aristotle Onassis (hence the nickname "Jackie O"). The plot thickens, however, when you learn that Aristotle had previously had a relationship with Jackie's sister, Caroline Lee Bouvier.
Bouvier, who went by Lee and is often referred to by her married name Radziwill, was once Aristotle's lover. Bouvier is Jackie's younger sister by four years and was reportedly in a relationship with the Greek businessman around the time JFK died in 1963. By 1968, Jackie and Aristotle were being wed in a ceremony in Greece. The love saga continues because, according to the author of "Jackie, Janet and Lee" J. Randy Taraborrelli, Bouvier willingly gave up her lover for her older sister. He speculated to People, "After Bobby was killed, as much as she wanted to be with [Aristotle], she gave him up for Jackie."
Supposedly, Lee feared the worst for Jackie as well as her niece and nephew after the president was assassinated. Her decision to end her relationship with Aristotle was so that he could be the Kennedy family's "protector."
Romantic, right?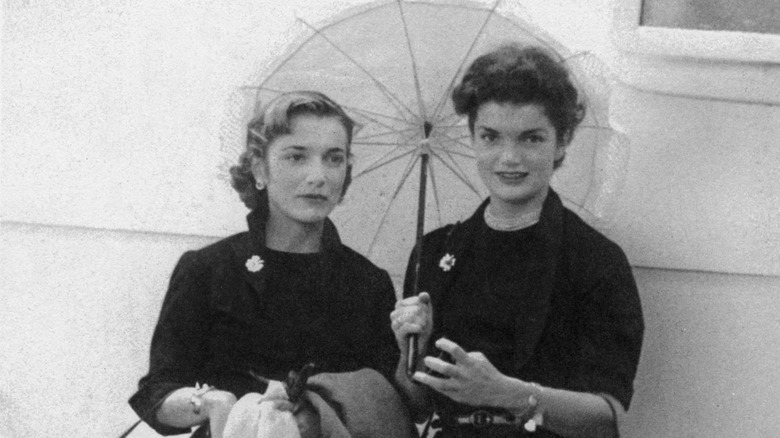 Apic/Getty Images
While Jackie Kennedy may have been smitten with the dark-haired shipping magnate, some suggest his attraction to the former First Lady was simply a business deal. Author J. Randy Taraborrelli told People, "I think from [Aristotle] Onassis' point of view, it was an acquisition." He didn't deny that Aristotle may have loved the American socialite but that they weren't in love at the time.
Perhaps Jackie felt similarly, as she reportedly said he "rescued [her] at a moment when [her] life was engulfed in shadows" (via The Washington Post). This sounds romantic until you hear that even Jackie's confidante and live-in assistant told Fox News that they "seemed like friends, not a couple." And we now know that being wealthy might have been the main deciding factor for Jackie on whether or not to stay with a man.
In all, it seems like Jackie went through quite the trauma with the devastating death of her husband. As a result, she decided to place her trust in a close (well-off) friend who offered security for her and her little kids. In her honeymoon photos, showing her swimming in the Grecian waters near her husband's yacht, was she smiling because she was head over heels in love or relieved to not have to fend for herself? Who knows. But we can say that sister Lee Radziwill seems to have gotten the bad end of the deal.
What happened to the happy couple?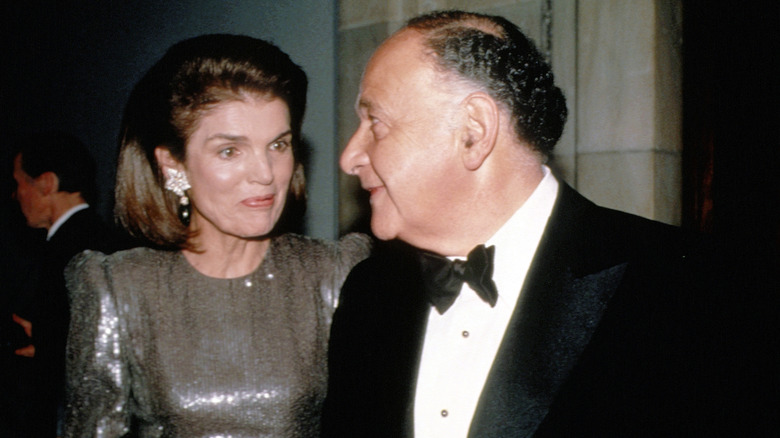 Images Press/Getty Images
The marriage of Jackie Kennedy Onassis and Aristotle Onassis didn't last forever. Not because of divorce but sadly due to death. Jackie lost her second husband in March 1975 when he died of pneumonia induced respiratory failure.
Caroline "Lee" Radziwill, who made public overtures of graciously giving up her beau, was likely deeply scarred by the whole thing. To be fair, Radziwill was married at the time she took up with Aristotle. However, Jackie reportedly didn't even tell her sister that she and her former lover were engaged; he had to break the news. While Radziwill told the public, "I am very happy to have been at the origin of this marriage," she reportedly yelled to friend Truman Capote, "How could she do this to me!" (via Vanity Fair).
Jackie went on to have brief flings with Warren Beatty and Frank Sinatra (this lady has a seriously long dating history) before finally committing to Belgian-American diamond magnate Maurice Tempelsman. He was her longtime companion that shared her home for 12 years — right up until she died in 1994. Tempelsman gave a eulogy at her funeral, reading the poem "Ithaka" about life's journey. It's touching until you consider Tempelsman was and had been still technically married to his wife since 1949.