Beyonce Is Absolutely Stunning Without Makeup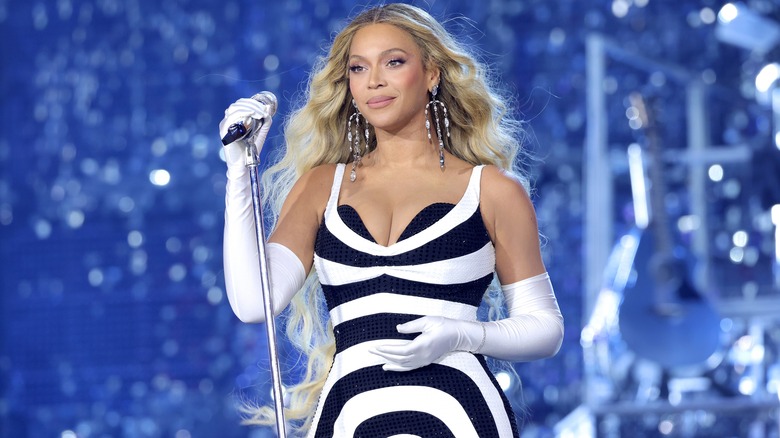 Kevin Mazur/Getty Images
Anyone with eyes can see that Beyoncé is a gorgeous human being. In addition, she is a supremely talented musical artist. Her live shows are theatrical and she fully plays the role of her alter ego, Sasha Fierce for her adoring fans. She has said that when she puts on the outfit, stilettos, makeup, and hair, Sasha Fierce appears.
Of course, Bey doesn't wake up that way and she once described it as a process when talking to Oprah Winfrey (via OWN). "Like once the lashes go on, and the makeup, and all that stuff," Oprah asked. "It's kind of like when I do a movie, becoming the character," said Beyoncé. "Once you put on the wig and once you put on the clothes, you walk different[ly.]"
Yet while we are all so used to seeing Beyoncé looking perfectly done up, not many know just how flawless the "Single Ladies" singer can look without a drip of makeup on her face. The superstar shared a beautiful photo on Instagram of her getting ready and let everyone see the girl under the Sasha Fierce persona. It turns out her natural look is just as, if not more, stunning.
Beyoncé is a natural beauty
In a photo the singer shared on Instagram, it doesn't say where the photo took place except that she was on tour. Given the posted date — May 16 — it's likely that the photo was taken during her Renaissance Tour, during which Beyoncé served some incredible looks. 
Sitting in front of a large mirror with several big light bulbs evenly dispersed to frame the glass, Beyoncé looks a bit contemplative. She is wearing a low-cut, long-sleeved white cotton dress and is holding a curling iron up to her long curls.
Her natural eyebrows can be seen and look neat and defined along with a clean, make-up-free face. Her skin is flawless and her lips are their natural hue. While you won't find one noticeable drip of makeup in the photo, the "Halo" singer looks beautiful and quite relaxed, which must be both a difficult thing to find while on a world tour but also a necessity with such a rigorous schedule.
Beyoncé wore barely any makeup in video
In a photo that accompanied the post with no makeup photo is a picture of a handwritten note that addresses something you may have not known about Beyoncé. "How many of y'all knew my first job was sweeping hair in my mama's salon?" she wrote, adding that some of Destiny's Child's very first performances were for hair salon clients. Writing about how she met many different entrepreneurial women in her mother's salon and learned a lot from them, she teased a possible future hair venture, "I can't wait for you to experience what I've been creating."
This wasn't the first time the singer went makeup-free in public. In fact in her video, "If I Were a Boy", she wore basically no makeup. "There was really practically no make-up there," said Francesca Tolot, Beyoncé's makeup artist (via Stylist). "For that, I use moisturizer and maybe a little bit of concealer and lip balm."
In the "1+1" video, though Bey wore eye makeup and lip color, her skin was natural. However, Tolot used plenty of baby oil. "After you shoot, you just wipe it off with a towel and your skin is so nice and smooth and soft," said Tolot.