Who Is Hallmark Star Cameron Mathison's Daughter, Leila?
Cameron Mathison stays busy in his professional life, being a major face on the Hallmark channel, an active soap opera star, and a host and correspondent for "Entertainment Tonight." Avid Hallmark fans will recognize Mathison from his leagues of projects on the network, starring alongside Alison Sweeney in the "Murder, She Baked" movie series in addition to leading flicks such as "The Christmas Ornament" and "The Christmas Club."
Outside of his television career, Mathison has cultivated the image of a family man, often taking to social media to provide fans with snapshots of the quality time he spends with his wife and two kids. These two aspects of his life don't always stay separate, though, as his daughter Leila has made special appearances on several of his projects.
The young Mathison has appeared on the now-canceled daytime show "Home and Family" alongside her father, as well as serving as a guest correspondent for "ET" back in 2016, and it's clear the father and daughter have a close bond.
Leila is often featured on her dad's Instagram
If you're searching for some insight into who Cameron Mathison's daughter is, then you need to look no further than the actor's social media pages. As mentioned, the Hallmark star often shares glimpses into his family life, posting photos with his wife, Vanessa Mathison, and their two kids, Lucas and Leila. Leila is the younger of his children, born in 2006.
For Father's Day in 2022, Mathison shared an Instagram post featuring photos of him and his children at various ages, explaining in the caption that he was being spoiled for the holiday. Fans of the soap opera actor can see his daughter at different points in her life, ranging from a young kid to a growing tween.
In a post from July 2023, Mathison honored Leila's 17th birthday with a collection of snapshots of them together as well as some solo pics of his daughter. Some of the featured photos include a shot of the duo before Leila's first high school dance, the two at a Disney theme park, and the teen with the family Doberman.
Cameron Mathison has talked about his experiences as a father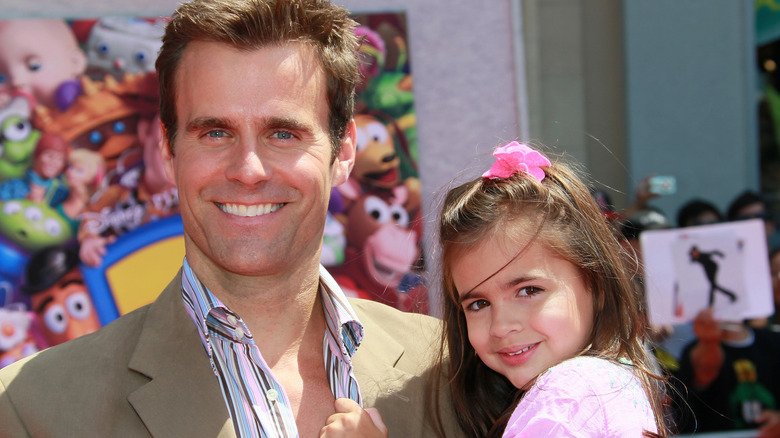 David Livingston/Getty Images
Beyond sharing glimpses into his family life on social media, Cameron Mathison has also talked about his experiences as a father, providing some insight into his life with his daughter Leila. Accordingly, it was the actor who advocated for having a second child with his wife. 
"Vanessa was pretty happy with just one child, and I kind of had to push to convince her to have a second, and she's amazing," the "Love, Of Course" star told Soap Opera Digest. "Having a little girl ... it's just so special. It's something that I secretly, or maybe not so secretly, really wanted. And she's just this little angel, this little beam of light. They're both really happy kids. I'm very lucky."
Additionally, Mathison has talked about how becoming a father changed his perspective on life. "Being a father makes everything in the world makes sense. I don't want to sound corny, [but] everyone tells you what it's going to be like to have kids and you're like 'yeah, yeah, yeah, sure,'" the actor shared with People. "And then you have kids, and in an instant nothing in the world matters except for this stranger ... It gives great meaning to your life."