A Timeline Of Thomas Brodie-Sangster And Talulah Riley's Relationship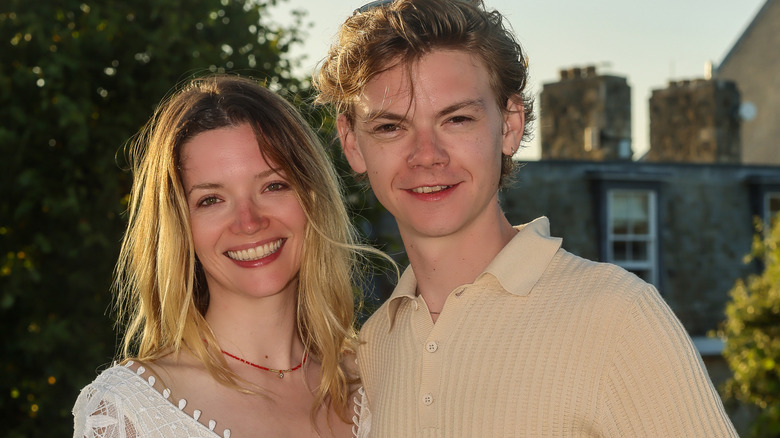 David M. Benett/Getty Images
It seems like it was only yesterday that little Thomas Brodie-Sangster learned to play the drums to steal the heart of his school crush (while dad Liam Neeson tried to woo supermodel Claudia Schiffer). But "Love Actually" came out 20 years ago, actually. Despite his apparent inability to shed the baby face, Brodie-Sangster has gone on to enjoy a lengthy and illustrious career, starring in "Nanny McPhee," "The Queen's Gambit," and "Game of Thrones." Oh, and he's engaged to Talulah Riley, aka Annabelle Fritton from "St. Trinian's," aka the erstwhile Mrs. Elon Musk.
There have been innumerable bizarre celeb pairings throughout the years, but Elon Musk's ex-wife getting engaged to the boy from "Nanny McPhee" wasn't exactly on our 2023 bingo cards. Having depicted IRL couple Malcolm McLaren and Vivienne Westwood in Danny Boyle's Sex Pistols miniseries "Pistol," the stars were praised for bringing the appropriate flamboyant flair to their roles. But while Viv and Malcolm had a notoriously volatile relationship, the actors who portrayed them are enjoying a tender and low-key romance.
As they steadily become the next Brit power couple, the talented twosome is living their best Insta life and packing on the PDA at every given opportunity. Love really is all around, so let's delve into a timeline of Thomas Brodie-Sangster and Talulah Riley's relationship.
March 2021: Thomas Brodie-Sangster and Talulah Riley meet on the set of Pistol
Production began on "Pistol" in the spring of 2021, with Thomas Brodie-Sangster and Talulah Riley joining the cast in March. The pair portrayed iconoclastic punk power couple Malcolm McLaren, the Sex Pistols' cutthroat manager, and Vivienne Westwood, pioneering fashion designer.
At the time of filming, Brodie-Sangster had most recently been linked to Aussie model and photographer Gzi Wisdom. The couple made their final public appearance together at the Raindance Film Festival in October 2020, suggesting they split up shortly before filming began on "Pistol." Meanwhile, Riley was linked to businessman Matthew Rice following her 2016 divorce from Elon Musk, to whom she had been married twice.
Subsequently, in depicting the romance between McLaren and Westwood, the two young singletons steadily developed a close bond. In an interview with Country and Townhouse, Riley said that Brodie-Sangster was her favorite person she worked with on "Pistol." She did, however, also reveal that her future beau had an unfortunate habit of irritating her on set. "While we were rehearsing I was doing Lent ... For snacks, I was limited to the fruit bowl (the bowl from which the boys would be throwing fruit)," she recalled, "and Thomas kept coming up and eating chocolate Penguins in front of me. ... I should've demanded peace." Thankfully, the twosome survived their candy contretemps. 
November 2021: The pair is spotted on a cute date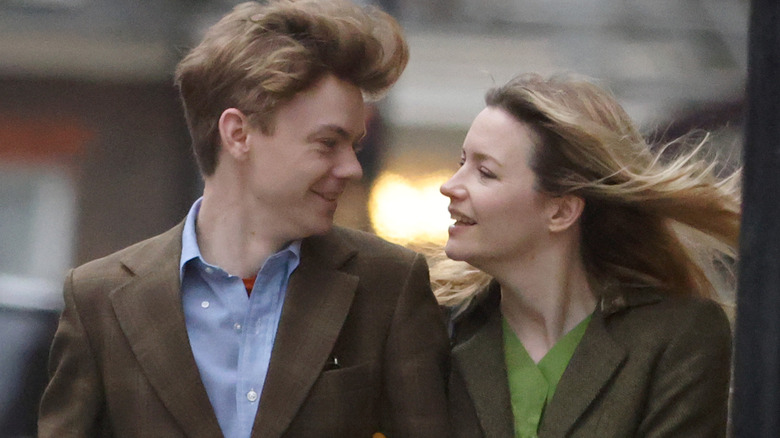 Neil Mockford/Getty Images
Although they developed a bond on the set of "Pistol," Thomas Brodie-Sangster and Talulah Riley didn't start dating until some time after filming wrapped. "We hadn't really acknowledged each other as a romantic possibility or potential until the moment that we both did," Riley admitted to The Times. "And it was the same moment a number of months after having worked together and been good friends." When asked what suddenly changed between the pair, she said that she had no idea, conceding that the transition from friends to lovers felt very strange indeed.
By November 2021, Brodie-Sangster and Riley were evidently in loved-up mode. The couple was seen on a cute date in London, holding hands and sharing a laugh while dressed in chic ensembles. According to sources who spoke to the Daily Mail, the pair's romance coincided with Riley's split from older beau Matthew Rice. "Talulah and Matthew were on-off for a long time, but it seems that romance fell by the wayside to make room for Thomas," the insider explained. "Talulah was dating Matthew right up until the spring, and he's still a little shocked and saddened it has all ended between them."
However, Rice dispelled any suggestions of an acrimonious breakup, telling the outlet that there were no arguments leading up to the split and the pair remain friends. "He's a very lucky man," he said of his ex's new man.
March 2022: Thomas Brodie-Sangster and Talulah Riley make their red carpet debut as a couple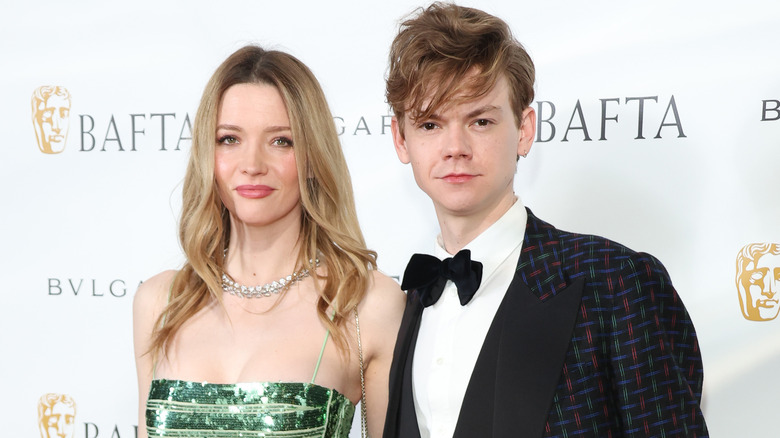 Mike Marsland/Getty Images
At the start of 2022, Thomas Brodie-Sangster and Talulah Riley began packing on the PDA when snapped by the paps. In February, they were spotted on a foodie outing in London, enjoying a lunch date at a Mexican restaurant before grabbing some good old-fashioned fish and chips. According to chip shop owner Deano Papas, who spoke to the Daily Mail, the couple stopped by the eatery while caravan shopping, indicative of future romantic getaways to come. Exemplifying their penchant for a twinning moment, both actors wore tweed ensembles as they canoodled on their walk through chilly London.
In March 2022, Brodie-Sangster and Riley made their first red carpet appearance as a couple. The pair attended the 2022 British Academy Film Awards Gala Dinner, with Riley donning a shimmery green gown and Brodie-Sangster decked out in an elegant tux.
Though the couple appeared at ease posing on the red carpet together, Brodie-Sangster expressed his discomfort at having his personal life on display in the public eye. "It's hard, it's a very unnatural place to be," he told Varsity. "People want to be accepted, people want to be viewed, people want to be heard, but then to have [attention] constantly, and from people that you don't know personally is quite overwhelming."
May 2022: Thomas Brodie-Sangster and Talulah Riley open up about their relationship for the first time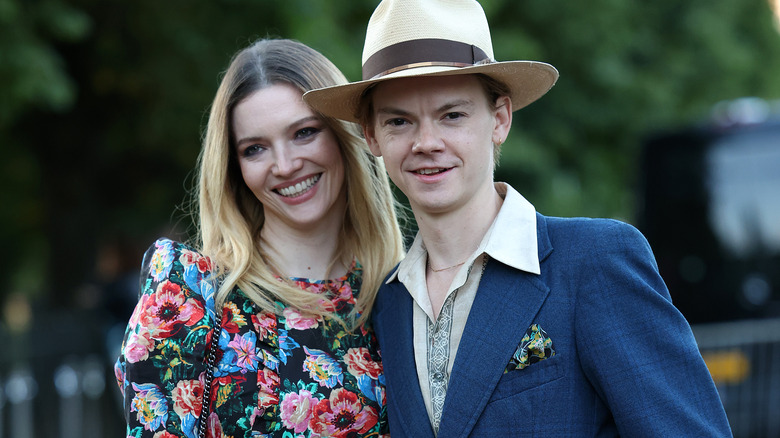 Ricky Vigil M/Getty Images
By May 2022, both Thomas Brodie-Sangster and Talulah Riley publicly acknowledged their relationship for the first time. In her aforementioned interview with The Times, Riley opened up about her split from Matthew Rice and subsequent romance with her "Pistol" co-star. She explained that Rice had custody of the couple's pet goats, but she hoped to one day build a home with many fur babies. "My dream is horses, goats, bees, chickens, ducks, sheep. No pigs," she said. Here's hoping Brodie-Sangster is cool with his gal's farmyard fantasy.
Whereas both Elon Musk and Rice are decades older than she is, Riley's new man is five years her junior. But she elucidated that age was immaterial to her when seeking out romantic partners, something she suggested was characteristic of being an only child. She also discussed her hopes for the future, which go beyond myriad pets of varying species. Indeed, there once was a time when Riley hoped to give birth to 10 children. "I think I've moderated — two or three would be nice," she noted.
Meanwhile, Brodie-Sangster discussed the pair's relationship in a sit-down with The Guardian. In particular, he was asked what it was like to be cruel to his partner while the duo were in character as Malcolm and Vivienne. "I wasn't dating her at the time," he reasoned, continuing, "Thankfully, we're not too much like Viv and Malc."
June 2022: They make it Insta official after the Pistol premiere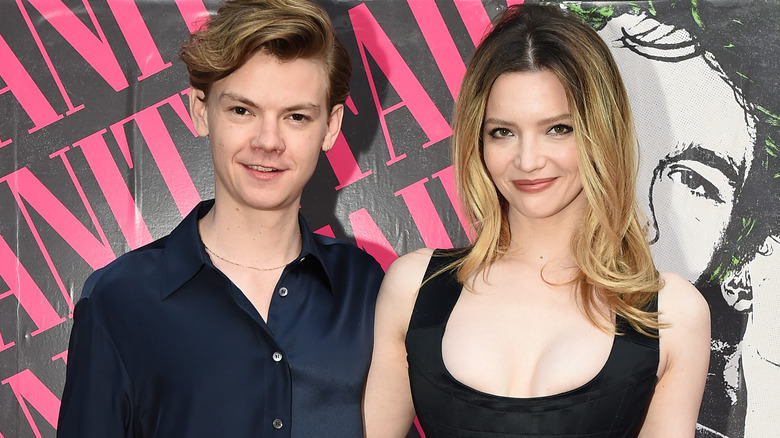 Ilya S. Savenok/Getty Images
When "Pistol" premiered in May 2022, the stars went all out on the red carpet in punk-inspired fits. Thomas Brodie-Sangster and Talulah Riley were no exception; taking inspo from their iconic onscreen alter egos, the couple looked as though they'd grabbed their garb straight out of Vivienne Westwood's Sex boutique. Brodie-Sangster wore an oversized striped suit, while Riley, who posed with her arm around her new man, wore a striking black latex wiggle dress. The pair looked every inch the arty London thesp couple.
Appearing on "Pistol's" Instagram story following the premiere, the couple opened up about being two of the oldest actors on set and the parental roles they subsequently adopted among their younger co-stars. "We were the sensible ones and were nicknamed mum and dad," Brodie-Sangster said, to which his lady love quipped, "We were significantly older than the others."
On June 10, 2022, Riley posted a carousel of cute photos of the pair from the set of "Pistol" on Instagram, accompanied by the caption, "bts w tbs." These included a romantic snap of Brodie-Sangster holding her, Jack-and-Rose-style, on a boat, followed by candids of the couple cuddling and looking very much in love. 
June 2022: Thomas Brodie-Sangster supports his lady love at her book launch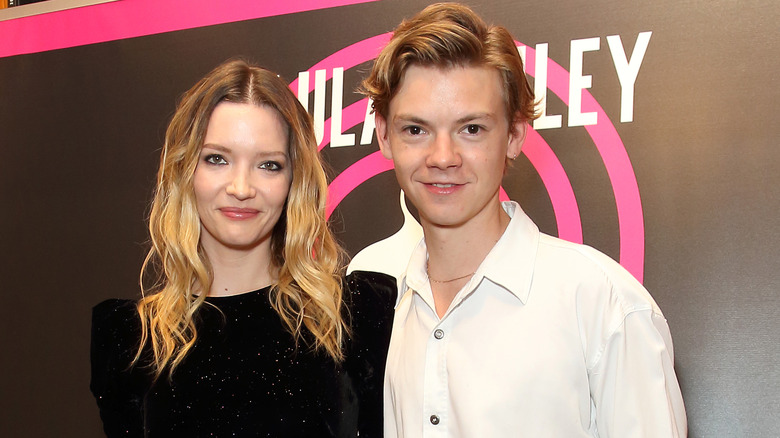 David M. Benett/Getty Images
In addition to being a talented actor, Talulah Riley is also a published author. On June 23 2022, she released her book, "The Quickening," which is about a dystopian matriarchy. Rather than taking inspo from her current (unproblematic) beau, there have been suggestions that she drew on her tumultuous relationship with the ever-controversial former Twitter CEO Elon Musk when writing the book. However, she has dismissed such claims.
Discussing the book with The Independent, Riley explained that she grew weary of normalized violence against women in the media, and "The Quickening" was a means of catharsis for the downtrodden. "Obviously, violence against women is perpetrated onscreen continuously," she explained. "How many times have you seen someone being raped in a film? ... So, I thought that the kind of cathartic equivalent of that visually would be castration of the male. And so that's, that's where it ends up." 
Indeed, the book is not for the faint of heart. "It's very gory. It's all about castration. There's lots of castration," Riley quipped to The Times. Those stomach-churning themes didn't stop Thomas Brodie-Sangster from supporting his love at her book launch, however. Sweetly, the launch was also attended by "Pistol" director Danny Boyle. "So proud of Talulah on the day her book, The Quickening, launches out to the world!" Brodie-Sangster wrote on Instagram alongside a photo of him proudly beaming as he stood by his partner. We stan a supportive king.
June 2022: Thomas Brodie-Sangster and Talulah Riley are reportedly living together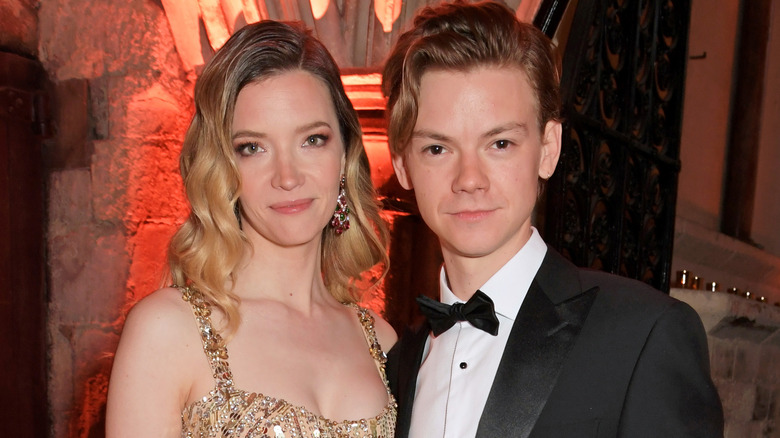 David M. Benett/Getty Images
By the end of June 2022, it appeared as though Thomas Brodie-Sangster and Talulah Riley had moved in together. Riley's interview with The Independent noted that she and her boyfriend lived in leafy Hertfordshire with their ducks and dog, Squigs.
The actor said that she was content to live the simple life away from the pressures of Hollywood, and the couple had no plans to relocate to the U.S. "I'm not suited to LA lifestyle," she explained. "I like ringing bells and growing vegetables and riding ponies in the countryside. ... LA's just a sort of very different way of life. Which is not for me. But having said that, I'm very grateful for the experience of it."
Despite being loved up with her new man, Riley said that she still loves her ex, with whom she remains close pals. Asked why she had wed the Tesla billionaire twice, she reasoned that it made more sense to tie the knot again after the couple patched things up, as opposed to referring to one another as boyfriend and girlfriend. "We were saying, 'This is my husband.' 'This is my wife,'" she reasoned. "'Oh, wait, no, we're not that anymore. We better be that again. ...' It felt silly to go back to 'this is my boyfriend' when we've been married. So, we just got married again." Here's hoping there's only one wedding in the cards for Riley and Brodie-Sangster.
July 2022: They pack on the PDA at Wimbledon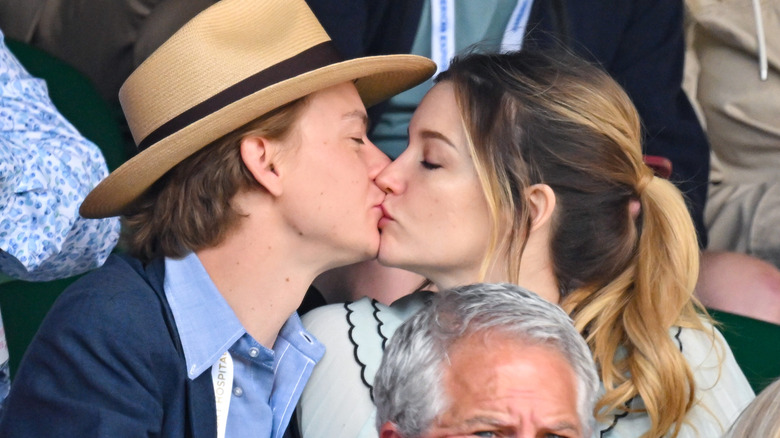 Karwai Tang/Getty Images
If there's one thing loved-up thespians must do to cement their status as a bonafide Brit power couple, it's attend Wimbledon. In July 2022, Thomas Brodie-Sangster and Talulah Riley did just that — and packed on the PDA to boot. The stylish lovers were spotted smooching as they sat before the court.
Unfortunately, however, it wasn't this sweet public display of affection that generated headlines. Rather, it was the moment when Riley was snapped comically yawning and seemingly falling asleep on the shoulder of her more alert boyfriend. Nevertheless, the "St. Trinian's" star was game for poking fun at the unflattering candids on social media.
On Instagram, she blamed the blip on her and Brodie-Sangster being exhausted following a packed day, which included munching on lamb Wellington, strawberries and cream, afternoon tea, and copious amounts of candy, all the while sipping champagne (though she insisted it was Brodie-Sangster who indulged in the champers). "I usually describe myself as 'stoic,' but having seen these images I'm quite sure I can no longer make that claim," Riley wrote. "In a previous era, these might also be titled: 'Why not to take your girlfriend to a sporting event.' I honestly don't know why I'm yawning/appear to be asleep in a lot of these shots. I was genuinely riveted by the matches."
July 2023: The couple announce their engagement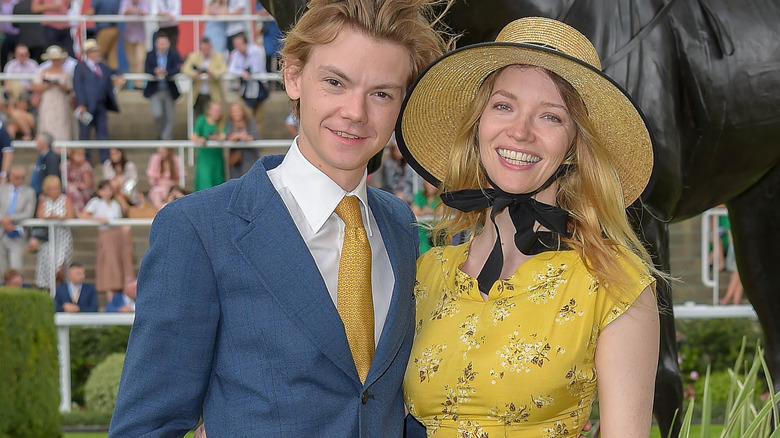 Antony Jones/Getty Images
After keeping their relationship low-key throughout the start of 2023, Thomas Brodie-Sangster went viral in May after inadvertently declaring his commitment to Talulah Riley in a TikTok video. In the widely circulated clip, which has over one million likes, Brodie-Sangster was approached by two young TikTokers who asked whether he would prefer a date with the pair or $100. "Oh, I'm in a relationship, so I'd take the $100. No offense," the actor politely responded, seemingly channeling his inner Hugh Grant.
And soon enough, Brodie-Sangster popped the question. On July 27, it was announced that the couple are engaged. Sharing a loved-up selfie with her fiancé, Riley tweeted, "Very happy to share that after two years of dating, Thomas Brodie-Sangster and I are engaged!" Meanwhile, Brodie-Sangster headed to Instagram to share the happy news, posting a romantic period drama-esque photo of him rowing a boat as his lady love looked on whimsically. "Love is all around," he declared in reference to "Love Actually." Riley's ex, Elon Musk, tweeted his congratulations to the couple.
The following week, the two were spotted on yet another PDA-packed outing in London, snogging with their arms draped around one another. Though a date hasn't been set for the nuptials, Riley previously told The Times that she will be stoked to get married again. "I believe in marriage. I love marriage," she enthused.