Ainsley Earhardt And Ex-Husband Will Proctor Had Quite The Age Gap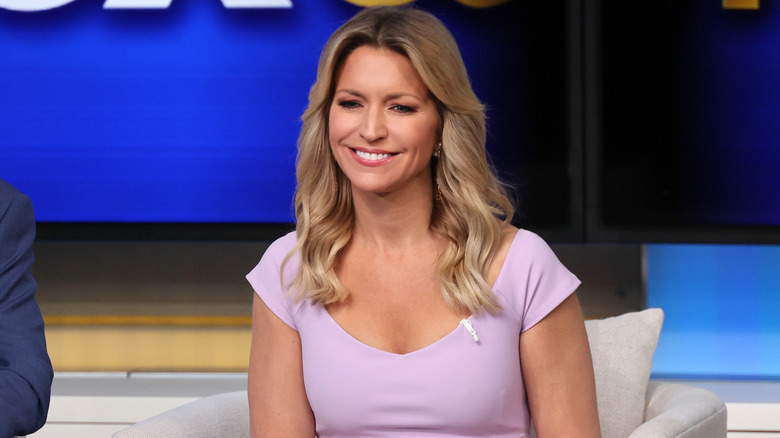 Dia Dipasupil/Getty Images
"Fox and Friends" co-host Ainsley Earhardt is one of the most respected journalists in media, but her divorce from her ex-husband, Will Proctor, brought forth some negative press. The couple married in 2012. Sadly, by October 2018, things had soured, with Earhardt announcing their split. In her statement, Earhardt wrote, "After much prayer and careful consideration, Will and I have separated." One day later, Proctor filed for divorce from his wife, though he was allegedly the reason for their marital woes.
Insiders close to the couple revealed to the Daily Mail that Proctor cheated on Earhardt with a pal of hers. She allegedly found proof of the affair and tried to work on their marriage after it came to light. Unfortunately, the relationship never fully recovered. The divorce was finalized in 2019, but several factors of their romance still pique fans' interest, including the couple's age difference. Proctor and Earhardt had nearly a decade between them. Still, at least for some time, it didn't appear to hinder the couple.
Ainsley Earhardt is eight years older than Will Proctor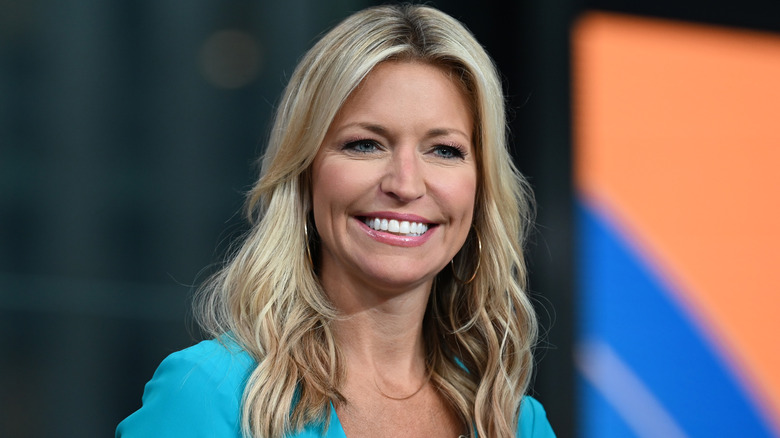 Slaven Vlasic/Getty Images
At the time of her divorce, Fox correspondent Ainsley Earhardt was 42, while her ex-husband Will Proctor was 34. That means Earhardt was about 36 to her partner's 28 when they tied the knot in 2012 in Winter Park, Florida. Despite the difference, they enjoyed six years of marriage and welcomed a daughter, Hayden, in 2015.
Earhardt and Proctor tried for a while to get pregnant. Tragically, she suffered a miscarriage just months before she learned she was expecting Hayden. The doting mother shared her joy about welcoming a healthy baby during a 2021 chat with Yahoo Life, and though she didn't speak on her split from Proctor, she did revel in her parenthood.
"We tried so hard to get pregnant. I had a miscarriage. And now I have my little Hayden, so I remember that. We just don't know what the future holds, and, God willing, we'll all live long lives, but I just embrace every single second with her," Earhardt shared.
Will Proctor is most commonly known for his college football career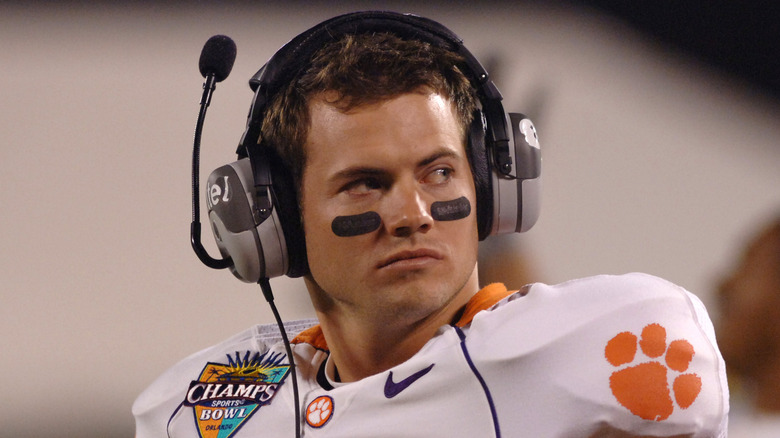 Al Messerschmidt/Getty Images
Before he began a career in investments, Will Proctor was a popular football player. He played quarterback for the Clemson University football team for three seasons from 2004 to 2007. After graduating with his Bachelor's Degree in Business Management, he played professionally for the Canadian Football League's Calgary Stampeders. In 2008, Proctor led the team to its Grey Cup Championship as captain. After retiring from the field, he joined Glaxis Capital Management before moving on to the investment firm Neuberger Berman, where he remains today as Head of Sponsor Coverage and a Managing Director, according to the company's website.
While he was in his 20s transitioning into wealth management, Ainsley was in her thirties, continuing to soar in the media profession. She was offered a job with Fox News Channel in 2007. She was first promoted to co-host of " Fox and Friends First" before accepting a position on "Fox and Friends" in 2016.
Whether or not their age difference or differing professions played a role in their demise remains to be seen. Nevertheless, the couple has refrained from badmouthing one another publicly. Earhardt is now dating Sean Hannity, and a significant age gap is also present in their relationship. However, this time, she is the younger of the two, as she's ​​46 while Hannity is 61. While there are no known wedding bells in the near future, Earhardt seems unfazed by age gaps in either direction.