Meet Hallmark Star Taylor Cole's Husband, Cameron Larson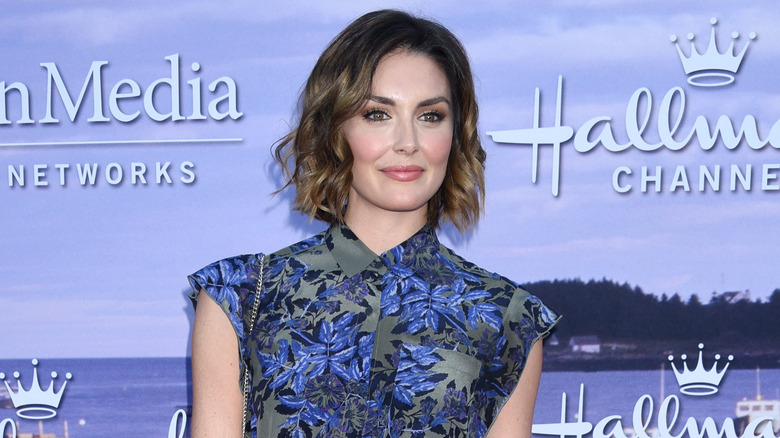 Ga Fullner/Shutterstock
Taylor Cole has been the star of many Hallmark holiday flicks and, more recently, the love interest in a swoon-worthy summer movie, "Aloha Heart." After seeing her fall in love so many times on-screen, it's easy to forget that the celeb has a real-life relationship that's just as romantic. Cole has been married to Cameron Larson since 2020, when they tied the knot in picturesque Lake Tahoe. But we're getting ahead of ourselves, because if we've learned anything from romance movies, it's that the journey to love is just as important as the happily ever after. And Cole and Larson's history could practically be the script for a Hallmark hit! Not to mention, they have the Hallmark channel to thank for their marriage. 
It turns out Larson is a producer and production manager for the popular cable network. He might not have quite the credit list his wife does with the feel-good film brand, but he can claim a few favorites he has had a hand in since being hired in 2015. Not long after, the lovebirds met on the set of one of Hallmark's films. It wasn't exactly love at first sight; the pair went from colleagues to friends, and even a matchmaker-client relationship, before discovering they were made for one another.
Let us introduce the main character in Cole's real-life love story.
Cameron Larson is super involved in show business
We mentioned that Taylor Cole's other half, Cameron Larson, is a Hallmark producer and production manager, joining the crew in 2015. But we'd be remiss if we didn't give him credit where credit is due. Larson is listed as the executive producer on a handful of films, like "Love in the Sun," with his first credit dating back to 2015's "Angel of Christmas," in which he was a production manager.
His talents go beyond meet-cute movies, however, as he also has credits for much less romantic films like "Jurassic Predator: Xtinction" and has a hand in horror flicks including "The Transient" and "La Llorona." While it's likely Cole will stick to her feel-good films, she must find something attractive about her husband's darker side.
Production and producing are just the beginning of Larson's Hollywood business talents. He is also a screenplay writer, penning "Sand Sharks" in 2012 and trying out an adaptation of "Jules Verne's Mysterious Island." Despite being heavily involved in the industry, Cole and Larson still find plenty of time to keep the spark alive.
The couple that plays together stays together
Cameron Larson, the spouse of Hallmark star Taylor Cole, isn't super active on social media and seems to like keeping his private life private. According to Heavy, he graduated with a Bachelor's degree in theater from the New York school, Hamilton College. It might have been there that he honed his writing skills, which can be seen on his rather eerie Instagram, ghstwrtr. Through the platform, Larson has a bit of fun with both words and imagery, telling, you guessed it, ghost stories.
On the other hand, Cole is a huge golf fan, often partnering with brands to promote certain courses or products. Occasionally you can catch Larson in one of the photos of her reels, depicting the couple enjoying some well-deserved private time together off of the Hallmark film set. Cole has also posted Instagram pictures of the couple skiing together through the winter wilderness.
Neither Cole nor Larson have been married before or have any children. The couple hasn't announced whether or not they plan to add to the Hallmark family; for now, they're simply enjoying the honeymoon phase of their screen-worthy love story.