Let's Make A Deal's Wayne Brady Comes Out As Pansexual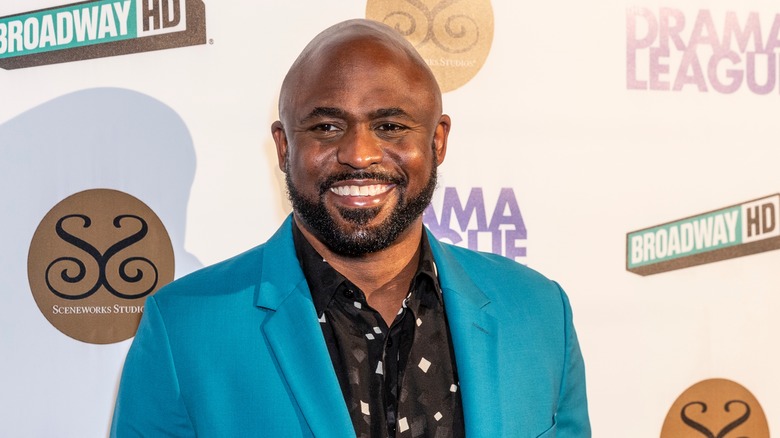 lev radin/Shutterstock
Wayne Brady is a master of disguise — whether it's playing five different characters in less than a minute on the improv comedy "Whose Line Is It Anyway?", or assuming the role of jovial host on "Let's Make A Deal."  However, Brady just put aside all jokes and pretense as he bravely came out as part of the LGBTQ+ community. 
In an exclusive interview with People, the comedian/singer revealed he identifies as pansexual, meaning he could potentially be in a romantic or emotional relationship with someone of any gender or sexual orientation. ("Pan" is Greek for "all.") "To me, pan means being able to be attracted to anyone who identifies as gay, straight, bi, transsexual or non-binary," Brady explained to the outlet. "Being able to be attracted across the board." Brady, twice divorced, is still close to his second ex-wife, Mandie Taketa. They're so close, in fact, that Taketa was the first person to whom Brady broke the news. The couple are parents to daughter Maile, and after Taketa and her boyfriend welcomed a baby boy in 2021, they asked Brady to co-parent as his "duncle." The entire clan is supportive of Brady's newfound identity.
Having shared his true self with his family, Brady felt ready to let the wider world know. "It's scary as hell to say out loud but here it is," he posted on Instagram. "The people I admire the most are the ones brave enough to be themselves unapologetically."
Wayne Brady took inspiration from Robin Williams
In his candid interview with People, Wayne Brady explained how the death of comedy legend Robin Williams in 2014 spurred him to work on his mental well-being. He admitted to having a "love addiction" that led him to a string of failed relationships because he hadn't come to love himself first. Though Brady had felt stirrings of attraction to other men, he had forced himself to deny those feelings for fear of being humiliated or bullied. For years, he kept his sexual orientation quiet — he calls it eating "a shame cake" — until time, therapy, and a yearning for transparency led him to reveal and embrace his truth. 
Brady, who appeared with his daughter, Maile, on "The Bold and the Beautiful," told the outlet he's not currently seeing anyone — "I've got some work to do still" — but looks forward to being able to date someone with whom he feels a true connection, whoever that might be. As he wrote on Instagram, "This shouldn't shake anyone's world, but if it bothers you at all, that's your business." He added, "I was so afraid of having my manhood questioned, but screw that. A "real man" in my eyes, isn't afraid to be honest and happy. From now on, I'll be over here living my best life!"
His announcement was met with roaring approval by thousands of fans, including his friend and "Whose Line" co-star Colin Mochrie. "Welcome, and congratulations!" wrote the comedian. "Love you, my friend."