General Hospital Star Maurice Bernard's Favorite Soap Couple Is A Classic Choice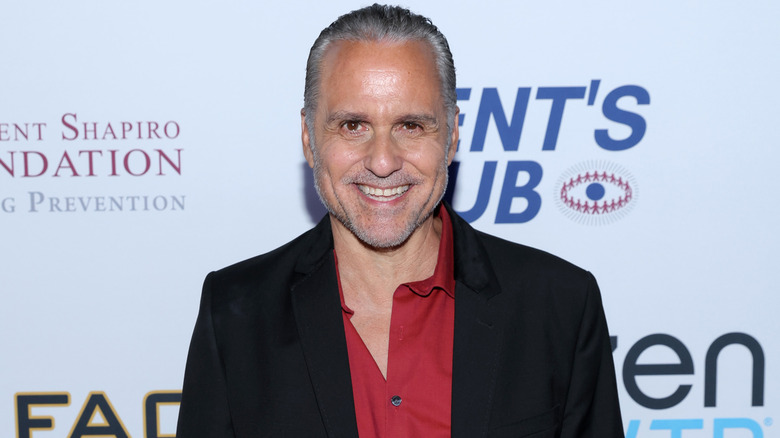 Rich Polk/Getty Images
If fans have ever wondered whether or not soap opera actors watch daytime serials, the answer is that many do. "General Hospital" stars Lisa LoCicero (Olivia Falconeri), and sportscaster and part-time soap actor Stephen A. Smith (Brick), have both stated that they watched "GH" growing up. When Trina Robinson (Tabyana Ali) leaped into the arms of Spencer Cassadine (Nicholas Chavez) on "GH" in May 2023, "Days of Our Lives" star Peter Reckell (Bo Brady) commented on Twitter, "Beautifully executed." 
Soap opera super couple Bo and Hope Brady (Kristian Alfonso) recently kept fans on the edge of their seats with their big return to "Days," and Reckell spoke to Maurice Benard (Sonny, "GH") on the YouTube show, "State of Mind" about his career. When Benard asked what it was like at the height of Bo and Hope's popularity, Reckell stated, "It was pretty crazy. Thinking about it, I went into that alternate reality of Bo Brady." He further explained that he has dyslexia and even his mother was shocked when he initially landed a part on "As the World Turns" in 1980, because of all the lines he had to memorize, adding that to this day, he still has trouble memorizing dialogue. 
When the topic of soap operas came up, Benard started listing all of his favorite daytime couples. 
Benard loved Bo and Hope Brady
As Maurice Benard and Peter Reckell delved into a soap opera discussion on "State of Mind," Benard stated that when he was sick at age 14, he started watching some sudsers including "All My Children" and "General Hospital." Although he didn't watch "Days," he was a fan of super couple Bo and Hope Brady. "I watched you guys," he said. "You guys looked so great together. The acting was so subtle and real," adding that he didn't know anything about acting at the time he saw them on TV. Reckell chimed in stating, "We had the writing back then," to which Benard agreed that it was good.
Benard listed his other favorite couples which included Luke and Laura Spencer (Anthony Geary and Genie Francis, "GH"), Jesse and Angie Hubbard (Darnell Williams and Debbie Morgan) from "AMC," as well as that show's Tad Martin (Michael E. Knight) and Erica Kane (Susan Lucci). "So you watched all these couples?" asked Reckell, who admitted that he'd only heard of Luke and Laura because of former "Days" and "GH" producer, Shelly Curtis. He further explained, "That's where she [Curtis] learned what she learned and brought it to me, then brought it to you."
When Benard insisted that Reckell knew the couples he was citing, Reckell stated that he knew the actors' names but not the characters. Benard said his list was all that he liked about soaps, but remarked, "I always dug you."