Photo Of Sinead O'Connor's Funeral Procession Is A Touching Reminder She Won't Soon Be Forgotten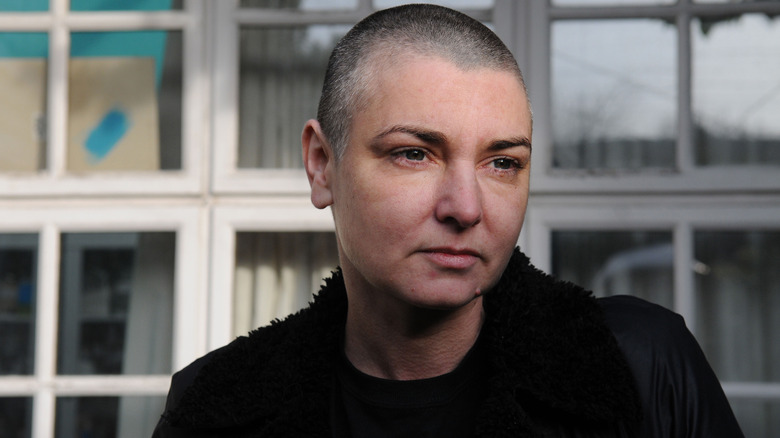 David Corio/Getty Images
Singer Sinead O'Connor died at 56, and the attendees at her private funeral included musicians Bob Geldof, Bono, and The Edge and Irish politicians Michael D. Higgins and Leo Varadkar. And before she was buried, thousands lined the streets to say goodbye to the iconic Irish singer as her coffin was carried through Bray in County Wicklow, Ireland.
Blue, pink, and white flowers topped O'Connor's coffin and some fans threw flowers onto the hearse in tribute as it passed by. Behind the hearse was a camper van playing music. The procession started at Strand Road where O'Connor lived for 15 years, and then made its way along the Bray seafront. Fittingly, some people in the crowd sang O'Connor's hit song "Nothing Compares 2 U" during the procession. O'Connor's family said that the singer, "loved living in Bray and the people in it," per BBC. And from the crowds gathered for her funeral procession, it's clear that people in Bray, and beyond, very much loved O'Connor too.
Sinead O'Connor's death is a loss deeply felt by many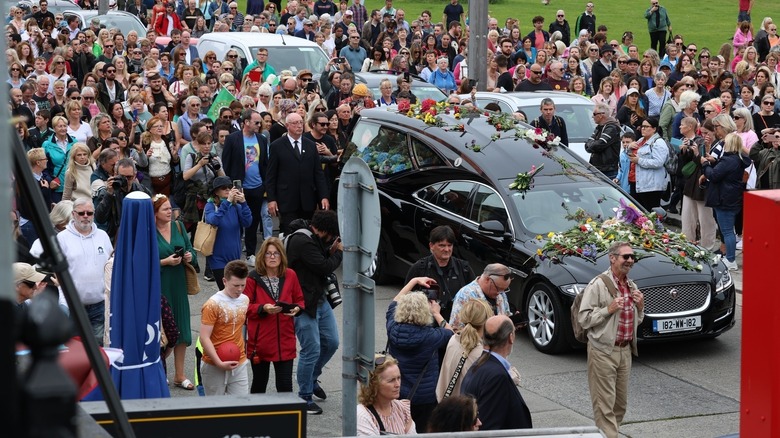 Backgrid
Flowers and candles had been left outside Sinead O'Connor's home in Bray in Ireland where the procession started on the day of her funeral. Fans also left photos and flowers in tribute at the Irish Music Wall of Fame in Dublin in the days after O'Connor's death on July 26, 2023. And just outside of Bray, giant 30-foot-tall letters spell out "ÉIRE [heart] SINÉAD."
Imam Shaykh Dr Umar al Qadri delivered her eulogy, giving voice to what many are clearly feeling, noting how O'Connor took many heartbreaking details from her life and turned them into transformative music. He said that O'Connor was "gifted with a voice that moved a generation. [...] The Irish people have long found solace in song from the sufferings of this lower abode, and Sinead was no exception, and in sharing that solace, she brought joy to countless people the world over," via SkyNews.
Others shared their tributes to O'Connor via social media. Women's Aid Ireland tweeted: "Thank you Sinéad. For your fearless voice and courageous light. You truly challenged an Ireland, and a world, that stifled women, children and anyone who didn't conform. Your power, your anger, your pain and fragility gave strength to many survivors to speak out." Clearly O'Connor's life and legacy will not soon be forgotten.