What Did King Charles Inherit From Queen Elizabeth?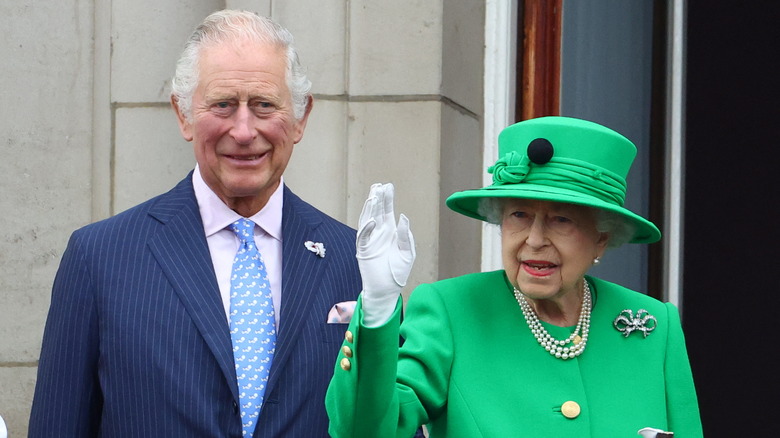 Wpa Pool/Getty Images
Upon the death of Queen Elizabeth II, the Commonwealth — and the international community — mourned her death as a monarch and public figure. Having been on the throne for seven decades, the queen had become a fixture in millions of people's lives, providing a sense of stability and comfort in even the most troubling times. Her passing was commemorated with all the pomp and circumstance Britain could seemingly muster, honoring their queen for the final time. While her life was honored throughout the course of the mourning period, royal watchers and commentators started to discuss her assets and who would inherit her impressive portfolio.
As the direct heir to the throne for decades, King Charles III was in a prominent position of inheritance. Operating as the Prince of Wales for years and directly working in support of the crown, Charles not only became king upon his mother's death, but inherited her abundance of responsibilities, cultural prominence, and international status. As the dust settled and more of the queen's personal wealth became clear, reports surfaced that Charles inherited not only title and duty, but millions of pounds worth of art, jewelry, real estate, tiaras, and duchies (a duchy — or dukedom – is a piece of property owned and operated by a duke). Questions surrounding the entirety of Charles' inheritance have finally been answered — this is everything he received upon his mother's death.
Charles inherited the throne upon the queen's death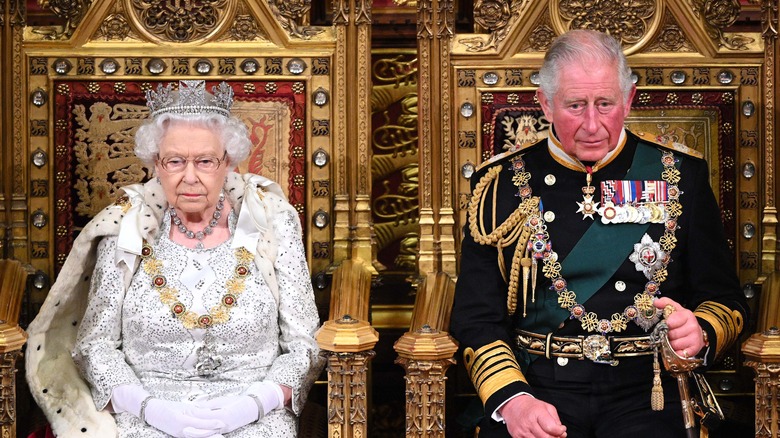 Wpa Pool/Getty Images
After a long and impressive life on the throne, Queen Elizabeth II died at the age of 96 on September 8, 2022. Staying at Balmoral Castle at the time, the queen's family rushed to be by her side in her final hours. Her death, in many ways, marked the ending of an era as well as the culmination in King Charles III's royal life — for as long as his mother was on the throne, Charles was waiting in the wings.
Though his coronation ceremony did not take place until May 2023, Charles immediately inherited the throne upon the queen's death. Two days later, on September 10, 2022, the Accession Council — a collection of politicians, high commissioners, London's mayor, and more – held an official ceremony proclaiming him as king. Their duty no doubt fulfilled the queen's vision for her son to one day take the throne with Camilla, Queen Consort, by his side — it was this very notion that she addressed in one of her final messages to the Commonwealth amid her Platinum Jubilee in the summer of 2022.
"When, in the fullness of time, my son Charles becomes king, I know you will give him and his wife Camilla the same support that you have given me," the queen stated in her Accession Day message. "It is my sincere wish that, when that time comes, Camilla will be known as Queen Consort as she continues her own loyal service."
The king was the sole beneficiary of the queen's assets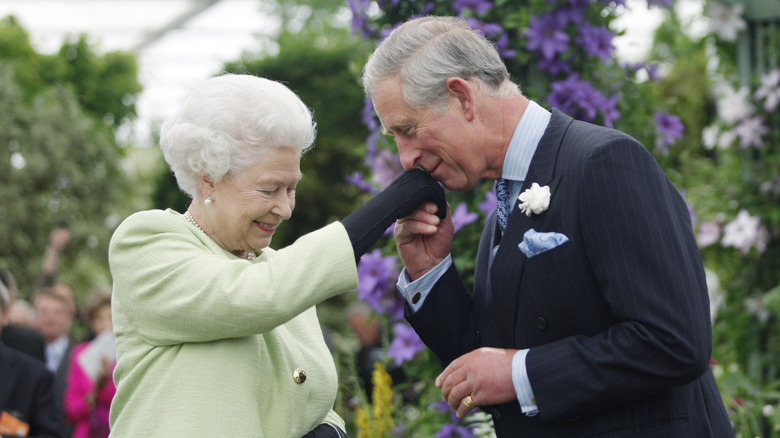 Wpa Pool/Getty Images
Upon Queen Elizabeth II's death, questions about her personal wealth and assets were brought into the spotlight. Though some of the details about her net worth were and remain unknown, it's estimated that individually, she was worth about £370 million (roughly $427 million). Her estate was said to be worth about £650 million (about $830 million), and King Charles III became her sole beneficiary.
In addition to inheriting millions from his mother, Charles also took on a very lucrative tax break as monarch. Back in 1993, then-Prime Minister John Major and his office worked with the monarchy to establish a regal tax break, essentially resulting in the crown not owing on their income. In the United Kingdom, households that make over £325,000 (which is about $414,000) are required to pay the Treasury back 40%. If such a rule applied to the monarch, Elizabeth — and now Charles — would've needed to hand over a significant chunk of their wealth. Major's negotiation with the royals, however, passed what is referred to as the Memorandum of Understanding on Royal Taxation. This designation sees the ruling king or queen "[as] sovereign rather than as a private individual," and therefore exempt from paying the same taxes as citizens.
Charles was granted the Duchy of Lancaster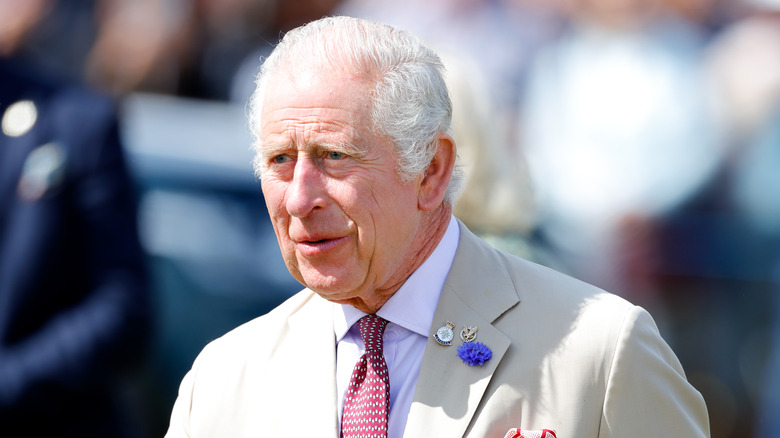 Max Mumby/indigo/Getty Images
In addition to Queen Elizabeth II's personal wealth, King Charles III inherited the Duchy of Lancaster, a huge asset that provides him with a disposable income that seems like something out of a fairytale. A duchy, or dukedom, is essentially a plot of land that is run and owned by a duke or duchess. It can contain homes, communities, and additional assets, likely ensuring a profit every year. The Duchy of Lancaster, now under Charles' control, serves as the monarch's primary source of income, raking in about £22 million (roughly $28 million) in profit in 2021 alone. Similarly to the personal wealth that he inherited, Charles — as the overseer of the duchy — does not have to pay taxes related to the estate, helping maintain his millions.
As it stands today, the Duchy of Lancaster — while bringing in a significant chunk of change each year via revenue – is said to have a £650 million worth (about $829 million). Charles will get to see a significant portion of that himself, increasing his personal net worth significantly. Prior to inheriting Lancaster, Charles ran and benefited financially from the Duchy of Cornwall, which is said to be worth about £1 billion (about $1.26 billion). Cornwall is now overseen by Prince William, Duke of Cornwall, who takes home about £21 million (roughly $26.8 million) per year thanks to the asset.
The queen left Charles her art collection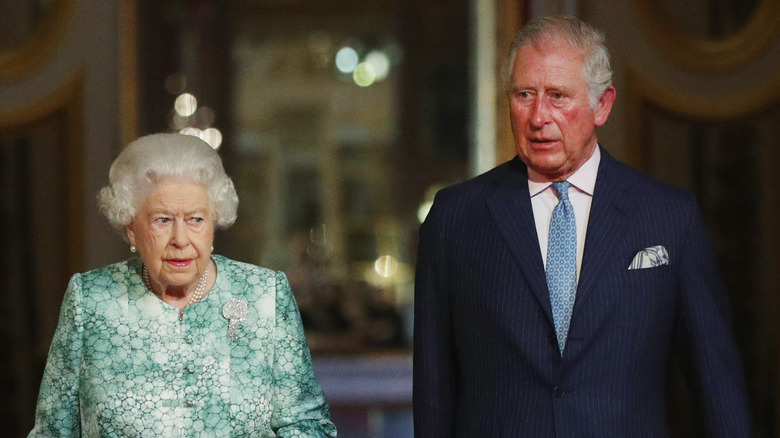 Wpa Pool/Getty Images
As a central figure in monarchical history and culture, Queen Elizabeth II owned a variety of artwork created by some of the finest names in the industry. The queen was said to be regularly gifted pieces of great art throughout her reign, and her personal collection featured artwork from Lucian Freud, LS Lowry, Salvador Dalí, Claude Monet, Marc Chagall, and more. Though the actual collective worth of her art collection is unknown, it's said that the queen owned millions of dollars worth of artwork — all of which has gone to King Charles III.
Working alongside experts, The Guardian was able to identify and estimate the worth of 60 pieces of art belonging to the queen's personal collection — out of 392 known items. The fraction of her artwork that was appraised by the publication was worth £24 million (about $30.6 million), leading royal experts to assume that the breadth of the collection is worth its weight in gold.
As the art inherited by Charles was privately owned by his mother, no official registry is available to the public, and the palace has regularly declined to comment when asked to shed light on the financial details of the monarch.
The queen left her son her private jewelry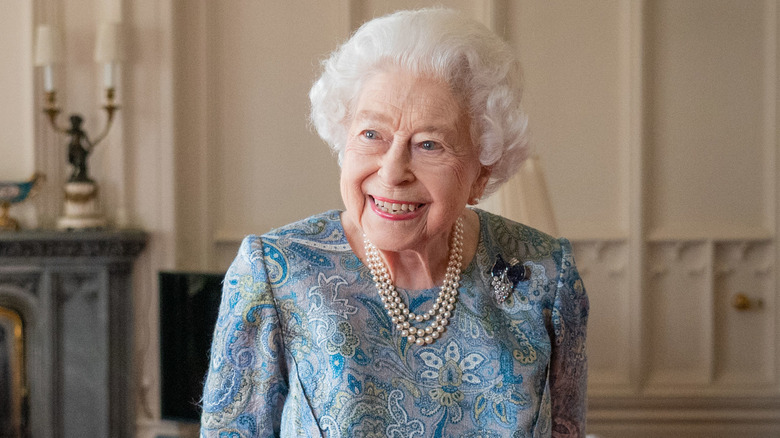 Wpa Pool/Getty Images
When we think about royal jewelry, the Crown Jewels often come to mind. The collection is impressive so say the very least, and includes historic pieces used in coronations, official ceremonies, and more. However, this collection does not belong to the monarch personally, but rather is part of the Royal Collection (more on that later). Rather, Queen Elizabeth II had a private jewelry assortment that included broaches, necklaces, earrings, statement pieces, and much more, and it was inherited by King Charles III upon her death.
The queen's private assortment of jewelry ran the gamut, but there were a few choice pieces that she wore regularly. Her three-carat diamond engagement ring, for example, was often seen being worn in public. Elizabeth was also partial to the three strands of pearls gifted to her by her father, King George VI. Other pieces of her personal jewelry box included a flower basket brooch given to her by her parents upon Charles' birth, and the crown ruby necklace she inherited after Queen Elizabeth The Queen Mother passed in 2002.
Similar to appraising her art collection, The Guardian worked alongside experts and estimated that Elizabeth's private jewelry collection — comprising 54 items — is likely worth more than £533 million (roughly $680 million). Given the jewelry's rich history, the publication estimated that each piece could garner about 10 times its price.
Charles inherited two prominent royal properties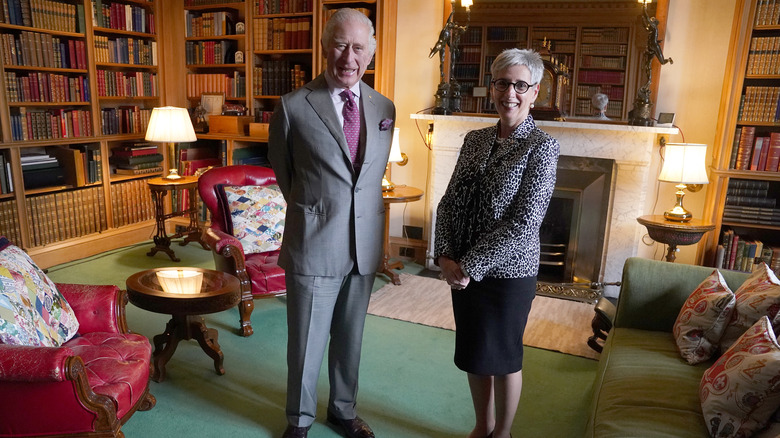 Wpa Pool/Getty Images
Though the royal family's home is synonymous with Buckingham Palace, the firm owns a number of other estates, castles, and properties throughout the United Kingdom. One of Queen Elizabeth II's favorite destinations was Balmoral Castle in Scotland. Not only did she spend many summers there, but she passed at the home surrounded by her family. Upon her death, King Charles III inherited the Scottish castle, which is said to be worth about £77 million (about $98 million).
Balmoral has been in the family for decades, but Charles seemingly isn't concerned about adding some improvements to the estate now that he's running things. While meeting with Linda Dessau, the governor of Victoria, shortly after the queen's death, Charles appeared to have installed a smart meter – a measuring tool to track electricity and gas use. A known environmentalist, Charles appeared not to hesitate in improving the quality of Balmoral living.
In addition to Balmoral, Charles also inherited the Sandringham Estate, which is said to be worth £241 million (roughly $308 million). Sandringham has belonged to the firm since 1862.
The queen left the overseeing of the Royal Collection to Charles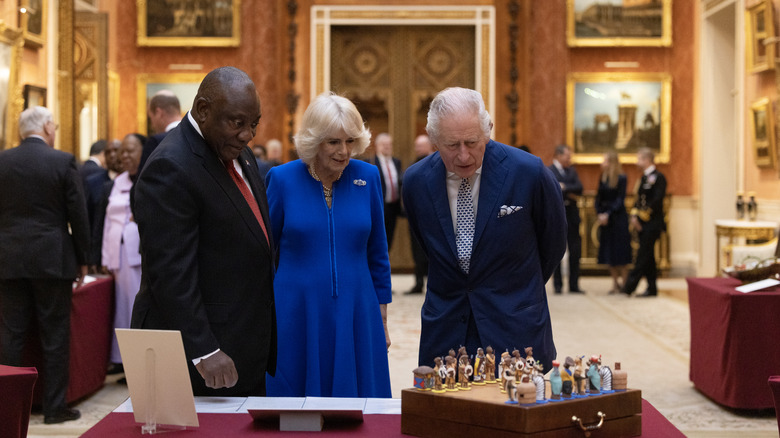 Dan Kitwood/Getty Images
When discussing royal assets, there are two designations — privately owned by the family, or owned by the nation and overseen by the monarch. For example, Queen Elizabeth II owned her private jewelry collection, and left those items to King Charles III upon her death (falling into the first category). Firmly sitting in the second category is the Royal Collection, an accumulation of art, objects, sculptures, books, and historical artifacts. The Royal Collection did not belong to the queen personally, but as monarch, she oversaw its entirety. According to its spokesperson, "It is held in trust by the queen as sovereign for her successors and the nation. It is not owned by her as a private individual."As such, Charles inherited the role from his mother, and is now in charge of the impressive assortment of items.
Breaking down the assemblage in its entirety, the Royal Collection is made up of furniture, historic armor, archival items, books, photographs, 7,600 paintings, 500,000 drawings, 2,000 miniatures, and the Crown Jewels. It has grown throughout a 500-year time period, and is representative of past monarchs and staples of the royal family.
Charles inherited the leading role in the Church of England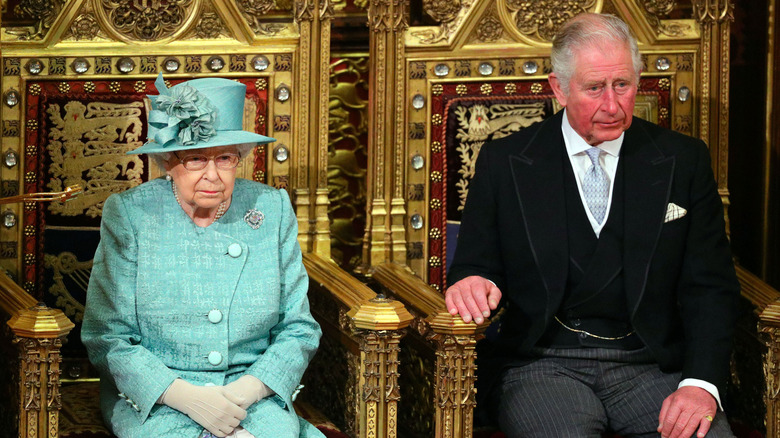 Wpa Pool/Getty Images
As the reigning monarch, Queen Elizabeth II served as the Supreme Governor of the Church of England. It was a role that she took incredibly seriously, allowing it to dictate the comings and goings of her personal life. Perhaps no other example of her dedication to the church is as profound as her role in King Charles III's wedding to Camilla, Queen Consort. When the two finally tied the knot in 2005 after a decades-long romance, the queen notably decided to skip the ceremony. It came across as a shocking decision, but she attested that as the Supreme Governor of the church — which actively disapproves of divorce — she could not in good conscience attend the wedding of two divorcees. Additionally, Charles and Camilla got married in a civil ceremony, skipping a church wedding and keeping the nuptials quite low-key by royal standards.
The context of the late queen's role as Supreme Governor of the Church of England makes Charles' inheritance of the title and occupation that much more noteworthy. He is a divorcee, a remarried man, and is now serving as the "Defender of the Faith" through inheritance.
The king's inheritance is at the center of royal drama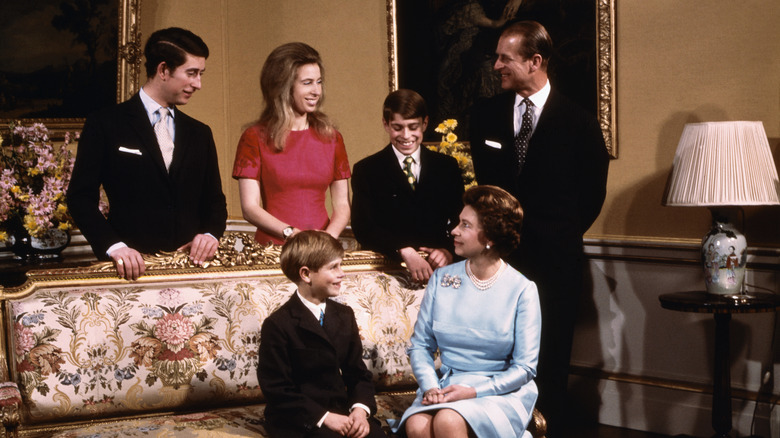 Bettmann/Getty Images
Given King Charles III's status as the sole beneficiary of Queen Elizabeth II's assets following her death, it's not too surprising to learn that his siblings reportedly have mixed feelings. According to an insider report from the Independent, Charles' younger siblings — Princess Anne, Prince Andrew, and Prince Edward — have been left feeling bitter given the king's acquisitions. The problem is reportedly two-fold, too, given that Andrew specifically doesn't have much influence over his brother and decisions made regarding their late mother's assets.
Though Edward and Anne did not solely benefit from their mother's money and assets like Charles, both are senior members of the royal family and as such have access to money from the Sovereign Grant. Andrew, however, has been removed from public life due to his past dealings with Jeffrey Epstein and the allegations made against him by Virginia Giuffre. He counted on the queen to fund his lifestyle during the final years of her life, and reportedly expected his brother to do the same. That is not the tune that Charles wants to dance to, however, and the king is reportedly considering cutting Andrew off financially and making him move out of the Royal Lodge for smaller conditions.
Charles inherited the royal horses, with an exception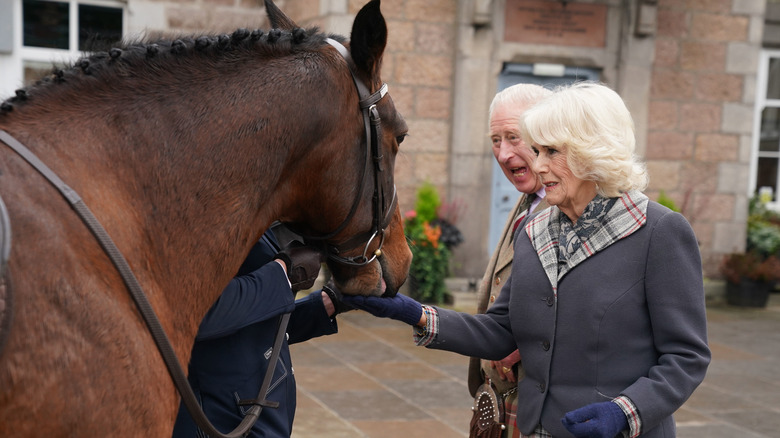 Wpa Pool/Getty Images
If there is one thing that the royals love, it's horses. From carriage driving to equestrian careers to horse-related enthusiasm on all fronts, the firm members take pride in the steeds that they own and love. Upon Queen Elizabeth II's death, she left the royal horses-in-training to King Charles III, with one exception. Camilla, Queen Consort, was designated as the horses' co-owner, serving as a nice nod to a shared love between her and the queen.
Royal watchers were granted a front row view of Charles and Camilla's newly-acquired horses during Royal Ascot 2023. Their horse, Desert Hero, took home the gold cup as part of the horse racing event, and their reactions during the event were indicative of their passion. Speaking to their inheritance and the muddled emotions present at the first Royal Ascot without the queen, Charles' niece Zara Tindall — who has had an impressive equestrian career herself — said, "It's bittersweet, isn't it? To think how proud and excited our grandmother would have been, the queen would have been. But to have a winner for Charles and Camilla, to keep that dream alive, was incredible. And what a race, asides all of that" (via The Guardian).
The queen left Charles her personal collection of tiaras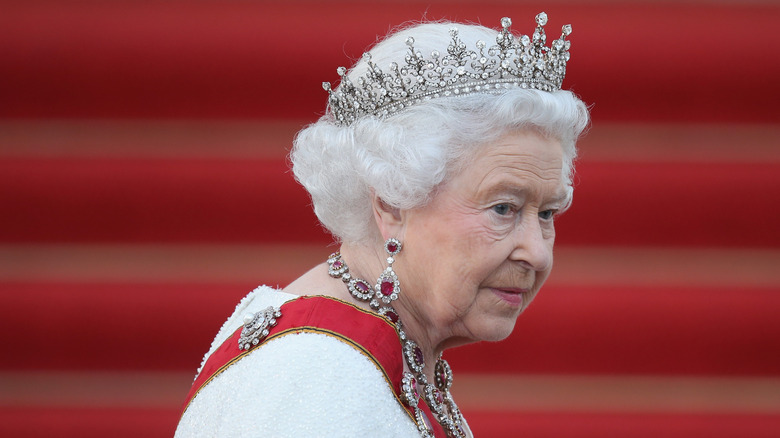 Sean Gallup/Getty Images
Of all the royal jewelry that is seen in public, tiaras are in a league of their own. The extensive tiara collection that belonged to Queen Elizabeth II was incredibly impressive, and according to royal commentator Josh Rom, King Charles III was the royal to inherit the accumulated jewels.
"It is likely that she would want to pass on items from her private collection to her loved ones," Rom explained to The Post, noting that he is the likely owner of the regularly worn tiaras by female members of the royal family. "The bulk of the collection will pass to Charles — with Camilla as his queen consort — and then [Princess Catherine], so they may not be left anything big [in the will]."
The tiara collection, once examined, seems to know little bounds when it comes to opulence. Take Queen Mary's Fringe Tiara, for example, which the queen wore on her own wedding day in 1947. The headpiece features 47 diamond bars that are intricately banded together, creating a collar-like effect that is truly a showstopper. The queen also had the Greville Emerald Kokoshnik tiara, worn publicly for the first time by Princess Eugenie for her 2018 wedding. The Lover's Knot Tiara was a favorite of the late Princess Diana's, loaned to her by the queen, and has since been associated with Catherine, now the Princess of Wales.