Billy Joel And Christie Brinkley's Daughter Alexa Ray Is Unrecognizable Today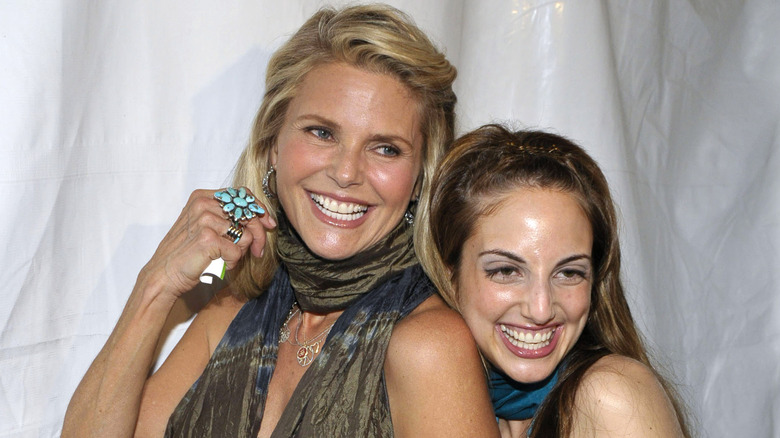 Eugene Gologursky/Getty Images
Being the daughter of world-renowned supermodel Christie Brinkley and Grammy award-winning musician Billy Joel must come with its own set of pressures. However, Alexa Ray Joel has successfully made a name for herself outside of her parent's shadows, though she has followed in both of their footsteps. Alexa Ray has found success on runways such as that of the American Heart Association's Go Red For Women fashion show during the 2015 NYC Fashion Week. Aside from modeling, music holds a special place in her heart, releasing her first six-track EP, "Sketches," in 2006. She went on to release several other singles, including "For All My Days" and "Beg You to Stay," before taking a nearly decade-long hiatus due to some harsh criticism from the media.
Part of this judgment had to do with her changing looks over the years. As a teenager and young women, many were introduced to Alexa with a rounder face and deep dimples. However, she is nearly unrecognizable these days, though her transformation is not a bad thing.
Alexa Ray previously admitted to getting a rhinoplasty
lev radin/Shutterstock
By 2010, Alexa Ray Joel had endured a rough patch. Just months prior, in December 2009, she'd attempted to take her own life in her New York City apartment. She'd declared that she no longer wanted to live, but luckily, medics quickly rendered aid, and the singer was taken to St. Vincent's Hospital for treatment. An insider spoke with the New York Post, revealing that Joel struggled with various mental issues, including her body image, which seemingly motivated her to undergo a nose job. She confirmed the procedure in April 2010.
"I was thinking about getting this for years," Joel explained to People. "I was self-conscious of pictures taken from the side. To some people, that's vain, but at the end of the day, we all want to feel pretty." Despite her nose enhancement, Joel was firm in her stance that she would never get any additional work done to her body. Sadly, that did not deter the gossip from running rampant. After her rhinoplasty, many theorized that she had even more operations done.
If you or someone you know is struggling or in crisis, help is available. Call or text 988 or chat 988lifeline.org
A top NYC plastic surgeon accused Alexa Ray of reconstructing much of her face
As 2014 rolled in, Alexa Ray Joel's looks were again the topic of discussion. This time, prominent plastic surgeon Dr. Matthew Schulman of New York City gave his expert opinion to Radar Online regarding the procedures Alexa may have had done to her face.
"Her upper eyelids are wider, suggesting an upper blepharoplasty. Her lips are fuller, likely the result of fillers such as Restylane or Juvederm," Schulman told the outlet. He also pointed out that her higher-than-usual cheekbones were likely enhanced using fillers. Joel shot down such speculation in an Instagram post shortly after Schulman's interview was published. Though she has since stripped the caption from the picture, People reported that she denied having more cosmetic work and attributed her facial differences to an excellent glam squad, writing, "I would just like to add that all of the continuously-circulating rumors that I have had extensive 'face-work' and undergone breast augmentation surgery is simply and entirely 100% false. The only thing I have ever had done is my nose."
Today, it seems the mean critiques are behind her. With a new fiancé, Ryan Gleason, and continuing her musical pursuits, the brunette beauty has moved beyond her hardships, which includes living through her mother Christie Brinkley and stepfather Peter Cook's divorce, and hopefully, her body image issues as well.