What We Know About HGTV Star Alison Victoria's Fertility Journey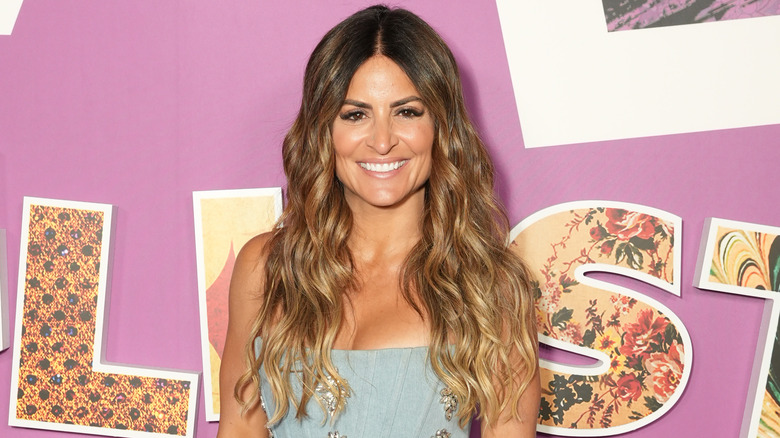 Gonzalo Marroquin/Getty Images
Alison Victoria is an HGTV host known for creating upscale, gorgeous renovations without being afraid to get her hands dirty in the process. While she's not a one-woman show on her regular programming, "Windy City Rehab," she is pretty self-sufficient. It seems like Victoria is the same off-screen, advocating for herself when it comes to her fertility.
The usually private interior designer recently invited fans to accompany her on her fertility journey, revealing on an episode of her show that she will be freezing her eggs. Amidst clips of her visiting Vios Fertility Clinic, Victoria confessed, "So years ago I tried to freeze my eggs and it was unsuccessful. I just don't want any more time to go by; I really want to have an insurance policy that one day, I can have a family, if and when I'm ready" (via People).
During the episode, it was revealed that Victoria had gone in for at least one egg retrieval in which one viable egg was obtained. The HGTV star admitted that undergoing fertility treatments with her demanding work schedule and a long list of clients is daunting. Still, she feels the time is right, stating, "I just want to set myself up and my partner up for success when it comes to family planning."
Does Alison Victoria have a partner?
While Alison Victoria isn't shy about appearing on her HGTV show "Windy City Rehab," she prefers to keep things professional. Her private life is rarely discussed on television and social media. However, when Victoria opened up about her desire to freeze her eggs, we did get a small clue about who that partner may be.
Turns out, they're a mystery man (for now). And it's certainly not her "work-husband" Donovan Eckhardt after their friendship was destroyed. In a Facebook post, Victoria wrote, "I met someone and decided not to go ahead with it assuming I would start a family the natural way. Well 4 years later that relationship didn't work out and I found myself single and ready to finally freeze these bad boys," referring to her eggs. The person she met and separated from could have been Luke Harding.
According to Distractify, at one time, the renovation guru was married to a fellow Chicagoan named Luke Harding. At the time, he was an insurance agent in the city, having met Victoria through a dating website. The pair married in November 2013, and then Harding disappeared from her life, leading many to believe they split, which Victoria seems to allude to in her post. In 2021, Victoria was believed to be dating commercial real estate businessman Michael Marks, according to the Chicago-Sun Times. It's unclear whether they're still together, but Victoria notes that she's doing her egg retrieval and freezing process for herself and nobody else.
Was she successful?
Alison Victoria isn't exactly giving fans the play-by-play on her fertility journey, but she has helped other women feel seen and heard with the few updates she has given. After documenting the beginning of her journey on "Windy City Rehab," the HGTV celeb told followers via Facebook that during one attempt, no viable eggs were able to be retrieved because her "follicle count was super low and my levels weren't looking great," but that she and her doc are intent on getting at least ten eggs, despite the fact that the cost made a considerable dent in her earnings from "Windy City Rehab" and other projects. Fortunately, her post noted that her team had been able to retrieve a handful of eggs, and after lots of injections, tens of thousands of dollars, and eight rounds of treatments, she now had five viable ones frozen.
Currently, Victoria does not appear to be expecting (that we know of). However, having a baby right away didn't appear to be the purpose of her current fertility goals; she simply wanted to give her future self the option should the desire to start a family ever arise.