The One Way Kody Brown's Polygamist Views Drastically Differed From Janelle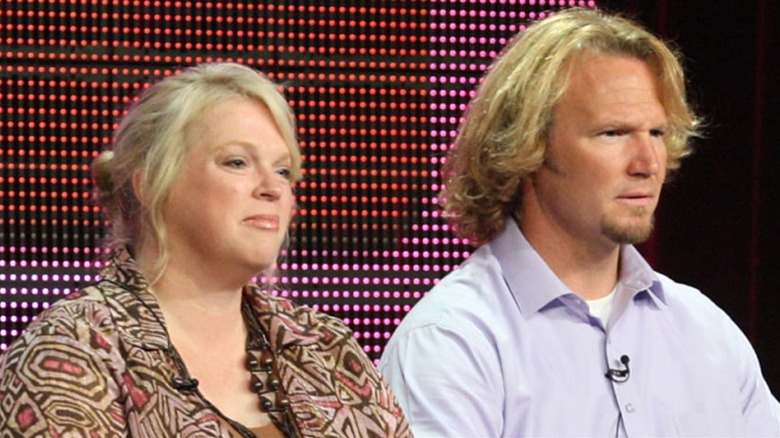 Frederick M. Brown/Getty Images
In the aftermath of Kody Brown's breakups, it is quite clear that he didn't get along with his three ex-wives. The infamous polygamist is the star of TLC's "Sister Wives," which has been documenting the life of his plural family since 2010. As three out of his initial four wives left him, he's been making some candid comments on polygamy, changing his prior opinions on the lifestyle as he goes.
One of his more recently formed beliefs is that his wives should not be independent — at least that's what he's saying to his ex, Janelle Brown. After a long time of asking for Kody's involvement in her life, Janelle decided to do things her way, which rubbed the patriarch the wrong way.
For him, independence means being distant and, more importantly, disrespectful. Contrastingly, Janelle thinks it's crucial to be her own woman when in a plural marriage, and she says she's always been one. As the ex-spouses navigate their separation on the show, they have a few bones to pick with each other.
Kody doesn't appreciate Janelle's behaviour
Janelle Brown's view of polygamy is not how her ex-husband interprets the lifestyle. In an episode of "Sister Wives," Kody Brown called Janelle out for acting like she wasn't married while the pair discussed their relationship, and that didn't sit right with the mom of six. "I'll ask him, and my needs get ignored; everything gets ignored. So, guess what? I decided to be my own hero," she explained to TLC's cameras (via Insider).
Kody has long been accused of having a favorite wife and not paying much attention to his three other partners, so it comes as no surprise that the women took matters into their own hands. However, that's not what the polygamist signed up for, apparently, as he doesn't find Janelle's new-found independence right. For him, it's a lack of respect, which he made very clear in the infamous RV situation.
When Janelle decided it would be best for her to purchase an RV instead of searching for a rental in Flagstaff, Arizona, Kody flipped out because he didn't think it was a good decision, Today reported. Instead, he urged her to buy Christine Brown's house, something Janelle was openly against. This led to the patriarch saying she would be left to fend for herself when problems arise, despite throwing a fit just moments earlier because Janelle made her own decision without consulting him.
For Janelle, autonomy is key to successful polygamy
On the other hand, Janelle Brown sees her freedom as an essential part of polygamy. "I thought that was what plural marriage was about, like being independent," she shared in her solo interview after her ex-husband accused her of acting like she was single (via Cheat Sheet).
The entire ordeal prompted the two to question their compatibility. Kody stated that Janelle was detached and that he wasn't sure she was accountable enough for him, as per Today. Janelle defended herself, saying that he was always on board with her doing her own thing and that now, all of a sudden, things are different. "Maybe this doesn't work anymore for me. I don't know," she concluded.
The pair ultimately called it quits, going public with their breakup in 2022. However, Janelle admitted to not being sure whether she was doing the right thing. According to People, despite being happy, she is aware that her faith dictates that she marry for life. "I think it could be there, but [the reconciliation] would require so much change on both of our parts that I don't know," she said during the Season 17 finale sit-down. With their differing views on the polygamist lifestyle, it's hard to say if the two will ever get back together.