What We Know About Shiloh Jolie-Pitt's Under-The-Radar Life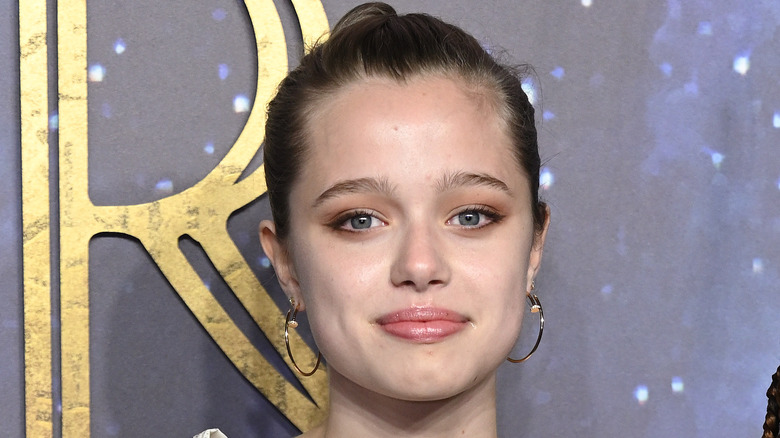 Karwai Tang/Getty Images
When you're the child of an A-list celebrity, you basically have two choices in life: Either embrace your heritage and use it to boost your own performing career, or stay under the radar and pursue your own interests. Plenty of star kids have gone with the first route — think Michael Douglas, Willow and Jaden Smith, Colin Hanks, Dakota Johnson, and Bryce Dallas Howard — but many others prefer the less stressful second option.
The latter seems to be the case for Shiloh Jolie-Pitt as she teeters on the edge of adulthood. As the first biological child of Brad Pitt and Angelina Jolie, she got more than her share of attention in her early years, particularly when her style choices became gossip fodder. Shiloh's preference for boys' wear and her insistence on being called "John" led to speculation about her gender identity years before the subject became a political issue. But her parents encouraged her individuality and told the public to MYOB. "I don't think it's for the world to interpret anything," Jolie told the Daily Mail in a 2021 interview.
Shiloh Jolie-Pitt has since gone on to mirror some of Angelina Jolie's best beauty moments while still maintaining her own sense of style. However, despite her triple A-list pedigree — she's also the granddaughter of Jolie's dad, Jon Voight — Shiloh is enjoying a low-key life. Shunning acting projects for the time being, she stays active in other ventures and is only seen in quick paparazzi glimpses as she goes about her day.
Shiloh Jolie-Pitt is testing the romantic waters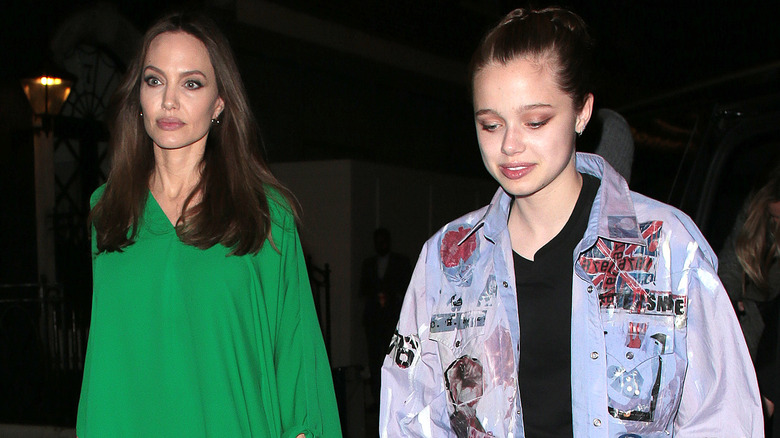 Ricky Vigil M/Getty Images
If it seems incredible to us that Shiloh Jolie-Pitt is almost an adult, imagine how her parents feel. But she's now 17, meaning young adulthood is just around the corner. She's also old enough to enjoy some degree of independence; in July 2023, she was spotted on two separate outings without a parent in sight. One day, she went for an iced coffee run with her sibs Knox, Pax, and Zahara; a couple of weeks later, photographers captured Shiloh on her own, loading a bag of groceries into a waiting car. By all accounts, the second oldest Jolie-Pitt daughter is confident, gregarious, and happy to pursue her own interests. Shiloh and her dad Brad Pitt have a shared passion for dance, though Pitt admitted to Entertainment Tonight being far less skilled than she. Shiloh studies with the renowned Millennium Dance Complex in L.A., and several of her performance videos went viral. 
Another sign Shiloh is no longer a little girl: Sources tell Life & Style she's entered the dating scene. No details yet on whether she's actually in a relationship or keeping her options open, and she's not likely to share any time soon. Like her five siblings, Shiloh prefers to stay out of the spotlight, perhaps knowing how much media scrutiny her parents have endured over the years. However, another source told the outlet Shiloh's romantic interests have to be vetted by mom Angelina Jolie before she can actually start going out with them.
Shiloh is becoming financially independent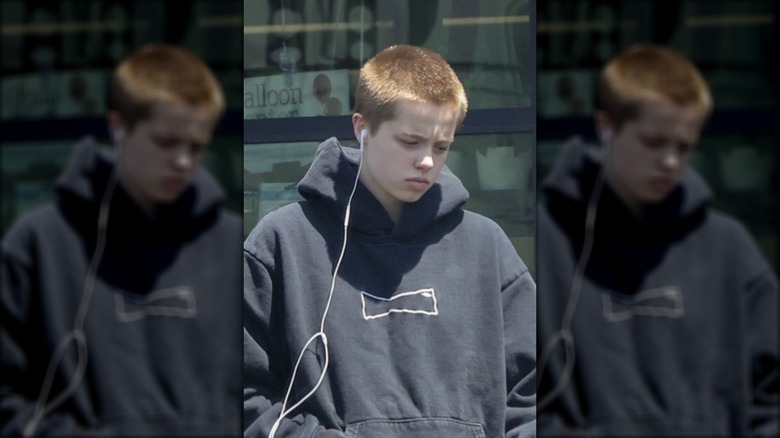 BACKGRID
While it's a little early yet to determine whether Shiloh Jolie-Pitt will carry on her family's acting tradition, it doesn't seem to be her main objective at the moment. She briefly tried her hand at acting, with a small cameo in her dad's film "The Curious Case of Benjamin Button" and a voice credit in "Kung Fu Panda III." But her interests reportedly lie in less visible ventures.
Life & Style recently quoted a source who said Shiloh spends her spare time earning money through "small dance jobs, tutoring and reading books to produce as films." She reportedly banks about $14,000 a week for her efforts — considerably more than the average teen makes on babysitting gigs. The source claims Shiloh is also a production assistant on a film project her mom Angelina Jolie is working on.
The understated young lady continues to carve out her own style path, as well. In recent years, she's appeared at red-carpet events looking glam in tailored dresses and slicked-back buns. But summer 2023 has found Shiloh returning to her edgier androgynous look, sporting a short buzz cut and oversized hoodies. Her extensive hip-hop work with choreographer Hamilton Evans may be her inspiration, or perhaps it reflects the casual freedom she prefers. But on-camera or off, in heels or kicks, Shiloh is poised to succeed in whatever she does.