Who Was Sandra Bullock's Partner Bryan Randall?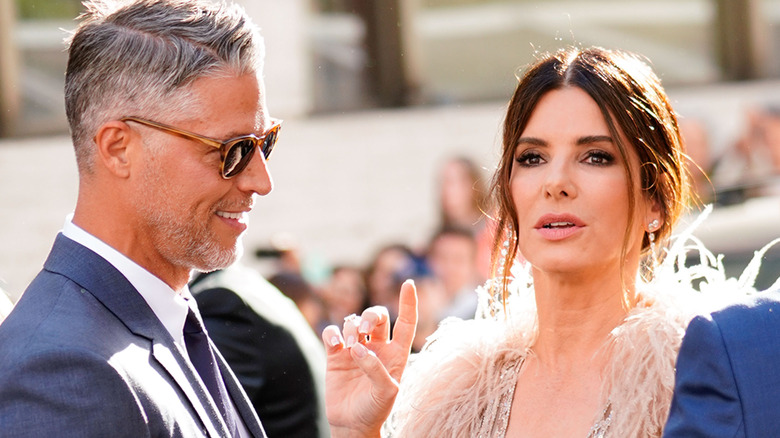 Jackson Lee/Getty Images
Oscar winner Sandra Bullock has been capturing the hearts of audiences since her breakout role in the smash hit "Speed." She, like the runaway bus, has never slowed down. But audiences aren't the only ones who have fallen in love with the beautiful brunette.  Bullock has had several off-screen romances with her on-screen costars over the years, including Matthew McConaughey, Ryan Gosling, and Tate Donovan to whom she was briefly engaged. Then there was that fling with Troy Aikman and marriage to Jesse James that ended in divorce after reports of his infidelities. 
Since 2015, however, Bullock's leading man was Bryan Randall, a professional photographer and former model who maintained a low profile in the public eye. In fact, until his death in 2023 after a three-year battle with ALS, he wasn't a household name. Now, it seems that everyone wants to know more about the man whom Bullock referred to as "the love of [her] life" in a 2021 appearance on "Red Table Talk" with Jada Pinkett Smith. It was not long after that appearance that Bullock announced she was stepping out of the spotlight to spend more time with her children. Now that we know the details surrounding Randall's health, we can't help but wonder if that factored into her decision. In part of a statement released to People, his family stated that "Bryan chose early to keep his journey with ALS private and those of us who cared for him did our best to honor his request."
They met because of Sandra Bullock's son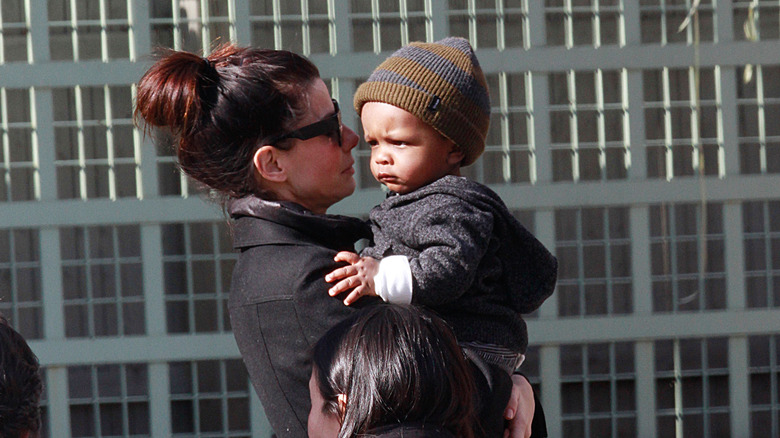 Marcel Thomas/Getty Images
When Sandra Bullock adopted her son Louis in 2010, little did she know that he would be the reason that she would meet the man with whom she would find great love and happiness. Bullock hired Bryan Randall, a professional photographer, to take photos at little Louis' birthday party in January 2015. The pair began dating shortly thereafter, making an appearance at the August 2015 wedding of Bullock's good friend Jennifer Aniston to Justin Theroux,  but it wasn't until the Los Angeles premiere of Bullock's movie "Our Brand is Crisis" in October of that same year that the two made their first official Hollywood public appearance. 
Bullock is known for being a high-profile celebrity who manages to maintain a relatively private personal life. However, she is one of the most recognizable women in the world, which can make it challenging to maintain a relationship with someone who doesn't understand what celebrity life is like. Randall was up to the task, according to Bullock, who sang his praises on "Red Table Talk," calling him "a saint" and describing him as "very patient."  She said that dating her "unraveled" Randall's whole life but that he was up to the challenge. "He was so happy, but he was scared. I'm a bulldozer. My life was already on the track and here's this beautiful human being who doesn't want anything to do with my life, but [is] the right human being to be there."
Bryan Randall had a successful photography business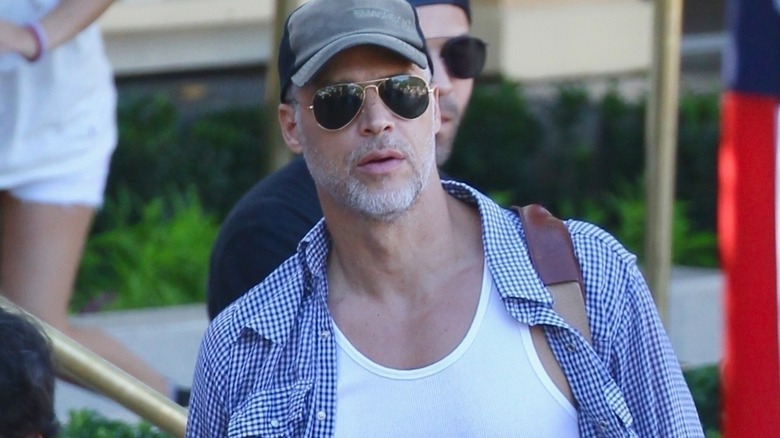 Backgrid
Just because he maintained a low-profile relationship with a high-profile movie star, Bryan Randall was not Mr. Sandra Bullock. The Portland, Oregon, native was a successful professional photographer in his own right and the owner of Bryan Randall Photography. Based in Los Angeles, Randall's work was primarily focused on children's portraits, which is how he met Bullock, along with outdoor scenes, events, and landscapes. 
For someone who took photographs for a living, Randall was extremely protective of the privacy of Bullock and the two young children he co-parented with her. The group was rarely photographed in public, and when they were, the children's faces were often pixelated in published shots. In what is said to be their last public outing, the family was captured looking happy as they attended an event in Studio City in 2020. Since that time, they have remained under the radar as Randall bravely fought the disease that took his life just three years later. 
Bryan Randall was a model partner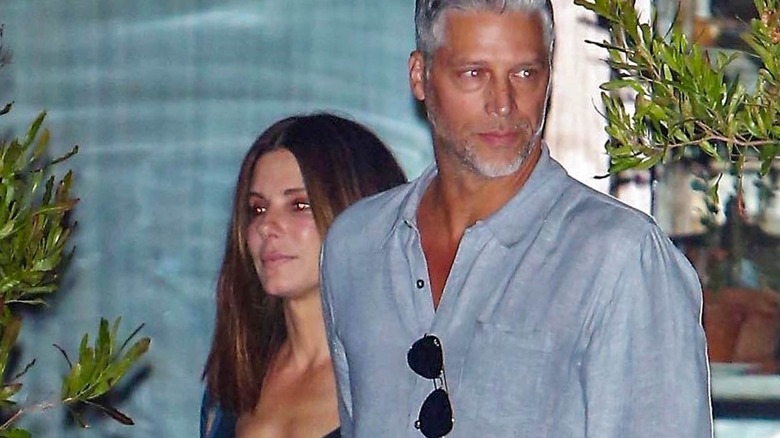 Backgrid
Before he was behind the lens, Bryan Randall was in front of it, working as a model for such big names in the fashion industry as Hugo Boss and Saint Laurent. He has appeared in magazines, including Vogue Paris and Harper's Bazaar Singapore, where he posed in a spread with none other than supermodel Cindy Crawford. One look at those shots, and it's easy to see why the blue-eyed, 6'3" silver fox with the ripped bod caught Sandra Bullock's attention. 
As his successful modeling career made clear, the camera loved Randall. That's why it's no surprise that he once showed an interest in acting, attending the Los Angeles drama school Anthony Meindl's Actor Workshop. While he definitely had that leading man look locked down, it doesn't appear that Randall ever seriously pursued that interest, preferring instead to remain behind the scenes while Bullock lit up the silver screen. He appeared on her arm at various red carpet premieres, supporting her both on and off-screen. 
Sandra Bullock wasn't his first celebrity girlfriend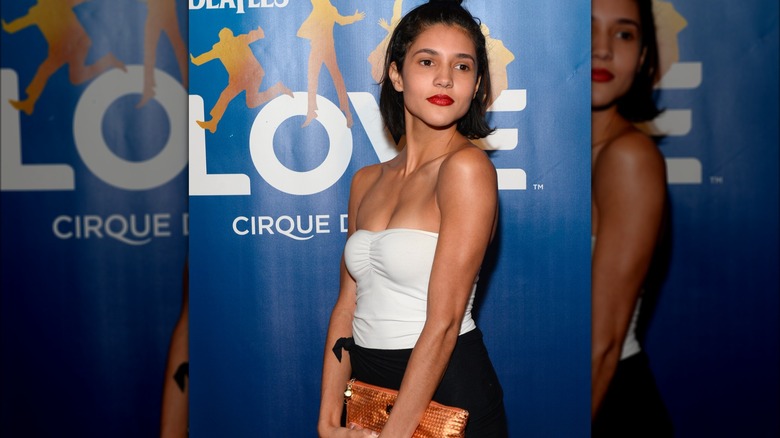 Bryan Steffy/Getty Images
As mentioned earlier, Sandra Bullock is no stranger to the celebrity dating game, having been in relationships with several A-list stars. In fact, Bryan Randall might have been her first non-celebrity relationship in several years. And while Bullock was clearly Randall's most famous girlfriend, she was not his first celebrity girlfriend. Randall was once linked to Paris St. John, the daughter of the late soap opera star Kristoff St. John and model and famous boxer Mia St. John. The two met when Randall was hired to photograph Mia. Although there was a significant age difference (more than 20 years), the couple dated for three years, and based on Mia's interview with Us Weekly, it's clear that it wasn't just Paris who was smitten.
Mia clearly thought the world of Randall, describing him as "kooky," "a free spirit," and "a really good guy." After her son died by suicide, Mia established the Stone Art program through her Mia St. John Foundation, and she counted Randall among the effort's biggest supporters. "He did so much for my son and my program ... Bryan was one of our mentors; he would volunteer, drive two hours every week from L.A. to Palm Springs, just to work with these guys for free in honor of my son." Although Paris hasn't spoken up about the relationship, Mia says it was a positive experience for her daughter. "It was a great three years — nothing but good came out of it."  
If you or someone you know is struggling or in crisis, help is available. Call or text 988 or chat 988lifeline.org
Coparenting came easy for Bryan Randall and Sandra Bullock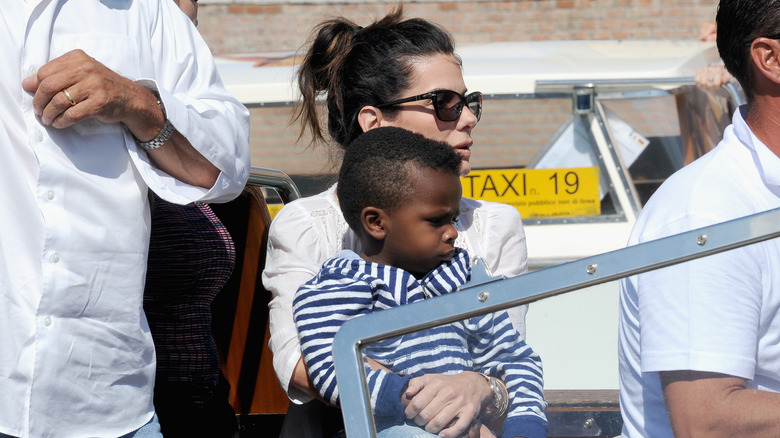 Jacopo Raule/Getty Images
Sandra Bullock was a single mom to Louis when she met Bryan Randall, but the two had only been dating a few months when "The Blind Side" star announced that she was adopting a second child, daughter Laila.  "We hadn't been together that long and I said, 'Remember that NDA you signed when you photographed my son? You know that still holds ... because I'm bringing home a child when I come back from Toronto,'" she said during her "Red Table Talk" appearance. Randall fell right into his role as a father figure to Bullock's two children, perhaps because he had already had several years of experience. The model-turned-actor was also the father of an adult daughter, Skylar, from a relationship with Janine Staten, who died in 2004. Although estranged after the separation, Sklyar moved in with her father following her mother's death and they seemed to enjoy a strong relationship. 
Sources, including Mia St. John, describe Randall as a family man. "He's amazing with kids. He loves kids. We're so happy for him," St. John told Us Weekly. That was apparent when the Bullock-Randall crew was spotted at Disneyland in 2018, looking like any other family as they enjoyed rollercoasters and pizza with Bullock's buddy, actor Jason Bateman, and his wife and kids. "He's the example that I would want my children to have," Bullock shared in the "Red Table Talk" episode, where she described their blended brood as "the best thing ever."
Bryan Randall and Sandra Bullock never married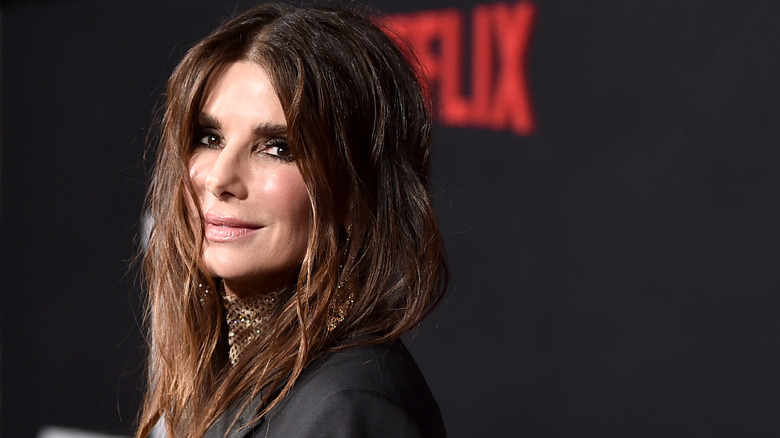 Alberto E. Rodriguez/Getty Images
Both Sandra Bullock and Bryan Randall had their fair share of failed relationships. Hers included a broken engagement and a very public and messy divorce, so it's understandable that "The Proposal" star wasn't in a big rush to the altar. She explained her reasoning in her 2021 "Red Table Talk" appearance. "I don't wanna say do it like I do it, but I don't need a paper to be a devoted partner and devoted mother," she said, adding, "I don't need to be told to be ever present in the hardest of times. I don't need to be told to weather a storm with a good man." 
For his part, Randall was spotted sporting a gold band on his ring finger in 2018 while he and Bullock were out on a stroll, sparking rumors that the pair had indeed made it official. However, a rep for the actress told US Weekly that it simply wasn't true, stating, "They are not married." Married or not, the pair seemed to be very much in love despite a rumored split in 2022, which Us Weekly reported may have been due to her reluctance to walk down the aisle. Regardless, it was Bullock who was there for Randall in his final days. The star's sister, Gesine Bullock-Prado, shared an Instagram post following Randall's death, calling Bullock "the best of caretakers," and revealing that she had hired a skilled team of medical professionals to help care for Randall and keep him comfortable at home.
Bryan Randall kept his ALS struggle private until the very end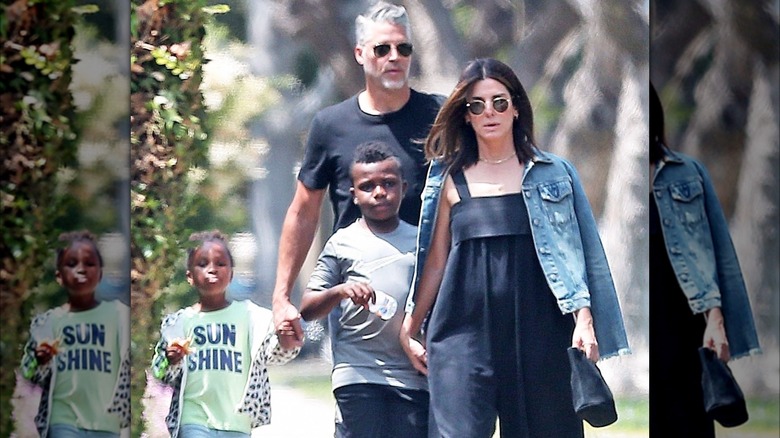 Backgrid
Bryan Randall died the same way he lived — privately. As mentioned, he and long-time partner Sandra Bullock flew under the radar when it came to public appearances, preferring instead to lead a quieter family life with her two children. That desire for privacy only intensified following Randall's ALS diagnosis, with the couple sharing the news with only a small group of people.  As Randall's health declined, Bullock made fewer and fewer public appearances before announcing in 2022 that she was taking a break to focus on her family, which we now know included caring for her partner and father figure to her two children. She did not say how long she intended the break to be, leaving fans wondering when she will return. 
Bullock is one of the most beloved stars in Hollywood, and the outpouring of support for her loss has been flooding social media. Her good friend Octavia Spencer summed it up best in an Instagram post, saying, "Sandy lost her soulmate and the world lost a talented, handsome, all around good guy!" In an official statement released to People, the family thanked the medical team who worked around the clock to care for Randall, and they asked for continued privacy to mourn their loss. "At this time we ask for privacy to grieve and to come to terms with the impossibility of saying goodbye to Bryan," the statement declared.