Tom Cruise Dating Rumors Made Hayley Atwell Feel 'Dirty'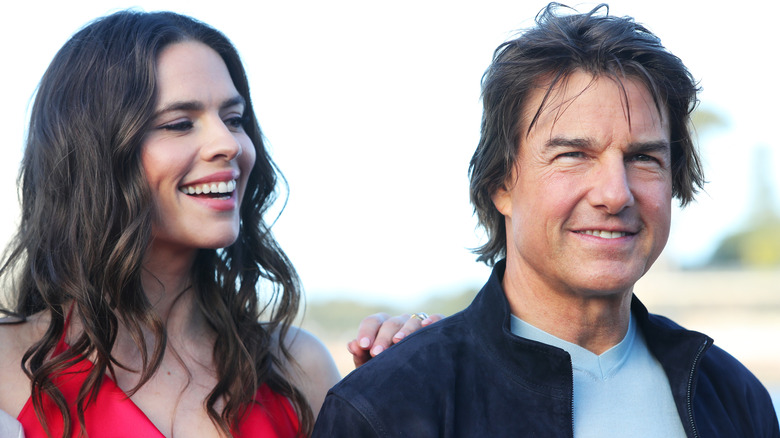 Lisa Maree Williams/Getty Images
When "Mission: Impossible — Dead Reckoning Part One" began filming in early 2020, rumors swirled that the film's stars, Tom Cruise and Hayley Atwell, were more than coworkers. A source told The Sun, "Tom and Hayley hit it off from day one," before adding that the pair were getting cozy at Cruise's London home. While other sources, per People, denied that the two were romantically involved, Cruise and Atwell added fuel to the fire when they were spotted together at Wimbledon in 2021. They reportedly broke up that year but got back together in 2022 before calling it quits shortly after.
Neither ever confirmed nor denied the rumors, but in a July 2023 interview with The Independent, Atwell addressed their alleged romance. Speaking about Cruise, she told the publication, "I would be like, 'Ooh, there's some weird rumours, and it feels base, it feels a little dirty, it feels grubby, it's not what I'm about.'" 
She added, "Why are things being assumed or projected onto me about my relationship with my work colleague and boss?" Atwell noted that she was displeased with the rumors noting they were affecting relationships she had in her personal life. The actor also revealed how Cruise helped her deal with this unwanted attention.
Tom Cruise's advice to Hayley Atwell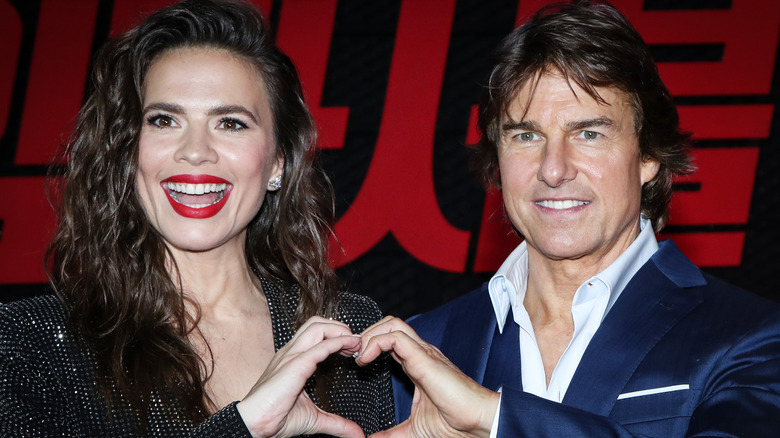 Han Myung-gu/Getty Images
Tom Cruise has been in the entertainment industry for decades and is no stranger to rumors and media speculation. In her interview with The Independent, Hayley Atwell recalled what Cruise said to her after she discussed their romance rumors with him. Atwell noted that Cruise told her, "'You know exactly who you are. You know what you're about. And that is the only thing that matters. It doesn't matter what people think of you, if you are in integrity with yourself, if you know what your value system is." Atwell further spoke about Cruise with Country & Town House.
Similarly to what she told The Independent, the "Captain America" star told Country & Town House that when the romance rumors got to her, Cruise told her he wanted her to make sure she felt safe. Furthermore, Atwell opened up about her relationship with Cruise and director Christopher Mcquarrie. 
She said, "What I feel is the truly extraordinary power of platonic love, which seems to be sometimes under-represented. And my love for Tom, my love for McQuarrie, my love for the process of this ['Mission'], and also the people who they keep very close to them and who are very present on set, has a wholesomeness to it."
Hayley Atwell is engaged to Ned Wolfgang Kelly
Hayley Atwell and Tom Cruise are not an item and perhaps never were, but she is off the market. In April 2023, Atwell had an unexpected Italian proposal from her music producer boyfriend and Ned Wolfgang Kelly. He revealed their engagement on Instagram and wrote, "Arrived in Venice at 10am. Around midday the love of my life and I got engaged in the kitchen of this strange apartment full of porcelain ducks, with a bloke outside the window murdering 'My Way' on the accordion. A perfect start to the rest of our lives together. I'd never had any interest in getting married . . . until I met this extraordinary woman."
Atwell later told the Daily Mail why the engagement occurred in Venice, explaining, "'I said to him [Kelly], 'Venice was my first most precious destination,' and I've always had a weird connection with it. So, he took me there, and it happened there." That said, little is known about Atwell and Kelly's relationship. However, they were first publicly spotted together in July 2022, with The Sun reporting that the two got together after her alleged second and final break up with Cruise.
While the couple maintains a relatively private relationship, this hasn't stopped Kelly from gushing about Atwell and her work on Instagram. In addition, he was with Atwell at the premiere party for "Mission: Impossible — Dead Reckoning Part One."