The Real Meaning Behind Rihanna's Song Lift Me Up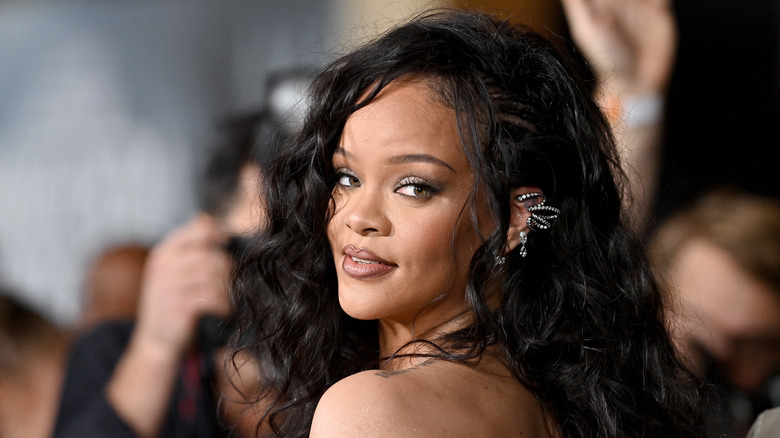 Axelle/bauer-griffin/Getty Images
When an artist goes into hibernation for years, there's no guarantee that fans will be awaiting their return. But for pop icon Rihanna, it was as if she'd never left. "Lift Me Up" marked Rihanna's first solo release in nearly six years. Despite an occasional feature, the songstress had not ventured back into music since the release of her 2016 studio album, "Anti."
As soon as RiRi posted a snippet of the song on Instagram, social media went ablaze. Her return to music had been long-awaited, especially since she had focused on business endeavors in recent years as a successful beauty mogul. "Lift Me Up" was chosen as the lead single for Marvel's highly-anticipated film "Black Panther: Wakanda Forever." The song was co-written by Rihanna, Ludwig Göransson, afrobeat singer Tems, and "Black Panther" director Ryan Coogler (via Billboard).
Released in November 2022, the movie is dedicated to the late Chadwick Boseman, who portrayed the Black Panther, King T'Challa. His untimely death in 2020 shook Hollywood to its core, as he battled colon cancer outside of the public eye. The ballad serves as an emotional ode to the actor's legacy, as well as a reminder to hold loved ones close.
Lift Me Up is dedicated to the late Chadwick Boseman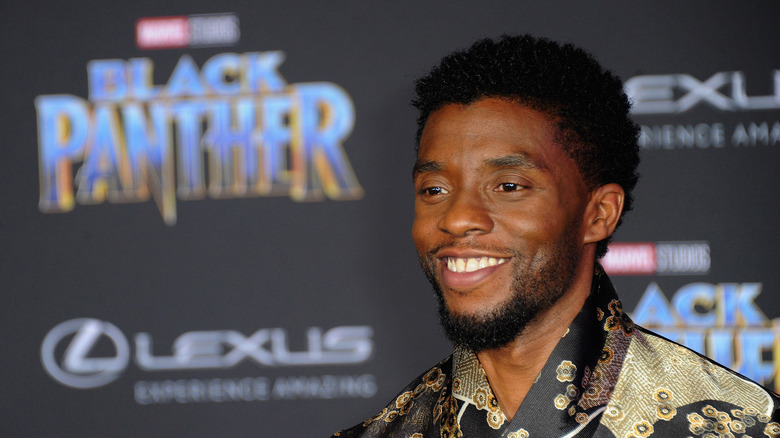 Albert L. Ortega/Getty Images
In "Black Panther: Wakanda Forever," "Lift Me Up" also doesn't play until the end credits. During this scene (spoiler), King T'Challa's secret son is introduced to the world. "Lift Me Up" is the soundtrack to this emotional moment. While T'Challa's sister Shuri has struggled with his loss, she is reminded that his love is still alive: "Burning in a hopeless dream, Hold me when you go to sleep, Keep me in the warmth of your love when you depart, Keep me safe, safe and sound."
The song was co-written by Ryan Coogler and Ludwig Göransson. Coogler also directed the first Black Panther film, while Göransson composed the soundtrack (per Genius). The loss of Chadwick Boseman was a hard hit for the entire cast of "Black Panther," especially its director. Coogler told Entertainment Weekly that due to grief, he didn't even know if he could make the Marvel sequel.
"I was at a point when I was like, 'I'm walking away from this business.' I didn't know if I could make another movie period, [let alone] another Black Panther movie, because it hurt a lot," Coogler said (per Entertainment Weekly). Due to this immense loss, it was only right that the film honor Boseman's legacy through "Lift Me Up." Addressing this loss, the lyrics read: "Keep me in the warmth of your love, When you depart, keep me safe, Safe and sound."
Black Panther's moving trailer convinced Rihanna to sign on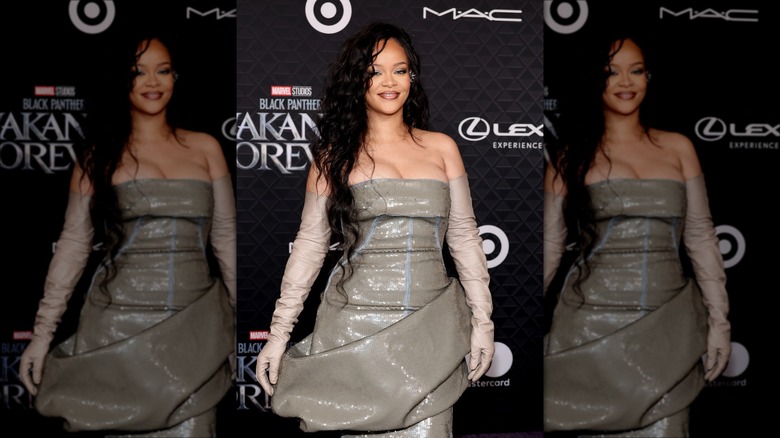 Amy Sussman/Getty Images
It also turns out that Rihanna related to the film's message. In "Black Panther: Wakanda Forever," King T'Challa's family and kingdom suffer after he passes. For the kingdom of Wakanda, things don't look up until T'Challa's sister Shuri embraces his legacy. "Lift Me Up" addresses the security we feel in a loved one's arms, even those who have passed: "Drowning in an endless sea, Take some time and stay with me, Keep me in the strength of your arms, Keep me safe, Safe and sound."
This unique perspective is what drew Rihanna to accept the offer to record the song. Co-writer and director Ryan Coogler told The Hollywood Reporter that it wasn't until she saw the film trailer that she became interested. "It's her experience with loss in there, and her being a mother. She's a new person now. [Parenthood] changes you to your core. I hear it in her voice. It's her, but it's a new her."
The businesswoman has been open about how pregnancy has changed her relationships and outlook on life. Fans could have never imagined that motherhood would push Rihanna back toward music. With a voice that has matured in the years since her last album, her raw vocals shine on the acoustic track, a diversion from her traditional upbeat pop hits. In the final chorus, she sings: "Lift me up in your arms. I need love. We need light, we need love."