What Katrina Bowden Did Before She Was A Hallmark Star
If you're an avid viewer of uplifting Hallmark movies, you might recognize Katrina Bowden from made-for-TV romances such as "Love on the Slopes" and "The Most Colorful Time of the Year." While the actor made her first foray into the world of Hallmark in 2018, she has quite the list of impressive acting credits to pre-date this entry.
Bowden is a New Jersey-born actor whose career kicked off in 2006 after she began modeling as a teenager. Her early roles include guest appearances on shows such as "One Life to Live" and "Law & Order: Special Victims Unit." From there, she went on to land a recurring role in the top-rated comedy series "30 Rock" and made a pretty successful film debut.
For fans of Katrina Bowden and her work on the Hallmark channel, here's everything you need to know about what the star did before joining the feel-good network.
Bowden was a regular on a long-running series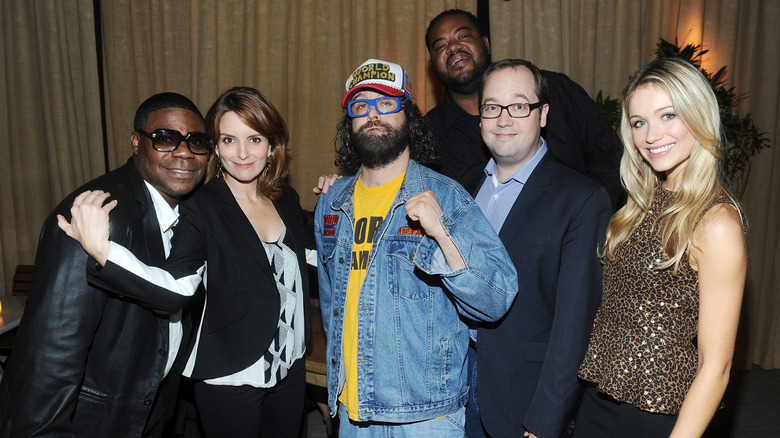 Jamie Mccarthy/Getty Images
Katrina Bowden started her show business career as a teenager, sharing with Soap Opera Digest that she began modeling for magazines and commercials before taking acting classes. Her first role was a two-episode arc on "One Life to Live," followed by appearances on "Law & Order: Special Victims Unit" and "Psych." Her career really kicked when she became a series regular on the NBC comedy series "30 Rock" in 2006.
Working alongside the likes of Tina Fey, Tracy Morgan, and Alec Baldwin, Bowden played Ceria Xerox, the young and seemingly ditzy assistant to Fey's character. "I was 17 when I started and learned everything I know about comedy from that show," the actor said in an interview. "It was an award-winning comedy, and I got to work with so many incredible actors and comedians. It was a once-in-a-lifetime opportunity!"
Along with her castmates, she was nominated for the Screen Actors Guild Award's Outstanding Performance by an Ensemble in a Comedy Series honor seven times, winning the title in 2009. More recently, Bowden was cast as Flo Fulton in "The Bold and the Beautiful" in 2019, taking a break from the show in 2022.
The actor also appeared in several major movies
After landing her "30 Rock" role, Katrina Bowden went on to make her feature film debut in 2008 with "Sex Drive." In the raunchy comedy, she plays Ms. Tasty, the online chatter who prompts the main character's cross-country road trip. While the actor maintained a smaller role in her first Blockbuster film, she then landed a starring part in the 2010 movie "Tucker and Dale vs Evil."
This horror comedy is one of Bowden's most-known projects and one that she's talked very positively about since. "I had so much fun shooting [Tucker and Dale vs. Evil]. It was such a great group of people, and Tyler Labine is still a friend," she said in a YouTube interview with Kinowetter, adding that she'd definitely be down to shoot a sequel to the film.
Since these roles, Bowden has gone on to star in lesser-known films such as "Hold Your Breath," "Nurse," and "Great White." With all this experience under her belt, we can't wait to see what else Katrina Bowden does on the Hallmark channel.