The Reason Hillary Clinton Got Her Wedding Dress On A Last-Minute Trip To Dillard's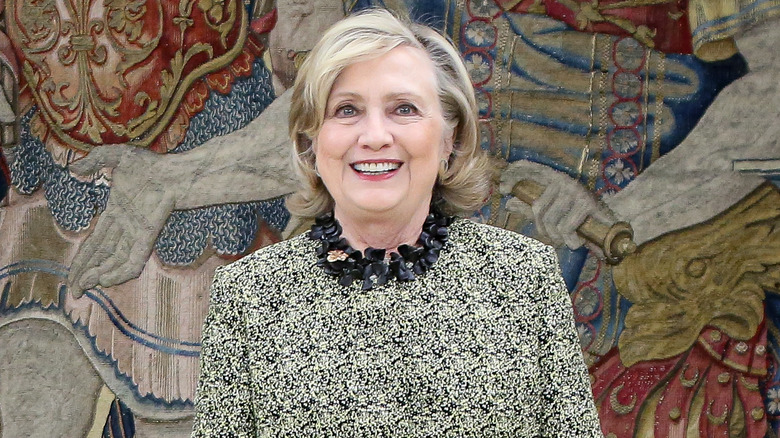 Paolo Blocco/Getty Images
For many brides, the wedding dress is one of the most important elements of their big day. They sometimes spend months agonizing over getting the perfect look and fit. Walking into a store and choosing a ready-made gown to walk down the aisle in isn't really a bride's MO. But you may be surprised to learn that celebrities have done exactly this; even big names such as Priscilla Presley and Kelly Ripa got a wedding dress off the rack instead of from a designer.
And you can add Hillary Clinton to that list, too. The former first lady sat down with Drew Barrymore on "The Drew Barrymore Show" and divulged how a single trip to the department store Dillard's was all it took to find her perfect gown. Recounting, "My husband [Bill Clinton] had asked me to marry him twice, and I said, 'Not now, no.' The third time was the charm. And then he said, 'Well let's hurry up and do it before you change your mind.'"
Clinton didn't exactly change her mind so much as she let the wedding slip her mind. Before she knew it, the big day was upon her, and she didn't have a dress. Enter a trip to the local department store and her on-trend for the time period purchase.
What did Hillary Clinton's wedding gown look like?
Today we associate Hillary Clinton with her unmistakable pantsuit. She's all crisp lines and buttoned-up professionalism. So, when the former Secretary of State posted an Instagram picture of her and her husband, Bill Clinton, on their wedding day, we were surprised to see so much flowing fabric. 
The pair married on October 11, 1975, and Clinton's style was very fitting for the decade when ruffles, lace, embroidery, and bell shapes (both on pants and sleeves) were popular clothing features. According to People, Clinton picked a "bohemian smock dress with bell sleeves and crochet lace detail." Brides reports that it was a Jessica McClintock Victorian lace gown. Pantsuits also became popular during that decade, but it seems Clinton's style was a bit more relaxed back then.
Clinton didn't begin wearing pantsuits until the late 1990s and hasn't looked back since. Though, we wouldn't mind seeing more of that bohemian flair she once possessed; she looks so happy and carefree in her wedding day attire! 
Let's back up to Hillary Clinton refusing Bill Clinton's proposals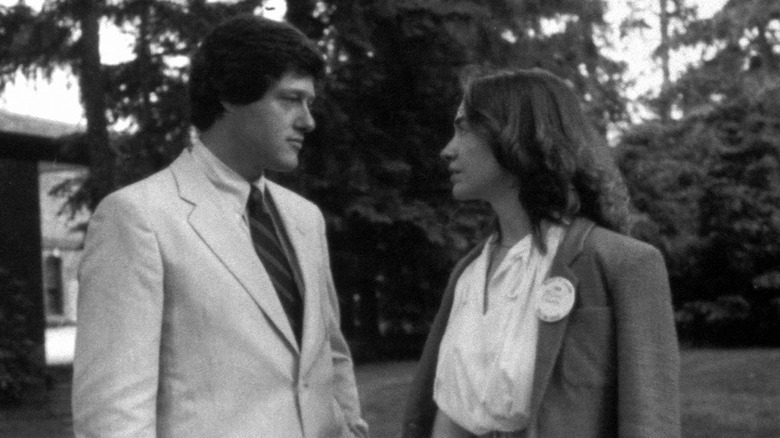 Rick Friedman/Getty Images
The reason Hillary Clinton ended up at Dillard's in the first place (aside from being forgetful) is that she finally caved to Bill Clinton's marriage proposal. In an interview with ABC News, the once-first lady divulged how Bill had repeatedly asked for her hand in marriage. Each time the young female Yale law student, one of just 27 women at the university, turned him down.
That is, until Bill purchased a home for the pair unbeknownst to Hillary. According to The Knot, she said, "I casually mentioned that it was a sweet-looking little house and never gave it a second thought." But Bill did, securing the home without Hillary knowing and later telling her, "Do you remember that house you liked? Well, I bought it, so now you'd better marry me because I can't live in it by myself," (via Brides). When Hillary wore her white Dillard's dress it was in the living room of that same Tudor revival-style house on West Clinton Drive, Fayetteville, Arkansas. A minister who lived in the area, Vic Nixon, performed the intimate ceremony. It was followed by a bigger bash the next day with family and friends, to which we hope Hillary wore her free-spirited flowing gown!