The One Word Tyler Hynes Uses To Describe His Legion Of Hallmark Fans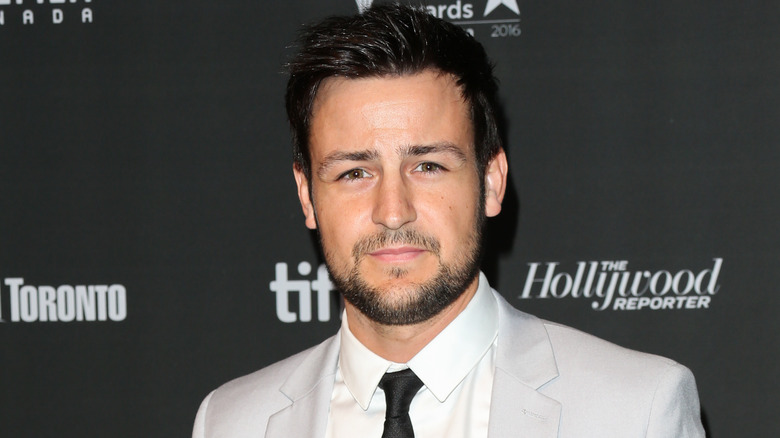 Paul Archuleta/Getty Images
Tyler Hynes might not have been in a huge number of Hallmark movies, but he's made quite an impact so far and is undoubtedly set to become the newest Hallmark veteran. His fans, whom he doesn't really like to address as such, are devoted to the actor's work so much that they've substantially helped him create and navigate his latest project, a short movie by the name of "Chimera." 
The Sci-Fi undertaking that's just over 15 minutes long purposefully lacks plot details but is nonetheless completely alluring, and Hynes' legion of Hallmark fans seem to agree. Thanks to their speculations and comments on social media, the actor-turned-writer has been able to expand the short with every new release, incorporating the viewers' POV.
This comes as no surprise for him, though, as he's always been open about what he really thinks of Hallmark movie fans (spoiler alert, it's all the best). As he immersed himself in unknown territory with "Chimera," Hallmark enthusiasts made the experience unforgettable for the actor.
Hynes' followers helped create his new project
Tyler Hynes is one of Hallmark's most-liked faces, making him a fan favorite, too. However, the "Falling For You" actor doesn't like calling his supporters fans. Instead, he describes them as enthusiasts, Tyler Enthusiasts more specifically, especially in the midst of his newest project.
In a conversation with TV Fanatic, Hynes explained just how grateful he was for the entire experience of "Chimera." His enthusiasts continuously reacted to each new version of the short movie that he released on the project's official website, experiencechimera.com, and their theories and comments are what influenced how he approached the next rendition. "I think that is a profoundly beautiful thing that finds its way into my life and to my work," he said of the community that's formed around the unusual project. He added that "Chimera" works as well as it does because of everybody who was involved in it, on and off camera, including the fans.
"Your attention to detail and speculation has been thrilling to see. [Your] interactions with each other couldn't be more beautiful. Enjoy this next part of the journey. See you in the chatroom," Hynes wrote in a tweet when one of the movie's versions was live.
The actor thinks meeting his fans is a 'profound' experience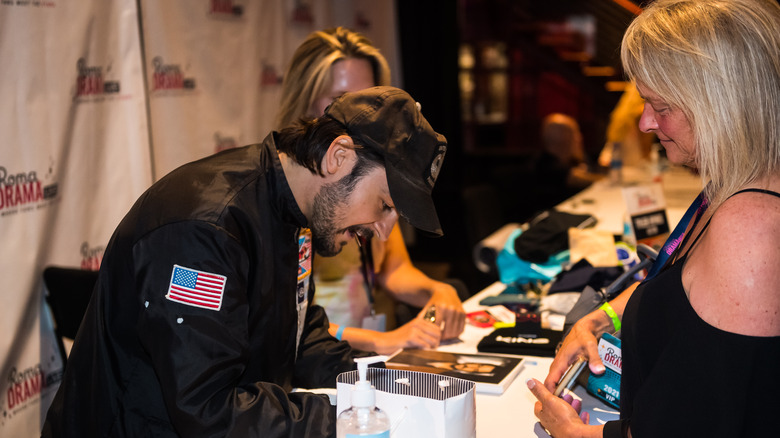 Keith Griner/Getty Images
Tyler Hynes has always been vocal about appreciating his fans, which prompted him to create something they could truly be a part of. When speaking to What To Watch, the "A Picture of Her" actor described the event of meeting his followers as profound. He explained how much he loved having that thrilling feeling he, as an actor, has while filming reflected back to him by people who consume the content. "It is wild," he said, adding, "I could do this all day, forever."
Considering how much Hynes enjoys being in the presence of his enthusiasts, it's no wonder he turned to a project like "Chimera" to truly make them a part of his work. While the Hallmark heartthrob can usually be seen in a very different setting, "Chimera" seems to have struck the right cord with his usual legion of Hallmark fans. In the TV Fanatic interview, the actor detailed how the short attracted an older demographic, which isn't something one might expect of a vague Sci-Fi movie that keeps on developing. Still, Hynes seems to have managed to figure his audience out to a T, and they're sending all the love back to him.