Hallmark Mahogany's Napa Ever After Is A Historic Premiere. Here's Why
On August 26, 2023, the newest movie in the Hallmark Mahogany film umbrella will premiere. Hallmark Mahogany began selling greeting cards geared toward Black customers and families in the late '80s, and they have expanded their range of products since then. The Hallmark Channel announced in 2021 that they would start releasing movies in a Hallmark Mahogany line and that they would be airing on Hallmark Movies & Mysteries for the time being.
"Napa Ever After" will have a historic premiere because it is the first Hallmark Mahogany movie to premiere on the main Hallmark Channel. It is also the first to premiere on a Saturday night, as opposed to Sunday night.
"Napa Ever After" is the sixth Hallmark Mahogany movie. The film stars Denise Boutté as Cassandra and Colin Lawrence as Alec. Cassandra is a lawyer who inherits her grandmother's vineyard, Eloi Vineyards. The vineyard has seen better days and is not doing well financially, so local widower Alec helps Cassandra fix it up for her friend's wedding. In true Hallmark fashion, the duo finds love along the way.
Hallmark Mahogany stars love the diversity and feel-good nature of the films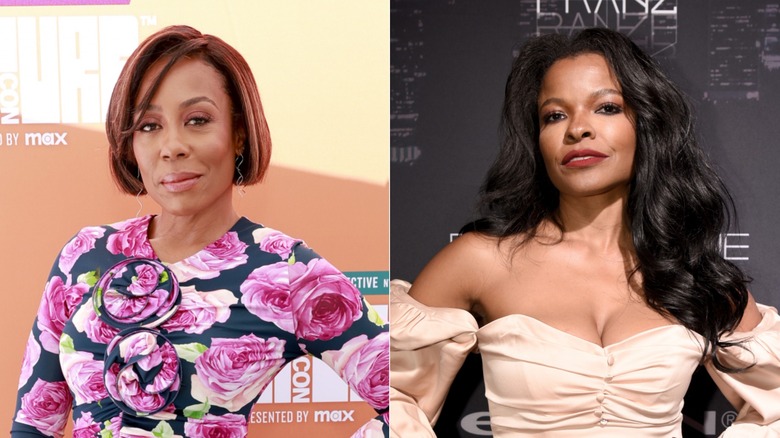 Emma Mcintyre & Arun Nevader/Getty
Hallmark Mahogany premiered its first film, "Unthinkably Good Things," in August 2022. That movie follows Allison, played by Karen Pittman, and her two friends visiting her in Tuscany while she tries to decide what she wants out of life. In a TV Insider interview, Pittman said that she thought Hallmark Mahogany was a great idea when she was approached about the film.
"I was intrigued by the idea of doing something that feels good," she told the outlet, adding, "I felt like coming out of the pandemic, I wanted to be involved in a story that was about love and friendship and relationships and why those things are important." Pittman also championed Mahogany's focus on diversity. She said, "For me to launch a brand that is directly focused on women of color, on people of color, but very specifically African American people, and entertaining them with really feel-good, wholesome entertainment is something that's really important to me."
"Spring Breakthrough" is another Mahogany film. One of its stars, Keesha Sharp, shared her thoughts on the movies under the Hallmark Mahogany banner with Us Weekly. She said, "I love that Hallmark Mahogany is so diverse, and everyone gets to see themselves in these happy ending stories." Sharp is a director too and expressed her desire to direct for Mahogany one day: "It would be crazy for me not to direct a really good feel-good movie."
The Hallmark Media CEO wanted the programming to match the card brands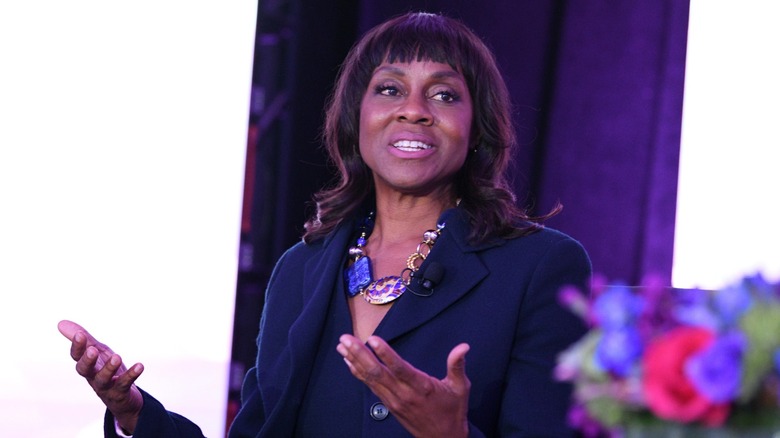 Gary Gershoff/Getty
In February 2021, Hallmark Media president and CEO Wonya Lucas spoke with The Hollywood Reporter about her desire to make the Hallmark Channel programming more inclusive. She wanted to match how the Hallmark company has cards and brands for various faiths and cultural communities.
"[Mahogany] has inherently been very broad and very diverse and very accepting," Lucas said. "So, for me, the opportunity is to mirror the brand." She also discussed how "there is a difference between representation — 'the Black best friend' — and authentic storytelling. ... I look at what we do in our brand as an opportunity to be a connector: binding people together with an understanding that we are different and we have differences, but we have common experiences even though they may manifest themselves slightly differently."
Hallmark is facing another leadership shakeup as Lucas plans to depart from her position at the end of 2023, staying on the board of directors but no longer working as president and CEO. Her tenure in the position helped bring about much more diversity in the Hallmark Channel programming, such as creating the Hallmark Mahogany movie branch. The premiere of "Napa Ever After" is a milestone moment for the burgeoning brand, and hopefully, there will be many more to come.