Royal Twins From Around The World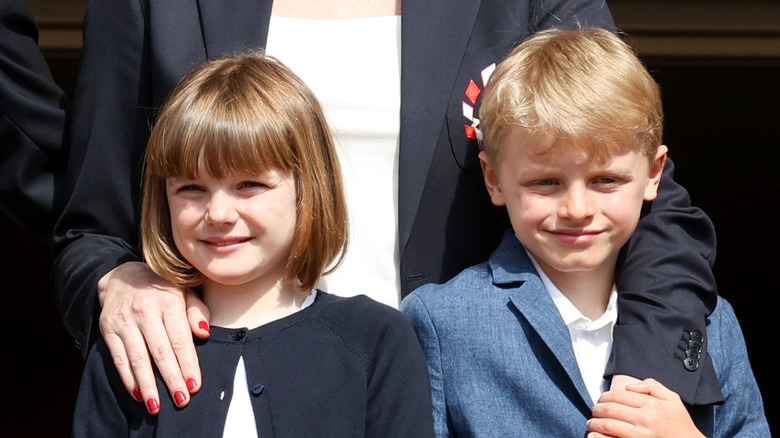 Sc Pool - Corbis/Getty Images
It's always a joyous occasion when a couple welcomes their new baby into the world, and when that's a royal baby, their birth can be a cause for talk around the world as royal fans eagerly await news of the new family addition. Of course, that excitement is only doubled when that new royal addition is twins. According to the CDC, the birth rate for twins is only 31.2 per 1,000 live births. And since there are so only 26 monarchies around the world, the odds of royal twins are quite low. But that doesn't mean it never happens. In fact, several royal families today have twins that you may have never heard about.
When you think of royals, your mind may jump to the British Royal House of Windsor, who often dominate the headlines. But, there are several other monarchies, such as that of Monaco, Hanover, Denmark, and more, all of whom have royal twins in their midst. 
Prince Mohammed and Princess Rajaa of Jordan
Prince Mohammed and Princess Rajaa of Jordan were born in 2001 and are the children of Prince Talal bin Muhammad and Princess Ghida Talal. They have one older brother, Prince Hussein. It seems the twins have followed in their mother's footsteps, both attending Georgetown University in Washington D.C. as she did in the 1980s.
The Jordanian twins are related to the crown through their father, who is His Majesty King Abdullah II of Jordan's cousin. Because the Jordanian throne passes from father to son, Prince Mohammed is far down the line of succession, and his twin sister, Princess Rajaa, is not in line to the throne at all according to the current laws. However, they still seem close to their cousins and the entire royal family. The twins participate in plenty of royal events, including New Year's celebrations, Jordanian festivals, and events for the King Hussein Cancer Foundation.
Prince Jacques and Princess Gabriella of Monaco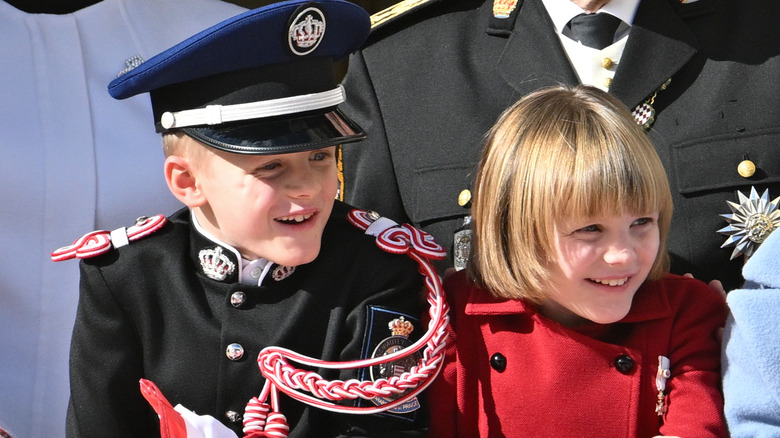 Stephane Cardinale - Corbis/Getty Images
On December 10, 2014, Princess Charlene of Monaco gave birth to fraternal twins, Prince Jacques and Princess Gabriella. Since their inception, the twins have made regular public appearances with their parents on royal outings and wave from the palace balcony with the royal family during Monaco National Day celebrations. The young twins have had many adorable moments in the spotlight, including bringing toys out onto the balcony to entertain themselves during the 2018 national parade (via Town & Country).
Prince Jacques and Princess Gabriella are the only children of Princess Charlene and Prince Albert. As Albert is the reigning prince of Monaco, this puts Jacques next in line to the throne. Speaking of his family, Albert told People that his wife and children were his proudest achievement. He described the twins in the interview and said that Princess Gabriella is the troublemaker of the pair. "[She] has that little mischievous twinkle in her eye. She has her own little personality," the proud father said. But she's not always able to rope her brother into her mischief. "Jacques stands up to her now, and when he's had enough, says 'No!' So he's not squashed by her strong personality," Albert explained.
Prince Nicolas and Prince Aymeric of Belgium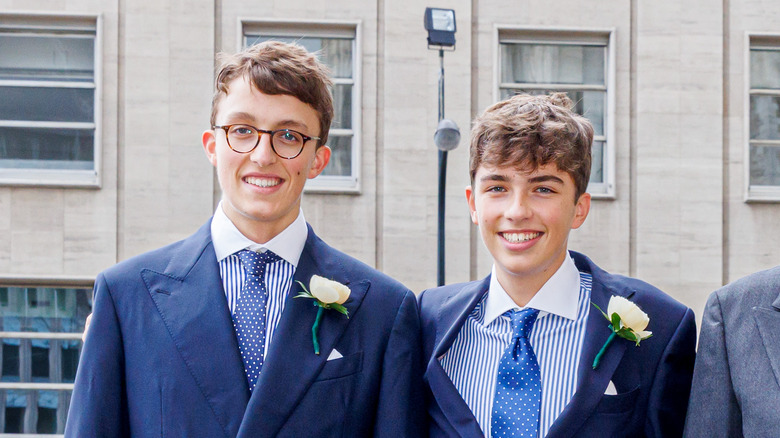 Patrick Van Katwijk/Getty Images
The twin princes of Belgium, Nicolas and Aymeric, were born to Prince Laurent and Princess Claire in December 2005. Their father is the youngest son of King Albert II and the younger brother of Belgium's current ruler Philippe of Belgium.
Prince Laurent and his wife, Princess Claire, have done their best to keep their twin sons and their older daughter, Louise of Belgium, out of the public eye. Though the twins were born in 2005, they weren't officially introduced to the public until 2006. Nicolas and Aymeric were born prematurely, and according to a source, "People [initially] thought there was something wrong with the boys" (via People). But after seeing photos of the family, those fears were put to rest. In the years since the now-teenage princes have made several public appearances. Still, they have a relatively private life for royals. "Their father ... wants them to stay out of sight of the media. He tries to give them a normal life," the source told People.
Al Hassan and Aya of Morocco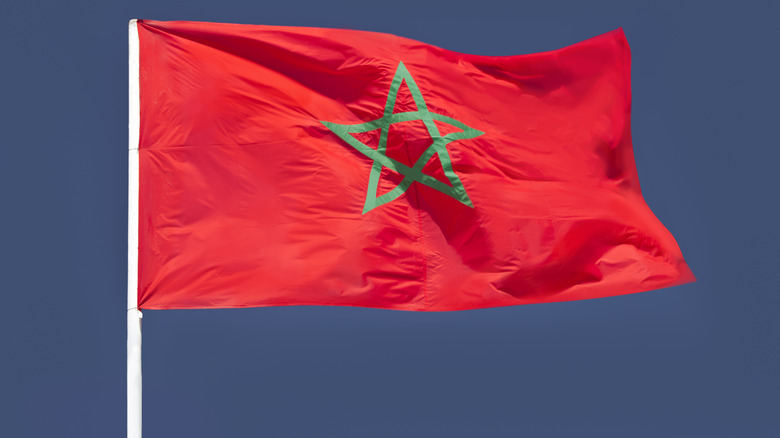 Ugurhan/Getty Images
In September 2015, Princess Lalla Soukaïna of Morocco and her husband, Mohammed El Mehdi Regragui, welcomed their twins, Al Hassan and Aya, into the world. This joyous occasion was just 18 months after the couple married. Princess Lalla Soukaïna gave birth in Paris, France, and according to Hello!, the royal twins were visited by their great uncle King Mohammed VI, who returned to Morocco after meeting the babies. 
Al Hassan and Aya were kept out of the public eye for the first few years of their life. But in 2017, they had their first big media moment when a portrait of their mother holding them went viral. It's no surprise the photo caught public attention. Princess Lalla Soukaïna looked stunning wearing a traditional Moroccan caftan and green jewelry with her hair braided to the side. And, of course, the young royal twins looked adorable in their mother's arms (via Morocco World News). Since making that social media splash, the twins have continued to maintain a fairly low profile.
Prince Vincent and Princess Josephine of Denmark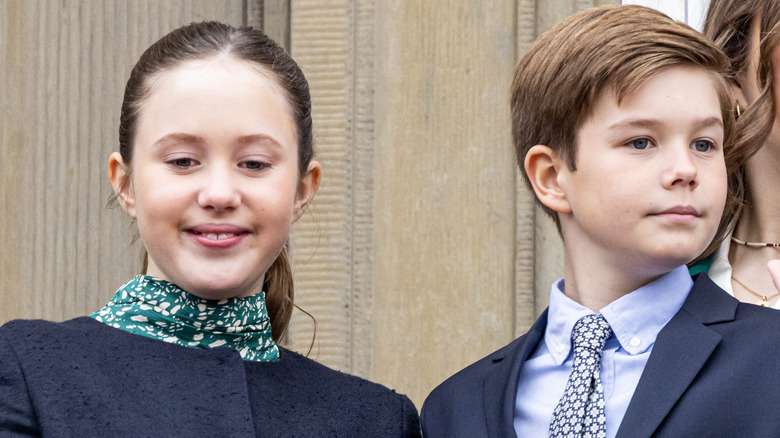 Patrick Van Katwijk/Getty Images
Another set of royal twins hails from Denmark. Prince Vincent and Princess Josephine were born on January 8, 2011. They are the children of Frederik, Crown Prince of Denmark, and the grandchildren of the reigning Queen Margrethe II. 
In 2023, Queen Margrethe and the Danish monarchy started making headlines when the queen stripped the four children of her younger son, Prince Joachim, of their royal titles. This was in an attempt to streamline and "modernize" the Danish monarchy. However, the decision has been met with public pushback. "She put the survival of the monarchy before the family and ironically it [her attempt to modernize the institution] backfired," royal correspondent Jacob Heinel Jensen said (via Tatler). "The future of the royal family depends on unity and the Danish public doesn't subscribe to hurt feelings, drama and open conflicts." Though it may have been done with good intentions, this decision on the part of the queen has been quite contentious.
Fortunately, this upset won't affect the twins, Vincent and Josephine. As the children of Frederik, Crown Prince, the heir to the throne, the twins and their siblings' royal titles remain fully intact despite the recent changes.
Prince Carl Friedrich and Prince Louis Ferdinand of Prussia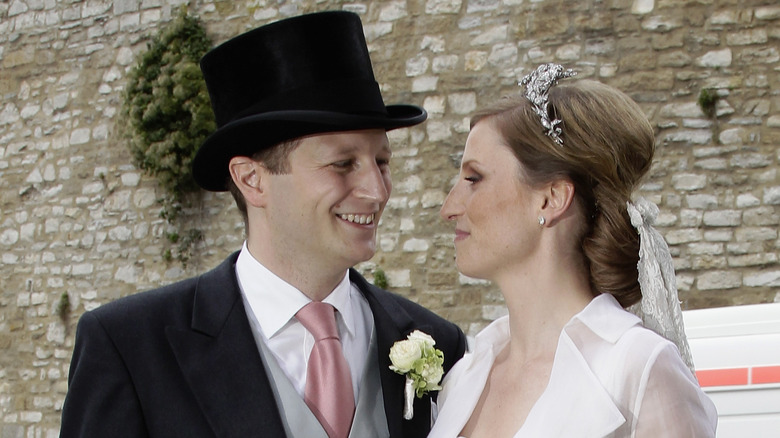 Andreas Rentz/Getty Images
Prussian twin brothers Prince Carl Friedrich and Prince Louis Ferdinand were born on January 20, 2013, to Prince Georg Friedrich of Prussia and Princess Sophie of Isenburg. Technically, the Prussian monarchy ceased when King Wilhelm II abdicated the throne in 1918, but the descendants are still acknowledged with royal titles. The twins' father is the great-grandson of the last ruler and therefore acknowledged as Georg Friedrich Prinz von Preussen.
Prince Carl Friedrich was born before his brother Prince Louis Ferdinand and is, therefore, the heir to the Prussian House of Hohenzollern. However, that title holds much less meaning now than it did at the height of Prussia's power, so the twins' lives will mostly remain out of the spotlight. Though the family maintains their titles and inheritance — mainly from valuables like art and jewelry— they now live as private citizens. Their father, who is head of the House of Hohenzollern, runs a brewery and got into a controversial legal battle trying to regain the past monarchy's property. This case left a bad taste in the public's mouth, particularly since much of that wealth came to the royal family as a result of Georg Friedrich's great-grandfather cooperating with Hitler.
Prince Nicolas and Princess Sofia of Hanover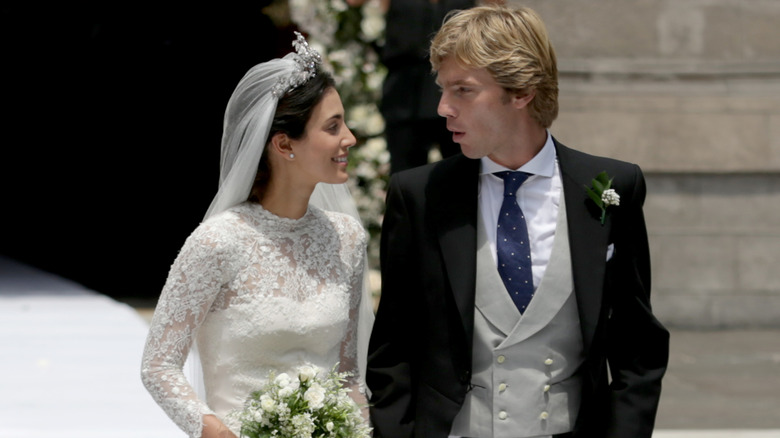 Raul Sifuentes/Getty Images
Prince Christian of Hanover married Peruvian-born Alessandra de Osma in a civil ceremony in 2017 before holding a more royal affair to exchange vows in 2018. The couple was confirmed to have twins on July 7, 2020. Since then, the royal couple has kept their babies out of the spotlight and off social media, but sources told Hola! that the babies, Sofia and Nicolas, are in perfect health.
The new mother, Princess Alessandra, is a former fashion model and runs a fashion brand that she launched with a friend called Moi & Sass. But her family is what means the most to her. In an interview with Hola!, the princess and mother of two said she's making them her top priority. "My life now revolves around [the twins]," Alessandra said. "I spend much more time at home than before to be able to enjoy every second of them."