The Real Meaning Behind Jason Aldean's Try That In A Small Town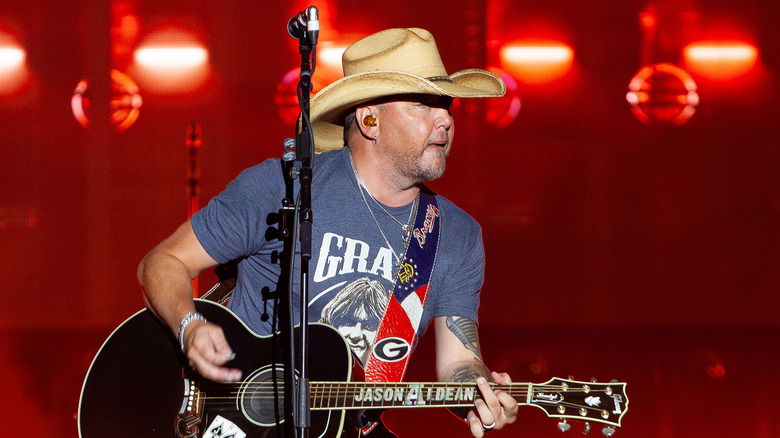 Joshua Applegate/Getty Images
Politics and country music have long been intertwined. Woody Guthrie sang "Tear the Fascists Down" and Pete Seeger crooned along to "Solidarity Forever," arguing for the importance of labor unions. Johnny Cash believed in prison reform. These days, the genre is mainly associated with conservative beliefs. You'd be hard-pressed to find a tune touting the evils of major corporations — lyrics praise the second amendment, short skirts, and the American flag. Jason Aldean first came onto the scene in 2005 with his hit song, "Hicktown." His single "Try That in a Small Town" has been topping charts since its May 2023 release — it's also been getting some major pushback. According to Aldean, the meaning is simple: "For me, [the song] refers to the feeling of a community that I had growing up, where we took care of our neighbors, regardless of differences of background or belief," he explained in an Instagram story, per Stylcaster.
Still, others have pointed out the violent undertones in Aldean's chart-topping single. In the since-deleted official lyric video, the country star included a clipping from a 1956 Petal, Mississippi newspaper article. TikToker Danny Collins did some digging — the article tells the story of Percy Dale East, a journalist who was ostracized from his small town after criticizing a local racist organization "To everyone supporting Jason Aldean what else do you need to see or hear? Accept accountability and do better," Collins captioned his video. In other words, Aldean is clearly taking the side of white nationalists. 
Jason Aldean's lyrics serve as a warning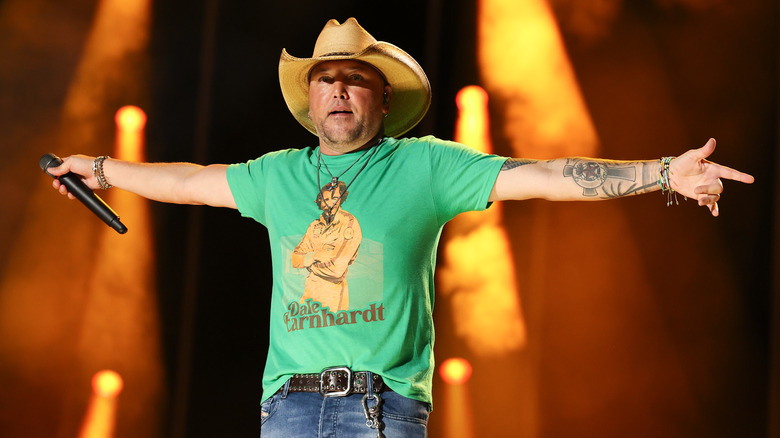 Terry Wyatt/Getty Images
Jason Aldean makes it clear that some things just won't fly in a small town — specifically, swearing at the police, burning an American flag, and enforcing gun laws is a no-go. "Cuss out a cop, spit in his face/ Stomp on the flag and light it up/ Yeah, ya think you're tough," he sings, warning, "See how far ya make it down the road/ 'Round here, we take care of our own." Although it's not specified how they "take care of [their] own," it might have something to do the gun his granddad gave him (also mentioned in the song). Essentially, the country singer is daring "outsiders" to cross the line under threat of violence. 
Critics have pointed to Adlean's music video as further evidence of the song's alleged racist undertones. The country star filmed in front of the Maury County Courthouse in Columbia, Tennessee — according to Variety, this was the site of a famous lynching in 1927. Here, a black teenager by the name of Henry Choate was brutally murdered by a white mob. "I think there is a lack of sensitivity using that courthouse as a prop," Cheryl L. Keyes, the chair of the Department of African American Studies at U.C.L.A, told The New York Times. Inexplicably, the music video features footage from outside the U.S. (Canada, Germany, and Ukraine) — originally, the video contained clips from Black Lives Matter marches in the summer of 2020, but these were later removed.
If you or a loved one has experienced a hate crime, contact the VictimConnect Hotline by phone at 1-855-4-VICTIM or by chat for more information or assistance in locating services to help. If you or a loved one are in immediate danger, call 911.
Jason Aldean has denied allegations of racism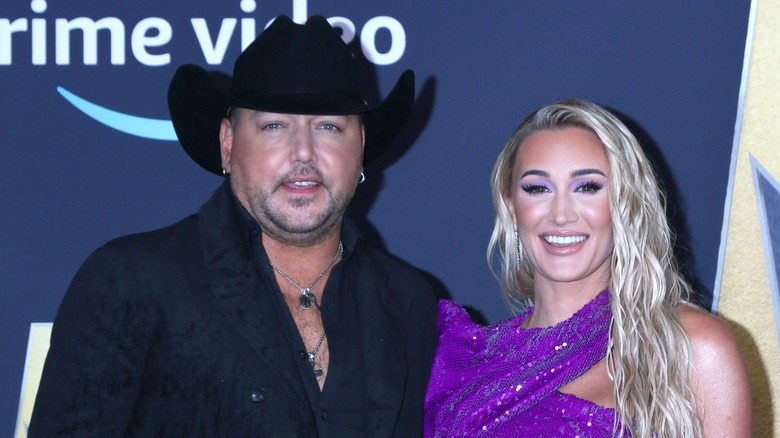 Kathy Hutchins/Shutterstock
Jason Aldean has pushed back against claims that his song is pro-lynching."These references are not only meritless but dangerous," he wrote in a Twitter statement, per CBS, adding, "There is not a single lyric in the song that references race or points to it- and there isn't a single video clip that isn't real news footage..." This last claim is most definitely false. According to TikToker Destinee Stark, the video makes use of commercial stock footage. "I just think that people have a right to know," she told NBC News, continuing, "Things like this, they inform politics and it informs how we vote, how we see the world and who we interact with... And it's just fueling people, you know, to commit more violence."
This isn't the only thing about Jason Aldean's hit song that doesn't quite add up. Notably, the singer is originally from Macon, Georgia, which has a population of well over 150,000. Now, he lives in Nashville, the biggest city in Tennessee. By all accounts, his experience in small-town America is limited. Aldean has been a long-time supporter of conservative politics and has a long-standing relationship with Donald Trump. The former president even stuck up for the country star amidst recent controversy— "Jason Aldean is a fantastic guy who just came out with a great new song. Support Jason all the way. MAGA!!!" he wrote on Truth Social. What's more, he and his wife, Brittany Aldean, have become associated with their transphobic online rhetoric.