Who Is Prince Harry's Pal Ignacio 'Nacho' Figueras?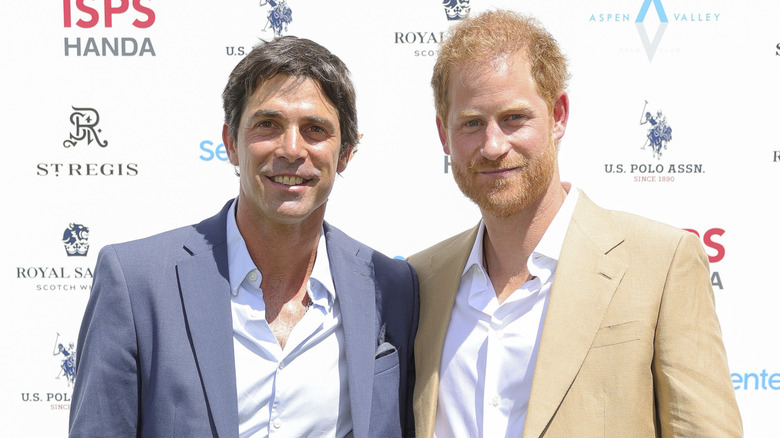 Chris Jackson/Getty Images
We may receive a commission on purchases made from links.
For an example of a lasting celebrity friendship, look no further than Ignacio "Nacho" Figueras and Prince Harry, Duke of Sussex. The famous polo player and British prince have been friends since 2007 when Figueras became an ambassador in 2007 for Harry's charity organization Sentebale (via Insider). 
Their friendship is back in the spotlight after they were spotted hanging out together in Japan. According to People, the pals were in Tokyo for the International Sports Promotion Society's Sports Value Summit. Figueras posted a photo of himself and Harry during their trip, and it's already drawn thousands of likes and plenty of comments. In the photo, the two friends have their arms folded over their chests in a mock serious pose. To add to the "seriousness" of the matter, both are donning stylish sunglasses. The Argentine captioned the Instagram post, "Shopping for our wives."
The playful moment not only gave fans more proof that Harry and Meghan's marriage is strong despite divorce rumors, but the friendly pic also had some wondering just who Harry's charming pal is. Here's what we know about Figueras and his friendship with Harry.
Figueras is a triple threat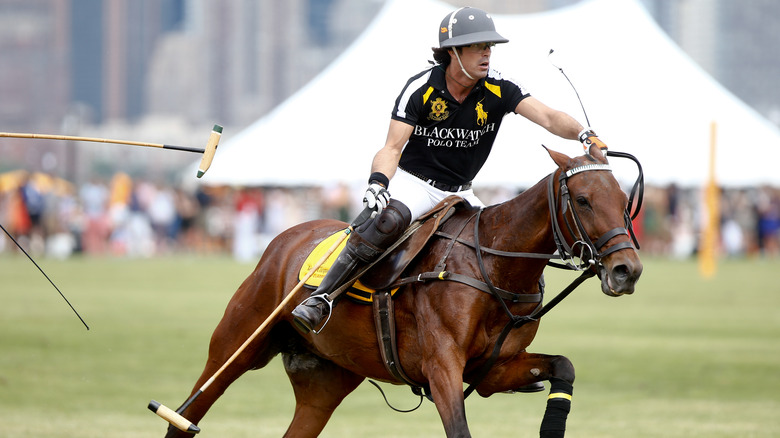 Debby Wong/Shutterstock
If you're an avid polo fan, you've most likely heard the name Ignacio "Nacho" Figueras. The New York Times has called the Buenos Aires native the "David Beckham of Polo," and it's a title the professional player has certainly lived up to. It seems Figueras has become one of the most recognizable faces in the classy sport.
Even if you're someone who doesn't keep up with the sport, you've probably seen the polo star before without even realizing it. His skill at the game and good looks propelled the athlete into modeling. Per Town & Country, he became the face of Ralph Lauren in 2000, a fitting career when you think about the sport he's become synonymous with and the brand's famous logo. Between modeling and playing polo, he's also part of the team behind the "Polo Season" romance novels.
"He's like a magical god," actor Andrew Rannells told Town & Country after seeing Figueras play once. "Particularly when you see him on the horse, you're like 'How is that a man, and I'm a man? How are we the same species?'"
He's been called Prince Harry's real brother
Prince Harry and his wife Megan Markle have lost a few friends over the years. Most famously, David and Victoria Beckham reportedly ended their friendship with the royals this summer after an accusatory phone call left both parties fuming.
Harry's friendship with Nacho Figueras has weathered even the most chaotic times in the Duke of Sussex's life. When others were quick to dismiss Harry for stepping down from his royal duties and moving to the United States, Figueras remained loyal to his friend and even defended him. "He has suffered a lot from all of the things that have happened to him," he said during an ABC interview. "He wants to live a normal life, as normal as his life is going to be, right? Because when you have a thousand paparazzi outside your house in Canada waiting to get a picture of your son, that's not very normal." He also mentioned how he knew Prince Harry made the move to "protect his family" and that he was supportive of the decision.
It makes sense that Figueras would understand Harry's motives to keep his family safe and happy. Like his good friend Harry, Figueras is also a husband and father. He is married to fellow polo lover Delfina Blacquier, an Argentine who is also the daughter of a polo player. Together, they have four children: Hilario, Aurora, Artemio, and Alba (via People).
The support that Figueras has continued to show Prince Harry over the years has led fans to suggest that Figueras is Prince Harry's "real brother." This is, of course, in reference to older sibling Prince William, whose relationship with Prince Harry is beyond repair, according to royal experts.