The Dark Movie That Landed Andrew Walker His First Hallmark Role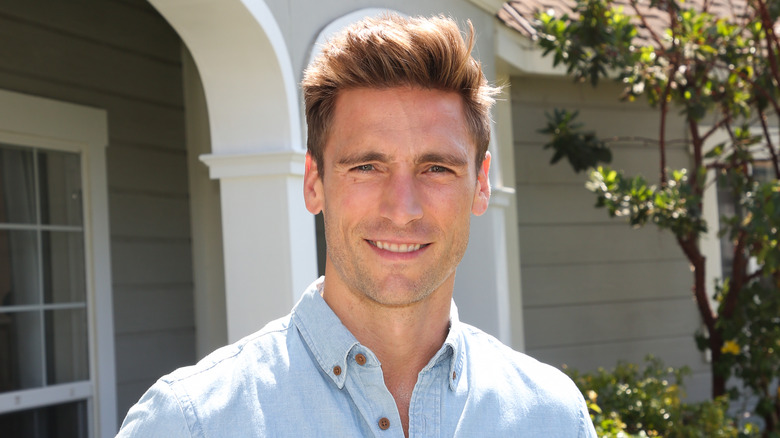 Paul Archuleta/Getty Images
Andrew Walker is one of the most popular leading men on the Hallmark Channel, appearing in over twenty made-for-TV movies since debuting on the network in 2012. Avid feel-good viewers will recognize the actor and producer from titles such as "Three Wise Men and a Baby," "Snowed-Inn Christmas," and "Curious Caterer: Dying for Chocolate."
In addition to this notable list of heartwarming romances and holiday flicks, Walker has accumulated quite a catalog of acting credits outside of the Hallmark network. In fact, it was a much darker drama movie that originally got him noticed by the lighthearted channel. In 2006, Walker co-starred in "Steel Toes," a courtroom drama about a Jewish lawyer (David Strathairn) who's tasked with representing a Neo-Nazi, played by Walker, who has committed a racially-motivated murder.
Fans of Walker's Hallmark work might be surprised to learn that "Steel Toes" is what led to his successful career with the network, but his interest in darker characters and films goes beyond this 2006 drama. Here's what Andrew Walker has had to say about the dark movie that landed him his first Hallmark gig.
Hallmark noticed Andrew Walker after Steel Toes
In a 2022 interview with the Vancouver Sun, Andrew Walker discussed how he got his first role on Hallmark back in 2006, explaining that it was "Steel Toes" that got him noticed by the network. "You know, the first one was very random. I did a movie called Steel Toes about this neo-Nazi skinhead. It's a role I'm proud of — I won a Borsos Award for best performance," he told the Vancouver Sun.
Even though the movie wasn't really in line with the Hallmark Channel's usual plots, his work in "Steel Toes" still drummed up interest, Walker said. "I got a call out of the blue saying that Hallmark was offering me this job up in Vancouver, 'A Bride for Christmas,'" Walker continued. "When I was talking to the director I said, 'Hey man, how did this come about?' And he says, 'We saw "Steel Toes."' And I was like, 'You offered me a Hallmark role for the skinhead movie I was in?' And He's like, 'Yeah, I felt you had something.'"
While it's certainly funny to think about such a harrowing film leading to his first-ever Hallmark gig, these darker dramas and thrillers were a staple of Walker's early career.
The actor enjoys portraying complex characters
"Steel Toes" isn't the only darker drama that Andrew Walker has been in, with the Hallmark star appearing in thrillers such as "Lies and Deception," "The Torturer," and Lifetime's "Abducted: Fugitive for Love." While he certainly thrives in the uplifting made-for-TV movies that fans love, he explained in an interview with Starry Mag that he enjoys more serious projects, too.
"I really enjoy playing the types of roles you might see someone like Bruce Willis playing — a hero with baggage. I like characters who have some inner turmoil to deal with," the "My Christmas Family Tree" star explained, adding that the Hallmark characters he's known for also allow for certain character work. "Hallmark has been such an incredible studio to work with. But regardless of the role, I always try to bring the character's own story to it."
Walker mentioned "Dashing Through the Snow" and "Appetite for Love" as particular titles in which he played characters with darker elements of their past. "With Hallmark, I am often told I need to be more light-hearted because I tend to take my roles far too seriously," he said. "But no matter what, I believe that an actor needs to get into the mind of his character and bring some depth to the role by digging into that character's own backstory."