Wicked Star Kristin Chenoweth Had Solid Advice For Ariana Grande When She Became Glinda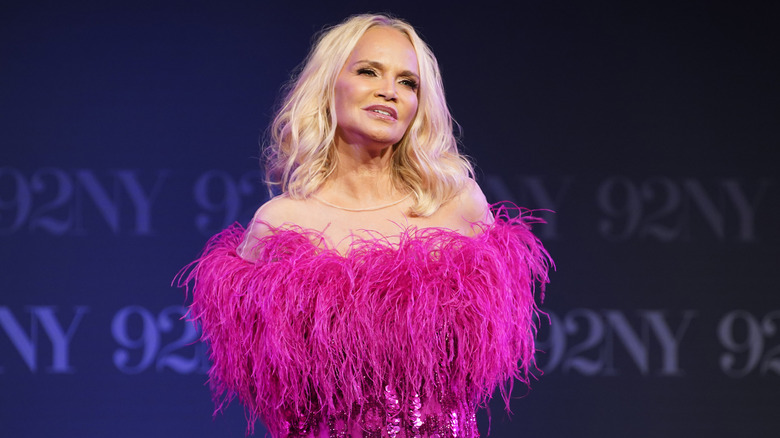 Rob Kim/Getty Images
Based on "Wicked: The Life and Times of the Wicked Witch of the West" by Gregory Maguire, "Wicked" made its Broadway debut in October 2003 and swiftly became a pop culture craze and a financial success. The original Broadway show starred Kristin Chenoweth as Glinda, The Good Witch of the North, and Idina Menzel as Elphaba, The Wicked Witch of the West. In November 2021, it was announced that pop star Ariana Grande and Cynthia Erivo had been cast in the film adaptation of "Wicked" as Glinda and Elphaba, respectively.
While this news had Twitter divided, Chenoweth told Entertainment Tonight in March 2022 that she approved this casting. Moreover, Chenoweth revealed to the outlet how she was helping Grande to prepare for the role. Describing herself as Grande's mentor, she said, "I told her not to think about me. To find her own Glinda." Chenoweth added, "We talk about it, and we talk about life a lot."
Shortly after, Chenoweth was on "The Kelly Clarkson Show" and told Clarkson a similar statement. She said that Grande called her after she nabbed the role and told Chenoweth that she wanted her Glinda to pay tribute to Chenoweth's Glinda.
Chenoweth's response? "Sure, you can tip your hat at me if you want, but really, I just want you to do you." Chenoweth also disclosed that she had known Grande since she was 10 years old and described Grande taking on the role of Glinda as a full circle moment.
Kristin Chenoweth has Ariana Grande's back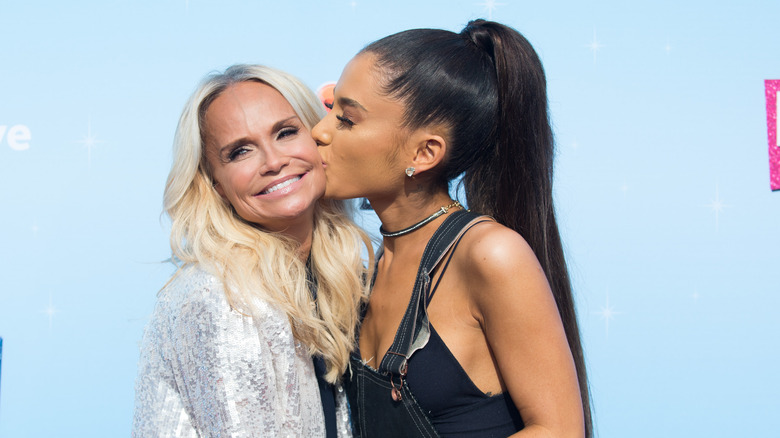 Emma Mcintyre/Getty Images
In 2019, on "Watch What Happens Live with Andy Cohen," Kristin Chenoweth revealed that she first met Ariana Grande, who was then a child, backstage while she was on Broadway doing "Wicked." Chenoweth noted that Grande even sang "Popular" for her. Grande later sampled the tune for her song "Popular Song." Per Just Jared Jr., Grande described playing Glinda as her dream role in a tweet from 2011. In 2018, Grande performed at NBC's "A Very Wicked Halloween," a television special celebrating the 15th anniversary of the Broadway show.
When news broke that Grande would be playing Glinda, Chenoweth posted a black and white photo on Instagram of their first meeting and wrote in the caption, "I'm not sure if I've ever been this proud. From the very first day I met you (swipe to see!!), you were destined for this role." In April 2023, fans got a glimpse of Grande singing as Glinda during the production of "Wicked" in a leaked video. Rumors swirled that this was Chenoweth's singing voice and not Grande's.
However, in an interview with Entertainment Tonight, Chenoweth put these allegations to rest and said, "We are very similar and we have been her whole life, and then when we talk on the phone we sound like dolphins." She added, "I know that she has been diligently working on that vocal and she can sing anything, and I'm so proud of her."
Ariana Grande gushed about filming Wicked
"Wicked," which is being helmed by Jon M. Chu, will consist of two films, "Wicked Part One" and "Wicked Part Two." The first is set to be released on November 27, 2024, and the second on November 26, 2025. Speaking to Entertainment Tonight about Cynthia Erivo and Ariana Grande tackling "Wicked," Kristen Chenoweth said, "I'm going to get to watch two women I know soar, and Ariana Grande is going to step so beautifully into my shoes." She added, "I'm so excited for her, she's gonna put her own stamp on it." That said, filming began in December 2022 and has largely been kept under wraps.
But in April 2023, Chu released two film stills on Instagram, and that same month, Grande posted a photo of herself on set celebrating the halfway point of filming. In a lengthy caption, she dished on how working on "Wicked" had changed her for the better and wrote, "i don't want it to end. so while i am still here, present, now, i just wanted to .... exclaim my tremendous gratitution! and allow my heart to overflow."
However, this doesn't mean the set hasn't been drama free. In July, Grande made headlines when it was revealed that she was rumored to be dating her "Wicked" co-star Ethan Slater. This news came after Grande and Slater split from their respective spouses. At the time of this publication, neither Grande nor Slater has commented on their alleged romance.