Who Is Virgin River's Kai Bradbury?
There's a lot that you may already know about Denny on "Virgin River," but what do you know about the actor who plays him? Denny is played by Canadian-born actor Kai Bradbury. Before moving to the TV screen, Bradbury acted on the stage in plays, musicals, and improv shows as a teenager. After graduating from Capilano University with a degree in Musical Theater, Bradbury started his professional TV career with an appearance on "The Man in the High Castle" in 2016.
Bradbury has been in TV movies "Menendez: Blood Brothers" and "The Simone Biles Story: Courage to Soar." Prior to his series regular role on "Virgin River," Bradbury appeared in other TV shows, such as "Altered Carbon," "Supernatural," "Motherland: Fort Salem," and the reboot of "Are You Afraid of the Dark?"
Bradbury also had a leading role as Vincent in the CBC Gem show "Warigami," which aired on the CW in the United States. Bradbury will return as Denny for "Virgin River" Season 5.
Kai Bradbury loves telling stories and entertaining
Kai Bradbury transitioned from improv — shorthand for improvisational, usually in the form of improvisational comedy — to traditional theater, to acting for the camera. On an episode of "Quarantine with the Stars" on the AfterBuzz TV YouTube channel, he spoke about this transition. Bradbury described how his friends in high school, " ... [gave] me the theater bug, and I went on to theater school after high school and signed with an agency and found film after that."
Prior to the "Virgin River" Season 4 release, Bradbury was interviewed on the Popternative YouTube channel and opened up about how he loves telling all kinds of stories as an actor and that, " ... I'm excited to share stories that are uniquely my own. I love entertaining people and it's been a love for as long as I can remember. I grew up in the arts in my family ... So it's just in the bones."
Virgin River's Denny reveals a diagnosis in the Season 4 finale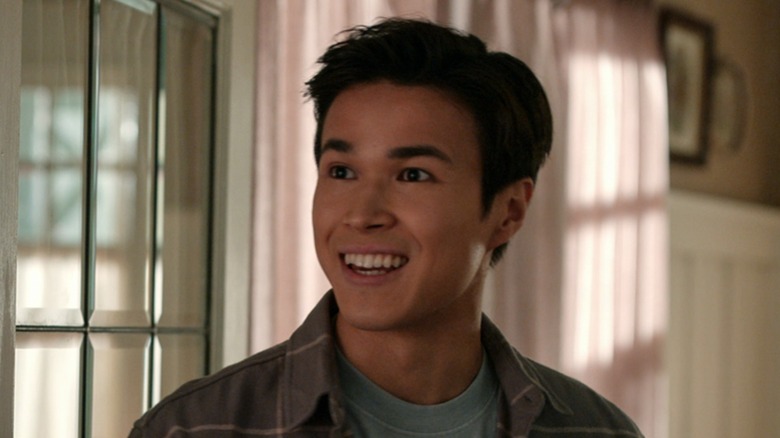 COURTESY OF NETFLIX © 2022
There were some very shocking moments in the "Virgin River" Season 4 finale, one of them being the reveal that Kai Bradbury's character Denny has Huntington's disease. Earlier in the season, Denny had stolen medication from the town clinic and was in possession of opioids, which viewers later found out was because of his disease and nothing nefarious. 
In an interview with TV Fanatic, Bradbury spoke about the diagnosis plot twist. When asked how hard it was to keep Denny's secret and still have the audience root for him despite his behavior, Bradbury said, "Totally. You want Denny to be lovable, but yes, it was actually quite challenging to navigate the red herrings, the twists, the turns. Because Denny is hiding a very big secret and has been through a lot, this kind of mask was over him. It was a challenge to reveal who Denny actually is to the core."
Bradbury also told TV Fanatic that his family helped him get into acting: "I come from a really artistic, creative family, and so I am genetically a product of humorous people with a flair for the dramatic, let's say." Vancouver being a hotspot for filming projects is one of the reasons Bradbury fell into the world of TV and movies after focusing on theater for so long, and he returns to TV screens once more on September 7, 2023 — when "Virgin River" Season 5 drops.