What You Need To Know About Virgin River's Denny
"Virgin River" has taken Netflix by storm and garnered tons of fans. The show is based on a series of novels by author Robyn Carr, and follows the life of the people who live in the small community of Virgin River, California. The main character is Mel Monroe, played by Alexandra Breckenridge.
Mel is a nurse practitioner who is looking to escape the pain of her past by moving from the big city to the small town of Virgin River. Although Mel struggles to acclimate to life in her new town, she begins to forge bonds with the people who live there like the local bar owner, Jack Sheridan (Martin Henderson), and the mayor Hope McCrea (Annette O'Toole), per Collider.
As fans watch the Netflix series, they discover through a series of flashbacks that Mel was once married to a man named Mark Monroe (Daniel Gillies) and that the two were expecting a child together (via Country Living). Sadly, Mel's pregnancy ended with a stillbirth, but that wasn't the end of her heartbreak. After the loss of their baby, Mark was killed in a car accident, leaving Mel feeling guilty and alone.
During the four seasons of the series, there are so many characters that have pulled at the heartstrings of viewers and the latest season was no different.
Virgin River is full of loveable characters
COURTESY OF NETFLIX
"Virgin River" offers so many characters to root for. The show's supporting cast includes characters such as Brie Sheridan (Zibby Allen), Lizzie (Sarah Dugdale), Dan Brady (Benjamin Hollingsworth), John "Preacher" Middleton (Colin Lawrence), Ricky (Grayson Maxwell Gurnsey), Charmaine Roberts (Lauren Hammersley), and many more (via PureWow). Each character has their own backstory and an important place in the Virgin River community, adding some joy and drama to Mel Monroe's life in the small town.
During Season 4, a brand new character named Dr. Cameron Hayek (Mark Ghanime) also came to town, per Marie Claire. Cameron got close with Mel and Doc Mullins (Tim Matheson) during his time as a member of the small medical practice. The young and handsome doctor immediately began making waves in Virgin River due to his single status, and the women of the town were eager to get to know him.
However, there was another new character that caused a lot of drama and confusion during Season 4 as well — Denny Cutler (Kai Bradbury).
Who is Denny Cutler?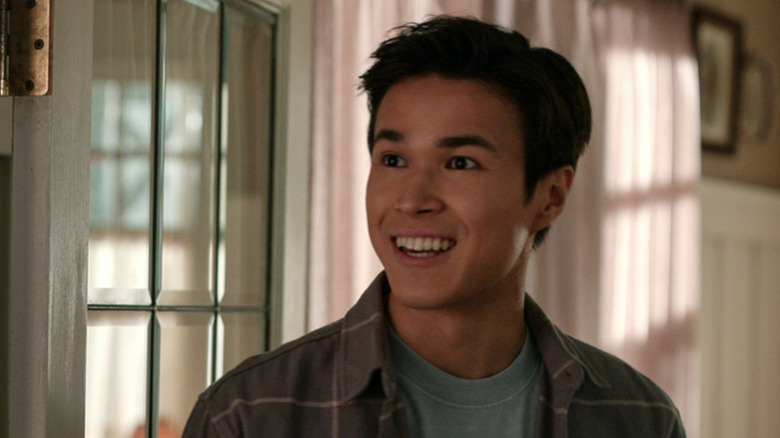 Fans first got a glimpse of Denny Cutler at the end of Season 3 when he came to Virgin River looking for Doc Mullins (via Marie Claire). Denny claimed that Doc was his grandfather, but fans were under the impression that Doc had no biological children. So during Season 4, Denny's presence was a mystery. Finally, Doc and Denny got to meet and it was revealed that Denny was the son of Doc's biological son, whom he never knew about.
Fans who watched Denny's story unfold found out that his father had died, and that he was left a large sum of money. The show gave fans some major suspicion about Denny, but in the end, they found out that he had used the money to pay off the mortgage on Doc's clinic. Sadly, Denny was hiding another secret. He had been diagnosed with a debilitating illness, and only Doc knows about his grandson's diagnosis.
"You want Denny to be lovable, but yes, it was actually quite challenging to navigate the red herrings, the twists, the turns. Because Denny is hiding a very big secret and has been through a lot, this kind of mask was over him," Bradbury told TV Fanatic. Meanwhile, showrunner Patrick Sean Smith also told EW that fans will see much more of Denny during Season 5 as he begins to form bonds with other people in Virgin River.
It seems that Denny isn't going anywhere and that fans will get to know him much better in future episodes.